08-07-2023, 01:09 AM
BMW iX1 2023 long-term test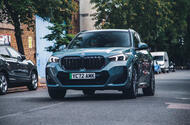 Munich's smallest electric model finds itself a place on the Autocar fleet
Why we're running it: To see if BMW's entry EV is as impressive as its range-topper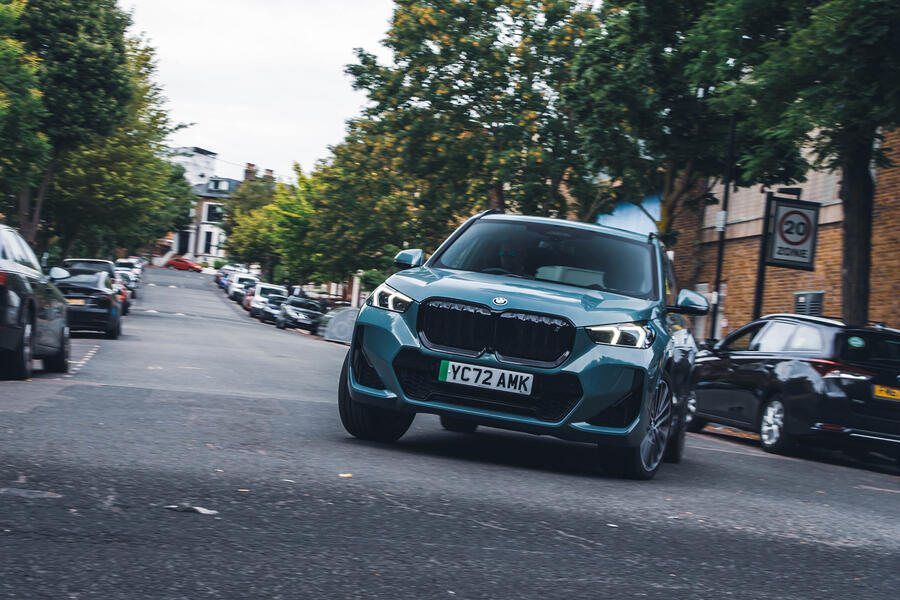 Life with a BMW iX1: Month 2
Day-to-day use reveals a few shortcomings with our electric small SUV - 2 August
Time is flying with our BMW iX1. In our short time together, it has been all the way to the north of England, into and around London and to two airports at opposite sides of the country. Things got off to a rocky start, though, with some consistent bugbears that very much dampened the experience.
My biggest gripe of all is the iX1's regenerative braking. There are three settings to adjust the level of energy recuperation: Low, High and Adaptive. When I picked up the car, it was set to Adaptive, which uses sat-nav data and the front camera to slow the car automatically with varying strength when you lift off the accelerator. It's based on what's ahead of you and is mostly effective during urban driving.
On any roads above 30mph, however, it's incredibly frustrating and unpredictable. The brakes are applied automatically at what seems like random and it feels far too aggressive. I often dread to think what some of the drivers behind me must be thinking when I appear to slam on the iX1's brakes.
The system isn't helped by a sat-nav mapping system that's slightly out of date. For example, it thinks a now-finished piece of 'smart' motorway still has a 50mph limit rather than 70mph. Additionally, coasting is pretty much a no-go, because the system will interfere too much. Passengers have also mentioned how uncomfortable this makes it.
Switching to the Low setting changed things for the better. It has genuinely transformed my driving experience, even though selecting it involved a maze-like mission through the car's touchscreen infotainment. Thankfully, it remembers your selection when you switch off and start the car again, so now my passengers and I can enjoy a much more comfortable ride.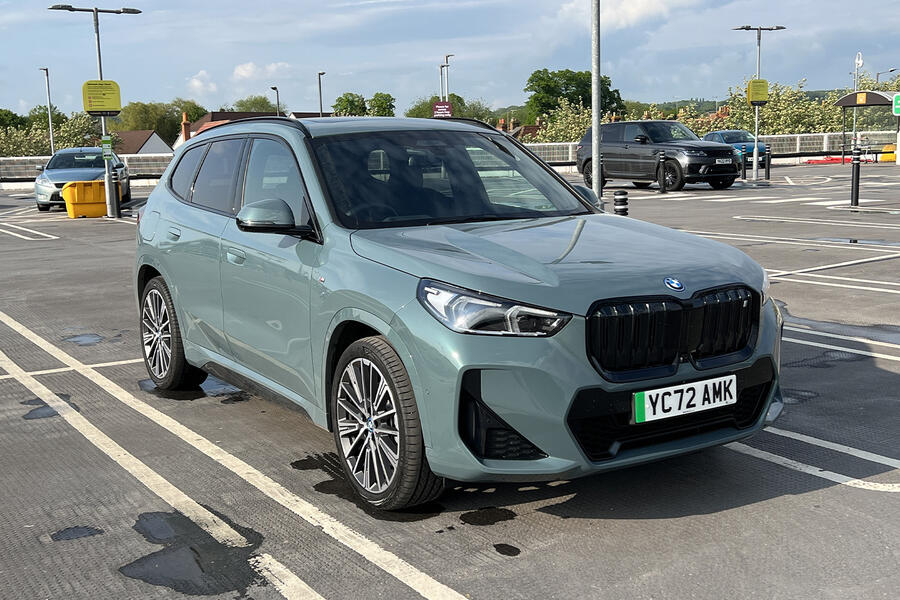 Away from the braking, the iX1's powertrain is impressive. It packs incredible pace and it's excellent when setting off from a set of lights. While power tails off at higher speeds (as in most EVs), energy delivery from 40mph to 70mph is satisfying and effortless. That goes for all driving modes, including Efficiency. The car certainly doesn't feel like it tips the scales at 2085kg.
Charging the iX1 has been a mixed bag, and the in-car range reading seems to vary from decent to downright rubbish. I most often charge at a bank of MFG charging stations, which provide charging speeds of up to 150kW. I've never seen the iX1 hit its claimed maximum charging rate of 130kW; it always maxes out at just 75kW. This isn't down to the charger, either; I've visited several Gridserve, Instavolt and PodPoint chargers, all of which have presented similar results.
On recent good days, I've come back to the car after an overnight charge and been presented with a 245-mile range, but it has been as low as 205 miles on occasion. I can't work out why: the air conditioning is perpetually switched off and the weather has remained largely the same over the couple of months I've been with the iX1 so far, with temperatures rarely dropping lower than 20deg C.
I would also like to be able to see a readout of the car's efficiency (in miles per kWh) on the digital driver's display without having to switch to a different view mode. The display does show other useful data, though, such as the number of miles recovered through regenerative braking.
After a shaky first month or so, things are mostly looking up. Now that I've sorted out the iX1's braking shenanigans, we can really start getting down to business.
Love it 
The premium Harman Kardon audio system fitted to our car is excellent. It puts even my not-so-cheap earbuds to shame.
Loathe it
Muck magnets
Much of the iX1's interior trim attracts smudges, dust and dirt. I now store a cloth in the car specifically to remove it all.
Mileage: 3845
#Back">Back to the top
Life with a BMW iX1: Month 1
Welcoming the iX1 to the fleet - 5 July 2023
Some car makers have been criticised for their slow transitions to all-electric power, but that's certainly not something that could be said about BMW. The German giant is well and truly engaged in ramping up its electric offensive, and now – or at least at the time of writing – it is offering no fewer than 10 pure-electric models.
The latest addition to the Autocar fleet, then, is the brand's smallest SUV, which in turn has become its smallest electric model. It's the iX1, which, as you might have guessed, mirrors the internal combustion engine-powered X1, save for its method of propulsion.
The iX1 measures 4500mm long, 1845mm wide and 1616mm high, a set of dimensions that aren't too far off those of the larger iX3, which our road testers thought was good value at a smidge under £60,000. The iX1 sits 9mm closer to the ground than the iX3, however, which is clear from our test car's squat stance.
This iX1 is the second electric car from the German marque to join our fleet in the past year, following editor Mark Tisshaw's six-month stint in the model at the other, somewhat pricier end of BMW's catalogue: the iX. While Mark was impressed with the range-topper, the iX1 acts as the entry point to the brand's EV endeavours and is something of a different ball game.
On paper, things look promising. Replacing the X1's petrol, diesel or plug-in hybrid powertrain options is a dual-motor electric set-up powered by a 66.5kWh battery, 64.7kWh of which the driver can use. Peak outputs are impressive, with 308bhp and 364lb ft available – enough to whizz you from a standstill to 62mph in just 5.6sec.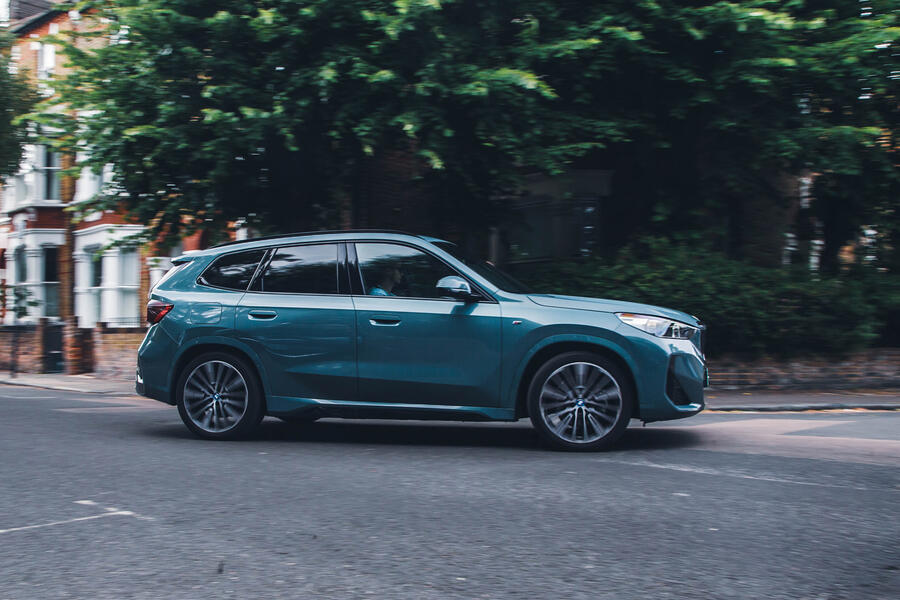 BMW claims a range of 259-270 miles, but so far that appears to be an optimistic estimate. Even on the few 30deg C days we have had so far this year, the iX1's range topped out at around 240 miles. That's not especially competitive. The Audi Q4 E-tron will officially give you about 316 miles, while the Mercedes EQA's range is higher still at 324 miles. Even a mid-level Skoda Enyaq iV will take you almost 100 miles further on a charge.
I've already replenished the BMW's battery at a few rapid-charge stations in my area, and the iX1 at least comes with a manageable charging speed. It can charge at speeds of up to 130kW, which will 29 minutes. While that's probably quick enough for most, it's a world away from the maximum 350kW speed that in theory can be achieved by the Kia EV6, which is also significantly cheaper. The larger iX3 charges at up to 150kW.
Our iX1 is a top-rung M Sport model equipped with several option packs that flood the cabin with technology, leather and storage areas. There's a heck of a lot of equipment to talk about here (we'll look at it all in more detail in future reports), but our headline toys include dual-zone climate control, more safety kit than you can shake a stick at and a 10.25in digital display paired with a 10.7in central touchscreen sporting BMW's latest iDrive 8 infotainment system.
I'd normally be excited by iDrive, but the iX1 is devoid of buttons, meaning everything now has to be controlled via the touchscreen. Perhaps the biggest loss is that of BMW's brilliant rotary dial, which has also been removed from the standard X1 but remains in the range-topping iX.
I'm not expecting an improvement from what came before, but we'll see how I adapt over the next few months. The good news is that wireless Apple CarPlay and Android Auto are both standard, and they pair nicely with the wireless charging pad.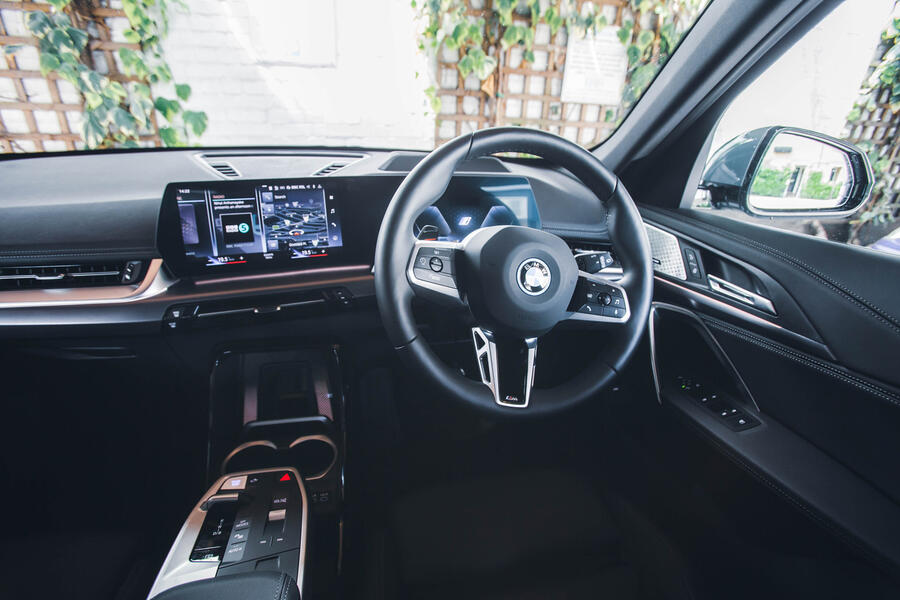 Our M Sport iX1 looks more aggressive than the lower-spec xLine model. It gains adaptive headlights, 20in wheels, sports seats, an M Sport steering wheel, M adaptive suspension and quite a bit more besides. Add the £1575 M Sport Pro Pack featured on our vehicle and you also get gloss black exterior trim, a premium Harman Kardon surround sound audio system and sun protection glass.
The cabin is a really nice place to be, helped in no small part by the £1100 panoramic sunroof, through which light floods into an otherwise dark interior. Having an extra source of fresh air will be welcome over the summer, too. The seats are comfortable, but the ride will take some getting used to. Even with the adaptive M suspension, the going is always very firm and borderline uncomfortable on some B-roads.
Space in the rear is impressive. There's room for three passengers in the back, giving the iX1 an edge over rivals such as the Volvo XC40 Recharge. Behind the seats, which collapse into a useful 40/20/40 split, there's a 490-litre boot, which isn't far off that of the larger iX3. It is, however, dwarfed by the 854-litre boot of the Tesla Model Y, but the same can be said of most other family SUVs.
BMW's entry-level EV has all the technology you could need or wish for. It also really does feel like a solid machine, as well as a premium one (my previous test car was a Ssangyong Korando E-Motion). I'll have plenty of time over the next few months to get to grips with its autonomous driving capabilities, revamped iDrive and, at the risk of upsetting our road testers, the Hans Zimmer-curated IconicSounds system. And that sunroof? Glorious.
Second Opinion
I was impressed by the iX1's interior, and if you want an electric SUV with performance and sharp looks, it could be for you. But it will be interesting to see how Jack handles the M Sport's 20in alloys day to day. The months to come could reveal if the entry xLine is the better bet.
Jonathan Bryce
#Back">Back to the top
BMW iX1 xDrive M Sport specification
Specs: Price New £56,045 Price as tested £62,775
Options M Sport Pro Pack £1575, Technology Plus Pack £1205, Black Vernasca leather with grey contrast stitching £1150, Comfort Pack £1105, panoramic glass sunroof £1100, Cape York Green metallic paint £595
Test Data: Engine Two electric motors, four-wheel drive Power 308bhp Torque 364lb ft Kerb weight 2,085 Top speed 111mph 0-62mph 5.6sec Range 259-270 miles (WLTP) Economy 3.4mpkWh (WLTP) CO2 0g/km Faults None Expenses None
#Back">Back to the top
https://www.autocar.co.uk/car-review/bmw...-term-test