08-06-2021, 08:30 PM
BTCC 2021: Honda racer Rowbottom takes first win at Oulton Park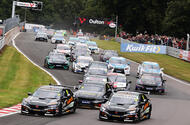 The usual suspects struggled in Cheshire, while Rowbottom, Rory Butcher and Senna Proctor shone
Team Dynamics Honda Civic Type R racer Dan Rowbottom vaulted into title contention for the Kwik Fit British Touring Car Championship (BTCC) with his first career victory during a chaotic weekend at Oulton Park.
The 32-year-old, who only secured his place in the team shortly before the start of the season, stormed past triple champion team-mate Gordon Shedden at a late race restart following a red flag and then held on to take glory.
Rory Butcher claimed his first success with the Speedworks Motorsport-run Toyota Gazoo Racing UK squad in the second race, while Senna Proctor scored his first win with BTC Racing - and his first victory since 2018 - in the finale.
Rowbottom strikes at restart
Proctor, who joined BTC Racing for the second round of the season, qualified on pole in his Civic Type R but lost out to Shedden and Rowbottom at the start of the race. Shedden began to pull clear, but his lead was negated when the race was stopped on lap seven after a big pile-up involving BMW racer Tom Oliphant.
At the restart after the stoppage, Rowbottom jumped Shedden and then resisted immense pressure from his proven team-mate over the remaining six laps.
Adam Morgan (Ciceley BMW 330i M Sport) battled up to third, ahead of Butcher and BMW UK racer Stephen Jelley.
First wins for new teams
Butcher's race two win was built on an amazing opening lap, when he first passed Morgan around the outside and then nipped past both Dynamics Civic drivers at Island hairpin. From there he stormed clear, while Rowbottom fended off Morgan for second despite running full success ballast. Jake Hill (MB Motorsport Ford Focus ST) was fourth.
Proctor finished ninth in the first two races but drew pole for the final race. The race was initially red-flagged on the opening lap, and when it restarted, Proctor came under attack from reigning champion Ash Sutton (Laser Tools Racing Infiniti Q50). But Sutton spun off in making the move and Proctor pulled ahead of Jelley and Shedden. 
His victory was secured after the race was red-flagged early, due to another sizeable accident.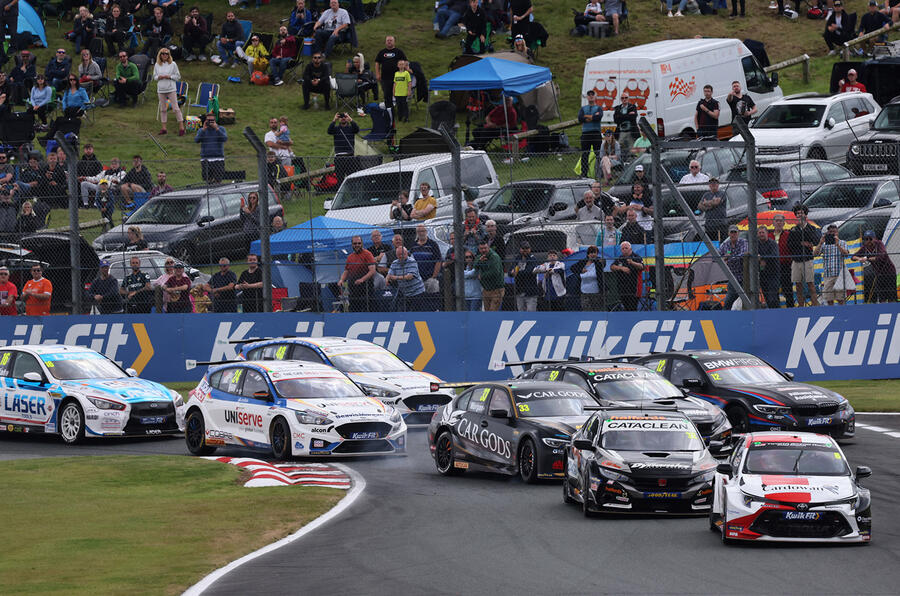 The usual suspects struggle
Sutton's incident in the final race was made worse when subsequent contact with team-mate Carl Boardley put him out of the event, ending a tough weekend in which his best result was an eighth place in race two. Yet Sutton somehow still left Oulton Park leading the championship after title rival Tom Ingram (Excelr8 Hyundai i30 Fastback N) and four-time champion Colin Turkington (BMW UK) had even worse weekends.
Ingram salvaged a 10th-place in race two and is now five points behind Sutton in the title race. Rowbottom has jumped to third, just 12 down on Sutton.
The next event is at Knockhill in Scotland on 14/15 August.
Marshals shine in difficult circumstances
As well as three red flags in the three BTCC races, there were a number of stoppages after serious incidents in various support races that required rapid work to fix barriers and remove broken cars. The race marshals – all volunteers, there for the love of the sport – did their usual exemplary job to keep the action going as fast as possible.
Their efforts were particularly remarkable given the tragic death of a marshal in an accident during a club race meeting at Brands Hatch on Saturday. Before the action began at Oulton Park, a minute's silence was held to pay respects.
Motorsport would not be possible without the 'orange army', and the events at Brands Hatch were a start reminder of the dangers they face. Everyone involved in motorsport should be truly grateful for their efforts.
READ MORE
Team spirit: meeting BTCC BMW stars Turkington and Oliphant
BTCC confirms full 2022 calendar
https://www.autocar.co.uk/car-news/motor...ulton-park