05-10-2021, 05:21 PM
BTCC 2021: Josh Cook snatches double at Thruxton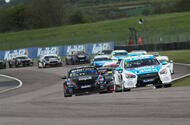 Honda driver topped the podium, while reigning champion Ash Sutton endured a drama-filled weekend
BTC Racing Honda Civic Type R driver Josh Cook made a storming start to the 2021 Kwik Fit British Touring Car Championship season with a double victory at Thruxton.
The 29-year-old from Bath took advantage of early drama involving reigning champion Ash Sutton and four-time title winner Colin Turkington to dominate the opening two races at the Hampshire venue.
Sutton bounced back to win a thrilling final race of the day in mixed conditions in his Infiniti Q50, while a hat-trick of podiums for MB Motorsport Ford Focus ST driver Jake Hill meant he ended the weekend leading the points. Here are the key takeaways from the three races at Thruxton.
Cook's Thruxton flyer
Cook has strong form at Thruxton: six of his 10 career wins have now comes at the high-speed venue, which plays to the strengths of his Civic Type R.
Starting from third on the grid in the opening race, Cook jumped into the lead after first-lap contact between Sutton and Turkington (see below) and then pulled clear of Tom Ingram, who was having his first outing in an ExcelR8 Hyundai i30 N Fastback.
After an early tussle with Ingram in race two, Cook soon pulled into a clear lead again. He was helped when former works Honda driver Dan Cammish (on a one-off guest outing with BTC Racing) battled up to second and then acted as a rear gunner to the finish.
While Cook struggled with full ballast in mixed conditions in the final race, it was still an incredible start to the season for the 29-year-old.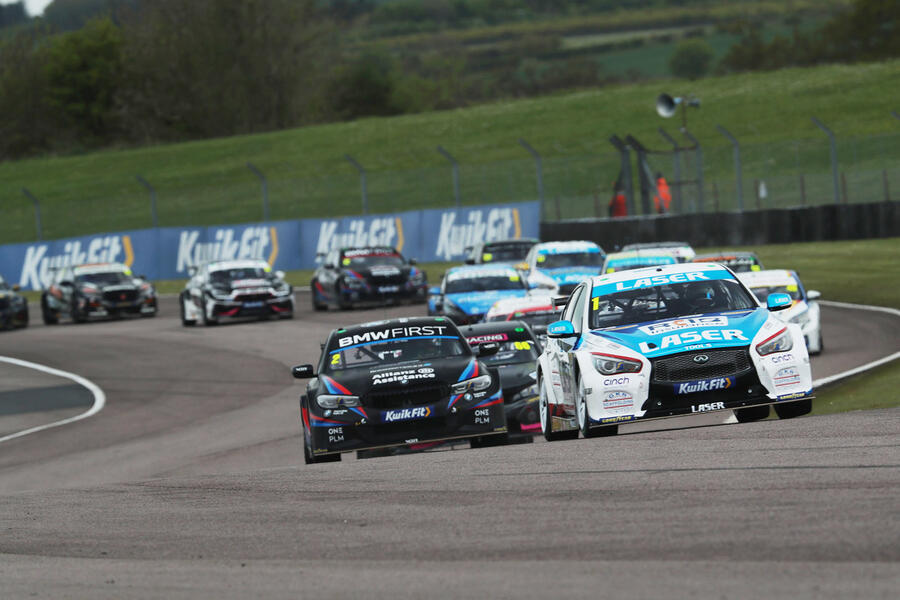 Sutton's rollercoaster day
Reigning champion Sutton began the weekend by clinching pole position in his Laser Tools Racing Q50 and ended it on the top of the podium - but endured plenty of drama between those events.
Sutton was pitched into a spin after slight contact with Turkington on the first lap of the opening race. A safety-car period helped him keep touch with the pack and he charged back up to ninth place at the finish.
Sutton then lost ground in race two, when he was forced to make an early stop, but put in another inspired drive to score another ninth place.
The two-time champion saved his best for the day's final race, which was held in mixed conditions. Running on wet tyres, Sutton stormed into the lead, but as the track dried, he was soon passed by the slick-shod Focus of Hill.
While Hill pulled out a big lead, the rain soon began to worsen, allowing Sutton to close back in and regain first place. The opening lap clash also affected Turkington's weekend.
The Northern Irishman finished fourth on the road in the opener, but a penalty for hitting Sutton dropped him to 10th. He mustered seventh and sixth in the following races, leaving Turkington with work to do in his quest for a record fifth title.
Hill makes consistency pay
With close competition, success ballast, reverse grids and more, consistency is hard to achieve in the BTCC - but Hill achieved just that with a brace of third place finishes.
With MB Motorsport having switched from an old-spec Civic Type R to a newer Focus ST for 2021, the results showed that Hill can be a season-long force. His finest effort came as the conditions worsened near the end of the final race, when he clung onto the final podium spot on his slick tyres.
That result means Hill leads Cook by a single point in the standings, with Jason Plato eight points behind and Sutton a further two adrift.
Mixed fortunes for returning champions
Plato's championship position reflects a quietly strong weekend for the double champion on his return in a Power Maxed Vauxhall Astra after sitting out 2020.
Plato was sixth and fifth in the first two races, and then used his experience in the mixed-up third race to keep himself in contention, snatching second from Hill late on.
Thruxton also featured the return of triple champion Gordon Shedden in a Team Dynamics Civic. The Scot didn't fare so well, crashing out early in the first race after contact with Ollie Jackson. He was 18th in race two but showed his pedigree with fourth in the final race.
BTCC battling leads to drama
With its high-speed nature, incidents at Thruxton can result in big accidents. The three races featured a number of offs, causing the safety car to come out on multiple occasions.
The biggest crash came at the start of race two, when Focus driver Andy Neate tagged Gynn Geddie's Cupra Leon heading into the first turn, with Jade Edwards (Civic Type R) collected in the resulting incident. All three cars hit the barriers hard, with Geddie rolling several times. Thankfully, all three drivers were unhurt.
Neate initially suggested a mechanics issue, but the race stewards determined the incident was caused by driver error, fining him £2000 and giving him three penalty points.
The next BTCC event is at Snetteron on 13 June.
READ MORE
BTCC 2021 season preview: why Gordon Shedden is 'burning to win again' 
BTCC confirms full grid for 2021 season 
https://www.autocar.co.uk/car-news/motor...e-thruxton