04-14-2023, 05:30 AM
BTCC officially launches 2023 season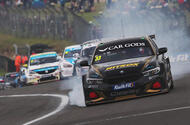 Kwik Fit British Touring Car Championship to enter second year with hybrid powertrains; season to begin 22 April
The 2023 Kwik Fit British Touring Car Championship (BTCC), the second season of its new hybrid era, has been officially launched.
Ahead of pre-season testing tomorrow, drivers and teams came together at the London Golf Club for the special event this evening, which also confirmed Autocar's partnership with the BTCC for another three years.
The BTCC now moves just three miles down the road in Kent, where the teams and drivers are expected to be welcomed by thousands of fans for tomorrow's on-track action at the legendary Brands Hatch. 
Free entry is available for all spectators from 10am. The paddock area behind the pit garages will be open to fans throughout the day. There will also be a pitlane walkabout during the lunch break.
The season will then officially begin with its first event at Donington Park on 22 April.
Reigning champion Tom Ingram (Bristol Street Motors with Excelr8) will be looking to again see off Ash Sutton (Napa Racing UK), Jake Hill (Laser Tools Racing with MB Motorsport), Colin Turkington (Team BMW), Rory Butcher (Toyota Gazoo Racing UK) and Josh Cook (One Motorsport with Starline Racing), as well as an ever-growing chasing pack.
"I'm excited for the year ahead and I'm looking forward to seeing how it plays out," Ingram said.
"I'll never take it for granted, having won the championship, but I'd certainly like to think we can do it again. We really enjoyed winning it, of course; it was an incredible feeling. But the work began almost immediately on trying to make things even better and to ensure we will be back up there competing again this season. The BTCC is so competitive, so it's a constant battle in striving to improve, but the feeling is good and the confidence is high."
New things this season include enhancements to hybrid deployment, as well as the reintroduction of the Goodyear option tyre and a further expansion to the Top 10 Showdown qualifying format.
The 30-race season will be played out in front of tens of thousands of fans trackside and millions more watching the action live on ITV.
BTCC chief executive Alan Gow said: "It has been as busy as ever during the off-season, but now we can't wait to get the 2023 Kwik Fit British Touring Car Championship started.
"The championship again boasts a hugely competitive driver line-up, with an ever-growing number of genuine title contenders all looking to win the title, so it will be interesting to see who will come out on top.
"The hybrid introduction last year proved very successful and popular among fans, but we immediately identified ways in which to tweak how the hybrid is deployed in order further enhance the competitiveness for 2023.
"This plus the reintroduction of the Goodyear option tyre and the Top 10 Showdown qualifying format now being adopted at five of the 10 events means it's set to be an extremely exciting season ahead.
"Kwik Fit, Goodyear, ITV, Cosworth, M-Sport and our other incredibly loyal partners play a massive role in this championship, and we remain always grateful for their support and enthusiasm.
"It's almost time for the talking to stop and the action to get under way, so we hope you all enjoy the 2023 BTCC season."
https://www.autocar.co.uk/car-news/motor...023-season