01-08-2023, 04:29 PM
BYD launches luxury EV brand with supercar and rugged 4x4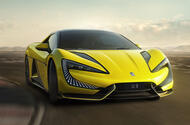 Radical U9 sports car will surge from 0-62mph in sub-2.0sec
New brand Yangwang chases global premium marques with U9 sports coupé and go-anywhere U8 off-roader
BYD has unveiled the first two models from its new Yangwang premium EV brand, saying they will compete against models from traditional luxury car makers such as Audi, BMW and Mercedes-Benz - with prices set to start at around one million yuan (around £122,100) when sales begin in China later this year.
The Shenzhen-based company unveiled the U8, a hardcore off-roader in the mould of the Mercedes-Benz G-Class, and the U9, a rakish Audi R8-rivalling sports coupé.
The two new EVs form an integral part of BYD's efforts to broaden its scope and become a global car maker with offerings in all car segments, following record-breaking sales in the Chinese market over the past 12 months. 
In 2022, BYD became the world's leading maker of electrified cars, including pure-electric ones and plug-in hybrids, selling nearly two million cars in 2022.
BYD chief executive Wang Chuanfu said the new Yangwang brand "will reshape the contours of the global luxury car market" before revealing BYD's sales target of 4 million cars in 2023. 
Both the U8 and the U9 use proprietary EV technology, including lithium-ion phosphate (LFP) batteries developed by BYD itself.
Details to the capacity of the battery and projected range haven't yet been disclosed, although Chuanfu told the media that both will be set new standards in the luxury-car class.
The styling of the initial Yangwang models has been overseen by BYD's head of design, Wolfgang Egger, the former Alfa Romeo and Audi design boss.
The U8 and U9 boast what Egger described as a "gate of time and space" design lineage, which is reserved specifically for Yangwang models.
At 5300mm in length, the upright U8 is 483mm longer than today's G-Class. It also rides on a wheelbase that's 410mm longer than the long-running Mercedes', at 3500mm.
At its unveiling in China, BYD confirmed the U8 it will come as standard with 20in wheels shod with 275/60 R20 tyres. 
The U8 is based on a newly developed ladder-frame chassis and powered by four individual electric motors in a drivetrain layout mirroring that of the upcoming Mercedes-Benz EQG - an electric take on the G-Class.
BYD said each motor develops between 295bhp and 321bhp and a maximum torque of between 235lb ft and 309lb ft. Total output is pegged at more than 1100bhp, and the SUV is claimed to have a 0-62mph time of "less than 3.0sec".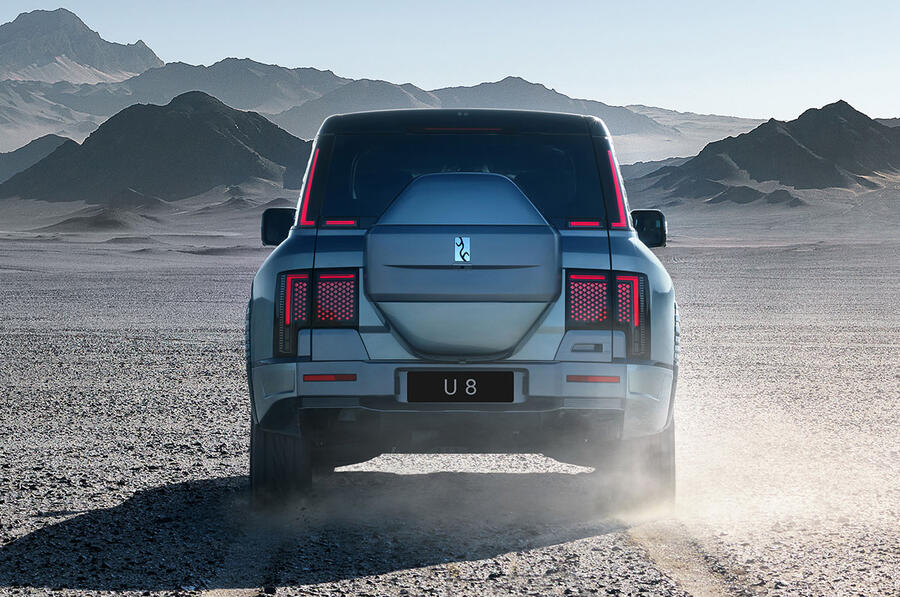 An electronically controlled four-wheel drive system provides an individual apportioning of drive to each wheel, allowing the U8 to perform tank turns in similar fashion to that displayed by Mercedes with a prototype of its EQG recently.
Other features revealed by BYD is a tyre-pressure-control system that allows the U8 to continue driving at speeds up to 80mph with a flat tyre. 
BYD has been less forthcoming on details to the U9, but it has confirmed the four-wheel-drive sports car will also receive four individual electric motor in a drivetrain layout that is claimed to provide it with a 0-62mph time of "less than 2.0sec".
https://www.autocar.co.uk/car-news/new-c...rugged-4x4