09-14-2021, 10:53 AM
Battle bruisers: Mercedes-AMG GT 63 S vs Alpina B8 Gran Coupe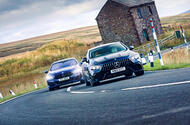 AMG's blisteringly quick four-door GT is a hard act to follow, but when has that ever stopped Alpina?
I won't condone it, but I can certainly understand how it happens. You start off wanting something quick, elegant and genuinely rewarding to drive, but it also has to feel special. The budget? Unlike most of us dreamers, you actually have enough cash to make this happen: £150,000. That, or you at least have the ability to pay £10,000 up front then around £2000 monthly. So you head to the classifieds and begin your search for that noblest of breeds – the grand tourer, perhaps from Gaydon. Or even Maranello.
But hold your emblematic horses. Circumstances mean door fours and good acreage in the back are non-negotiable, and herein lies your problem. What to do? Separating your desirables from your must-haves and going for two cars instead of one is an obvious option. But deep down, you know that obtaining something truly epic is going to mean putting all your money into one machine. A hypersaloon might just do it, but finding the right one is hard, and its sense of specialness will always be open to question. There's the fabulous new BMW M5 CS, which somehow justifies its £140,000 asking price, though you wonder whether it's simply too uncouth and too upright. Audi RS7? Too ordinary. Maserati Quattroporte Trofeo? Just no.
In the end, 'quick, elegant, rewarding and special' gives way to the much more achievable combination of 'quick, lavish, spacious and special', which is why there's now a Bentley Bentayga on your driveway when what you really wanted was an Aston Martin DB11. And that's how it happens.
However, there does exist a way to get the GT soul, or at least a very decent portion of it, in a practical format. It's the way of the lesser-spotted four-door performance 'coupé', and we're here today because a new one has loped into town (or rather, Alston village, in the North Pennines). And to see just how good it is, we've brought along another car from this small clique – in Autocar's opinion, the car of this small clique – both of them hailing from the same corner of the world.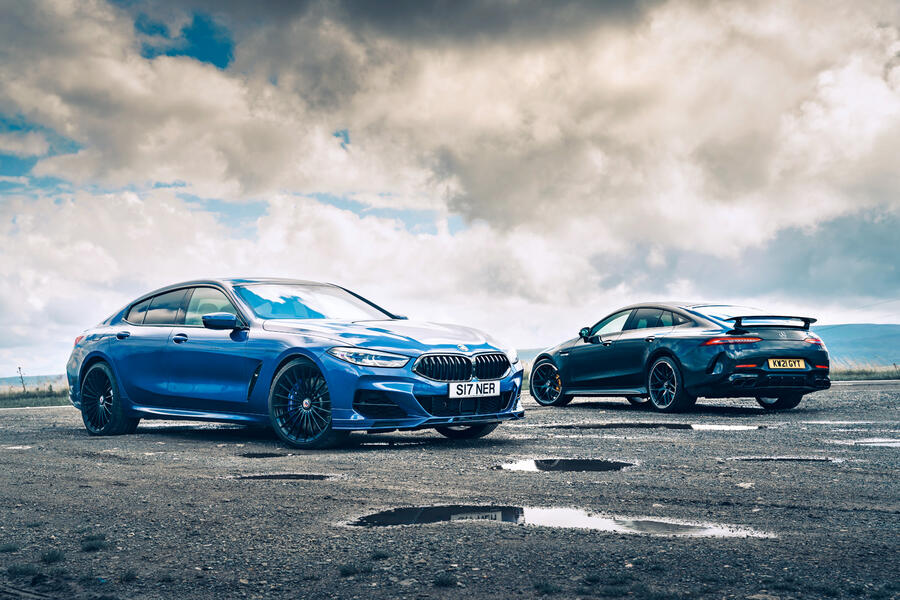 The newcomer, then. Legends like the B7 Turbo Coupé of the late 1970s and all manner of V12 riffs on the BMW 7 Series over the decades show that the box-fresh B8 Gran Coupé is exactly the kind of car Alpina knows how to make. Indeed, loves to make. The tiny marque from Buchloe has done wonders with the latest 3 Series and dabbles to reasonably successful effect in BMW's SUVs, but snouty, mile-crunching, uber-powerful saloons with fine-handling chops are its happy place. The B8 Gran Coupé merely brings a slinky roofline.
It also replaces the B6 Gran Coupé introduced 10 years ago, though ought to handle more sweetly with its steering rear axle, active anti-roll bars and stiffer structure. It is nothing less than Alpina's flagship car, destined mainly for the US but with a handful coming to the UK. As says the numbered plaque on the transmission tunnel – trimmed beautifully in yachting-blue leather, aluminium and gloss carbonfibre – this is going to be one seriously 'exclusive automobile', and even at a standstill it radiates a sense of specialness.
You can tell the B8 is based on the M850i rather than the M8 Gran Coupé because it lacks the M car's swollen wheel arches, though the draping front splitter, side skirts and bespoke rear bumper are unmistakably Alpina. It all helps the B8 reach 201mph – a figure any bona fide GT car would be proud of – should you fully uncork its engine on an empty autobahn. That engine is a development of the 4.4-litre N63 V8 that currently serves in top-ranking versions of BMW's bigger saloons and SUVs before you get into M division territory. New pistons, spark plugs and larger turbines for the twin-scroll turbochargers tease an extra 90bhp from the regular M850i unit, taking power to 613bhp. To cope with both the power and sustained high-speed cruising, the cooling system is also 50% larger than standard. In fact, so chock-full of cooling apparatus is the engine bay that Alpina has had to artfully route hoses through the forward bracing bars, like thread through a needle's eye.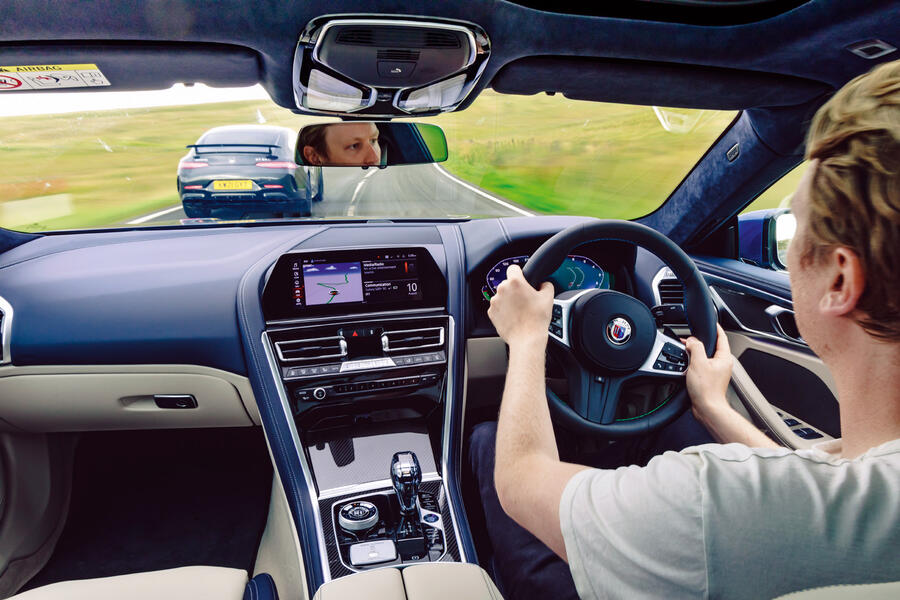 So power is huge, but what you really feel when putting this car down a motorway slip road for the first time is the 590lb ft delivered from just 2000rpm. Whichever geology-based cliché you use to describe the force with which an Alpina B8 gathers momentum from basically no crank speed at all is justified. You could remove the lowest three ratios from the reinforced ZF gearbox and it'd still blow established sports cars clean out of the water.
As for presence, the B8 has it. The body sits a little high on those 21in wheels (larger than any other 8 Series'), though the increase in stature was needed to give some extra underbody clearance for the new aluminium sump for the gearbox oil. Silver wheels might also have given this example the more graceful aesthetic its silhouette surely deserves, but overall you could very reasonably describe this car as being elegant and the 3.4sec 0-62mph time merely confirms its outrageous pace. As for being genuinely rewarding to drive, we'll come to that shortly, but at 2100kg it's worth noting the B8 weighs 400kg more than even the more portly traditional two-seater GT cars.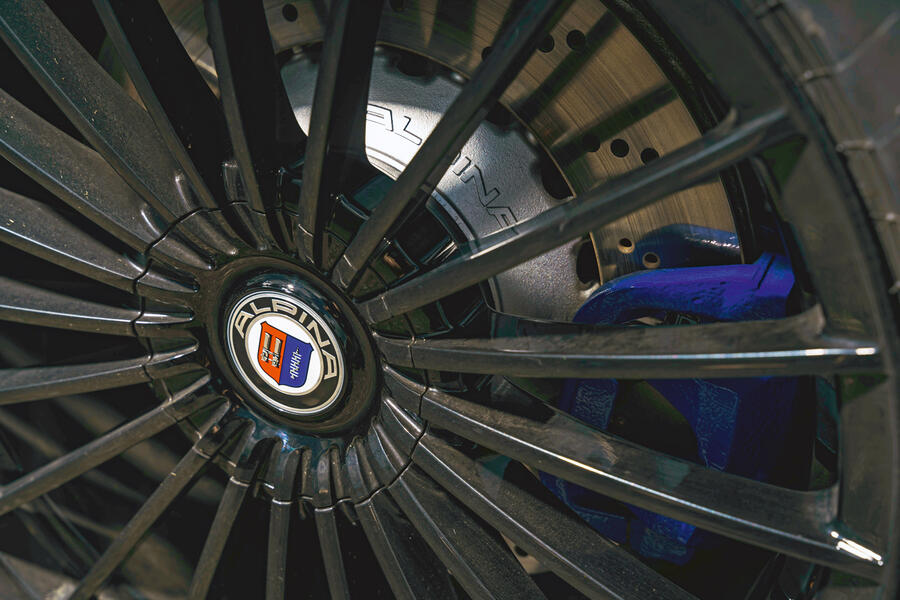 And so to that wondrous class benchmark. It's the Mercedes-AMG GT 4-Door, which was announced in 2017 to general vexation, mostly because of the name. Translating the AMG GT coupé's quite bolshy personality into saloon form seemed to answer a question nobody was asking, yet that is what those initials promised. We then learned it would ride on a modified E-Class platform, at which point we forgot about our coupé-related concerns and wondered whether it would actually be sharp enough to warrant the name. Either way, it seemed a pointless endeavour, especially when the E63 saloon already existed with more or less the same engine.
But reader, we couldn't have been more wrong. The GT 4-Door is here because it is so far the finest option if you want something that does an excellent impression of an authentic GT car, only with four doors. Just like it says on the tin.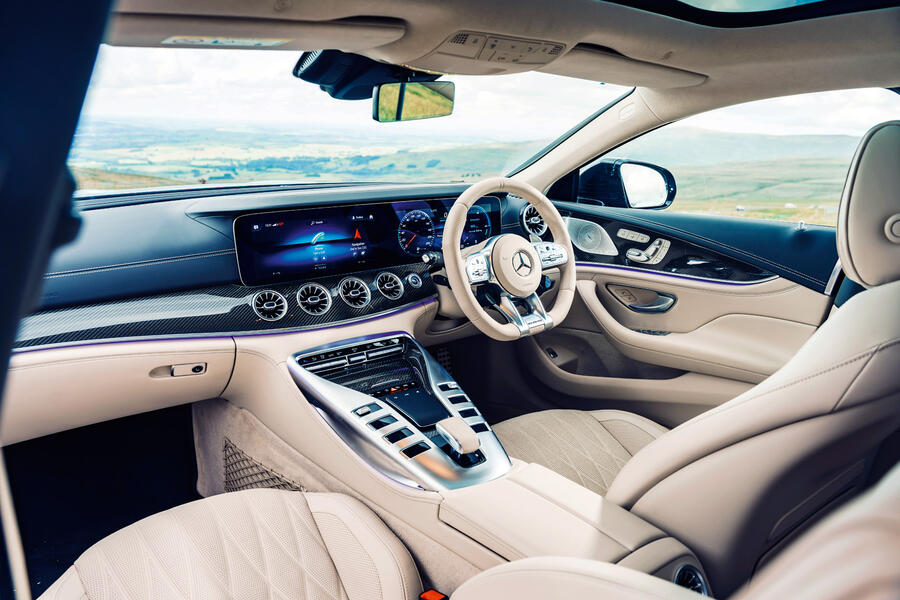 It looks low and curvaceous next to the Alpina, less predatory but somehow more menacing. It's pebble-like, though after the neat nose, the upright tail looks ungainly. No matter, because pushing the engine start button from within the enveloping cabin fires into life the 630bhp twin-turbo 4.0-litre V8, whose trademark AMG burble sets the entire structure pulsating. In an instant, you're engaged with the thing, though the real magic happens when you get the wheels turning, as a run over the Hartside Pass reminds me.
On paper, this odd-fish AMG is like a Rube Goldberg device. It has rear-wheel steering, torque vectoring via braking, air suspension, highly adaptable ESC modes and an electronically controlled differential in the back that can behave very aggressively indeed, all of it interdependent. But the genius is that you're hardly made aware anything complicated is happening beneath the surface. The GT 4-Door corners flatly and with a sense of purity and simple accuracy that belies the complexity. For such an enormous and heavy car, it also has very good steering feel. Back-to-back drives will show that the Alpina can't really lay a glove on it in terms of raw dynamism although, as we'll discover, that car's strengths lie elsewhere.
Boy, the AMG is good, though. It seems to adapt to whatever driving style is thrown at it. If you want total traction and forward thrust, it'll hunt out and flatly eliminate corners without fuss, but if you ramp up the AMG Driving Dynamics programme, it'll indulge you in a cheeky quarter turn of opposite lock without jeopardy. Back off and relax the suspension and you can simply enjoy its pedigree-feeling balance and poise. And everything it does, it does while giving the driver real confidence – more than you get in some true GT cars, truth be told, though at the same time it hardly feels less agile. No, you may not like the idea of this car, but on execution alone this is surely one of the finest cars of the past decade, and in my opinion sorely underappreciated. Perhaps it's just too outwardly excessive? I mean, it's a five-metre saloon that will wake the dead before 3000rpm.
What you also get from the AMG is a convincing dollop of the GT driving environment. This one does without the bucket seats that can be optioned, but you still sit so low within the body and, while in reality the two are nowhere near one another, your backside often feels planted just above the rear axle, like in the GT coupé. Some trick, that.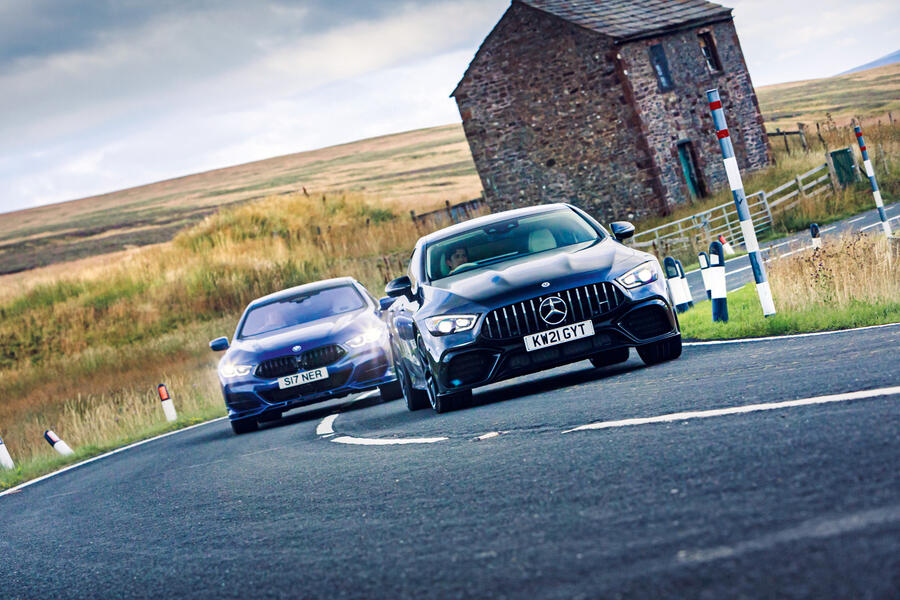 Is, then, the AMG GT 4-Door still the car our GT lover with £150k to blow should plump for?
They would get immense satisfaction from owning either, but the AMG really is closer in feel to, say, a DB11 than the Alpina. The softness in the chassis, neutrality in the handling and comfort in the driving position that make the B8 an awesomely accomplished long-distance, any-weather performance saloon also prevent it from reaching the same heights of dynamism and intensity as the AMG when the route gets interesting. You don't feel quite so close to the road, so in control of what the back axle is doing, or as plumbed into the front contact patches via the steering. That you can disengage the front driveshafts in the GT 63 S only gives it another dimension in terms of enjoyment, and for raw character Affalterbach also beats Buchloe in the battle within the engine bay. This AMG V8 trades some musicality for volume, but what an event. The Alpina's engine is creamy and perhaps more interesting when you really tune into it, but it mostly feels too demure by comparison.
Perhaps that slight sense of anonymity is part of the Alpina's charm. The B8 does very little purely for effect, and I like that about it. It won't give you thumping upshifts, but in every measurable way its powertrain is slicker than that of the AMG whether you're charging down an empty A-road or doing a three-point turn in town (as you often will, with cars this long). The steering is less chatty than the AMG's, but it has a stunning linearity to its motion that makes the car oh so satisfying to flow down the road. The effects of the new links in the suspension, and the Alpina-specific geometry, are so tangible. And no, this 8 Series chassis can't muster the same cast-iron vertical control as the AMG exhibits in its most serious air suspension setting, but how often will you honestly want or need that kind of thing? In return, the Alpina conjures a degree of serenity that the AMG, for all its material richness, can't hope to match. There's less road roar, the ride is sweeter, and the cabin is generally calmer and less busy. The B8 is also more comfortable for back-seat passengers than its rival.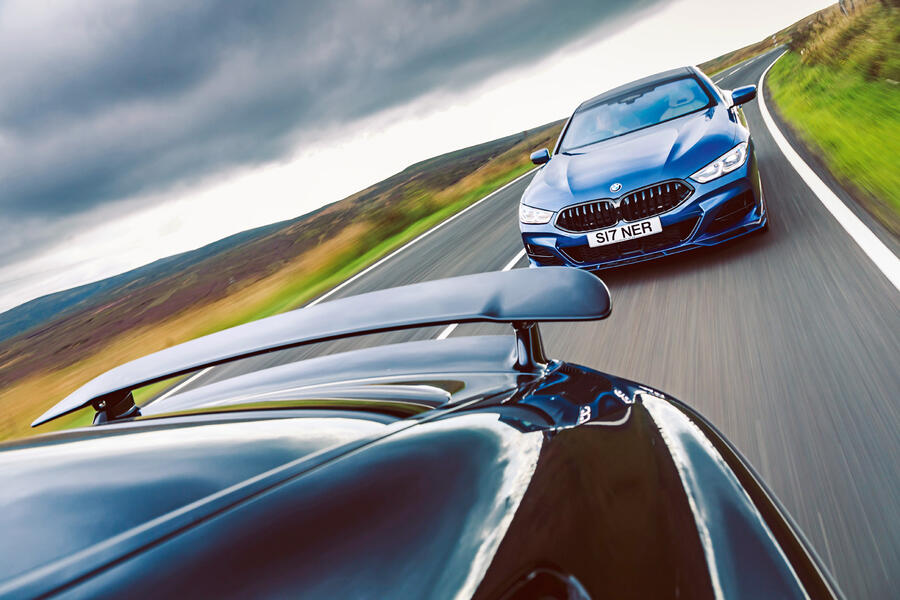 As for performance, both can be uncomfortably quick without trying, but if you were to get the telemetry out, the AMG would prevail on the strength of its torque output and frankly incredible chassis. And yet often it is the Alpina that feels the more unnervingly rapid car, because it accelerates without histrionics, Taycan-style.
In the end, this is a tight contest between two outwardly similar but divergent personalities. You might worry whether the AMG is too often on the front foot; too pumped up. But it instinctively knows how to do fluent, luxuriant high-speed transport, and it's this duality that makes it so compelling. As for the Alpina, you might never see another on the road. The fact Buchloe's detail engineering changes are also readily appreciable and enjoyable yet the driving experience remains so undemanding makes the B8 feel very special. If only the chassis had a touch more bite, and a more rear-led balance. Maybe the B8 S will deliver.
So head says Alpina, but heart says AMG. Like I said, it's tight, but take either over the Bentayga.
Three alternatives at different budgets
Ferrari GTC4 Lusso T, £150,000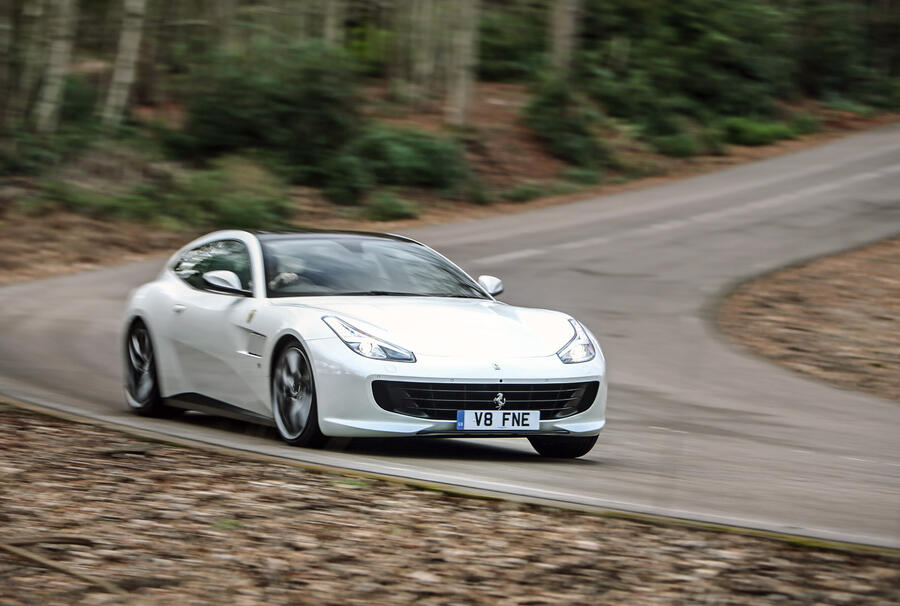 For roughly the same price as the AMG or Alpina, you can have something truly blue-blooded, albeit pre-owned and in V8 rather than V12 form. Don't be put off too much by the absence of rear doors, either: the Ferrari's back seats are truly spacious, and the car's dynamic flair is undeniable.
Porsche Taycan 4S, £90,000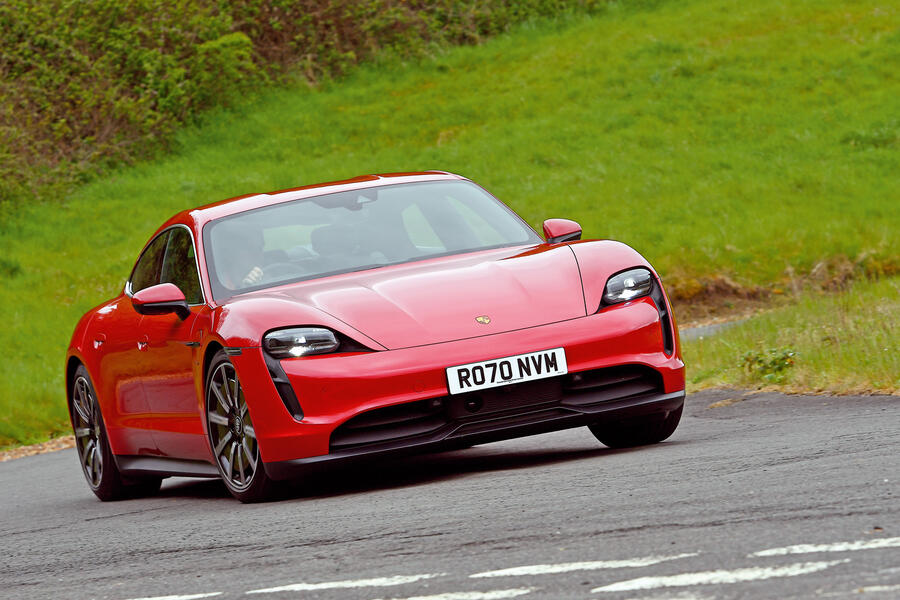 All-electric Taycan has a finer blend of ride and handling than its sibling Panamera and, with the proliferation of public rapid chargers, could make sense as a truly special four-door GT car. Expect around 270 miles of range with the Performance battery. Oh, and 533bhp to see you along.
Kia Stinger GT-S, £40,000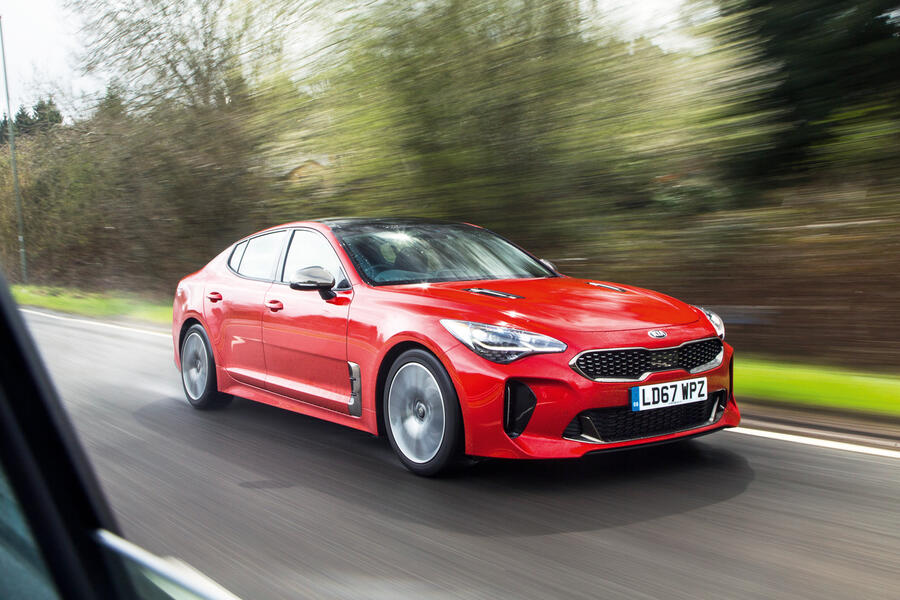 The Kia is taller in stature than some might like – more saloon than GT in demeanour. But its core character is one of longlegged muscle, with an effortless gait and fine cornering balance. The high scuttle also means the 3.3-litre V6 Stinger GT-S feels very much a GT car from within.
READ MORE
Britain's Best Affordable Driver's Car 2021
Estate of the nation: Audi RS6 Avant vs Porsche Panamera Turbo S and AMG E63 S
Frontrunners: VW Golf GTI and BMW 128ti vs Honda Civic Type R
https://www.autocar.co.uk/car-news/featu...gran-coupe