03-21-2022, 09:05 PM
Behind the scenes as Alpine tests all-new 2022 Formula 1 car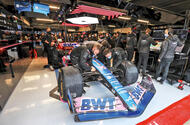 The ever-lowering budget cap on teams is "a fantastic idea", says Alpine boss Laurent Rossi, "because you don't throw money at problems any more. It's a very different story."
We join Alpine's team bosses in the pitlane as they prepare radical new-look racer
Pre-season testing is the first chance for F1 fans to see the new cars in action, but more importantly it's the first chance for the engineers to see whether or not their ideas are the right ones. And this year that was even truer than it has been for four decades, due to the vastly different rules.
It's never wise to read too much into testing lap times, as teams will test various configurations and fuel loads and push more or less than their rivals – or even 'sandbag' to hide their pace. The best insight you can really get is by watching and listening to the drivers, engineers and race crew – which I did in the Alpine garage in Barcelona a few weeks ago.
"I'd say the new cars all follow very similar themes, they're just different interpretations," said technical director Matt Harman, who started work on the A522 in late 2018. "We've investigated an awful lot of options. We've done in excess of 2000 wind-tunnel runs, and inside each one is a multitude of options. But we don't know where the other teams are. This is one of the biggest car changes I've seen in my career, and it's interesting that everybody is very protective of their information; this past six months have probably been the quietest I've ever known in F1."
Developing a car to entirely new rules has been a fascinating journey. "It has been quite unprecedented how we've gone through the cycle," said Harman. "The steps in aerodynamic points – the way we measure the load on the car – have come in big chunks. That's good for a number of reasons. One reason is because measurement is more straightforward. You can see the flow structures with the systems we have on the wind tunnel. That gives you some confidence and allows you to really get into that correlation with CFD."
It might surprise you to learn that Alpine actually worked on multiple concepts at once to ensure that it was following the optimal one. Boss Laurent Rossi explains: "We developed several 'branches', decided that one was the most promising and pushed hard on that. But on the other branches that were equally good or slightly less good, we decided to keep some elements.
"You can't then decide to take some of the pieces here and put them there; it doesn't work. But the good news is that if you start seeing things on other branches that you can't adapt on yours, you may be able to adapt it on your second concept. Technically speaking, we shouldn't be switching, because we've gained a lot of aero downforce. But you never know: someone else might have a 'Brawn GP' type of concept [the dominating double diffuser of 2009] and we have to follow up."
Back to Harman: "Because of the new rules, we've lost some of the pieces of 'furniture' on the car. Now we have less furniture and less detail but are getting the same effect. That has been our big key development – and that's why there are a lot of different sidepod geometries out there. The old car was flat underneath and then off to the diffuser, whereas on this car we've replaced the bargeboards with a significant inlet. We have a venturi, too. It's all about controlling pressures in those areas of the car. So fundamentally we spent time trying to achieve similar flow structures with less equipment."
"At the moment, the crux of the matter will be to correlate the track to the wind tunnel and CFD," says Rossi. "The wind tunnel is directional until the track says 'yes, right setting'. Once you align that, then you can 'spit out' new parts.
"We have a lot of innovations coming for the year. It's going to be the rule of the game this year, in fact: all the teams are going to inject a lot of innovation. There is no real stat, but 70-80% of the time, the parts you see performing in the wind tunnel do perform on the track; and 20-40% of the time, they don't. So we have a roadmap of what we want to put in the pipeline for the car, and then based on what we see works or doesn't, we start to investigate."
The key rule changes, in summary
Power units: Development of the current V6 turbo hybrid powertrains has been frozen until 2026 in readiness for the introduction of a "sustainably fuelled hybrid engine".
Aerodynamic testing: The sliding-scale differences in permitted wind-tunnel time have been made considerably bigger, to the benefit of the slowest team and detriment of the fastest.
Budget cap: The baseline figure for a 21-race season has dropped by $5 million (£3.8m) to $140m (£106.6m). This "glide path" will continue with another $5m drop in 2023.
Weekend format: Two one-hour practice sessions will now happen on Friday, reducing the programme from four to three sessions (this doesn't apply to the three weekends that host a Saturday sprint race).
Rookie drivers: Teams now have to give a rookie (meaning a driver who has started no more than two grands prix) an outing in first practice at least twice during the season.
Wheels and tyres: Diameter is up from 13in to 18in and tyre blankets can now heat tyres only to 70deg C (it used to be 100 front and 80 rear).
Time for new tyres
In a world of huge alloys, it always felt odd that F1 persisted with 13in wheels. That's changing in 2022 as it embraces trendy 18in wheels with lower-profile tyre sidewalls. And that's not the only change, as drivers who progress to the third and final qualifying session will no longer have to start the race on their Q2 tyre. As a result, you should see far more teams running the softest compound in Q2 in the hope of making it through to the shootout for pole.
Some things haven't changed, though: Pirelli remains the sole tyre supplier and there will still be five compounds of slick available (C1 to C5; hard to soft). As before, teams will be given the choice from three of the five on any weekend, along with wets and intermediates. Each driver gets 13 sets of slicks per weekend.
The tyres are much taller now, so certain apexes will now be blind, and the tyre warmers are set at a lower temperature (this will further reduce year on year until electric blankets are scrapped from 2024). As such, the driver who can get his rubber up to working temperature the quickest will win a significant bonus.
https://www.autocar.co.uk/car-news/motor...mula-1-car