08-08-2023, 05:40 PM
Bentley Flying Spur Hybrid S 2023 long-term test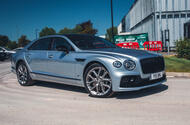 Plug-in hybrid limo promises plush with extra hush and it has got off to a good start
Why we're running it:  To see if this new V6 hybrid can match the power and refinement of Bentley's W12 and V8 petrol powertrains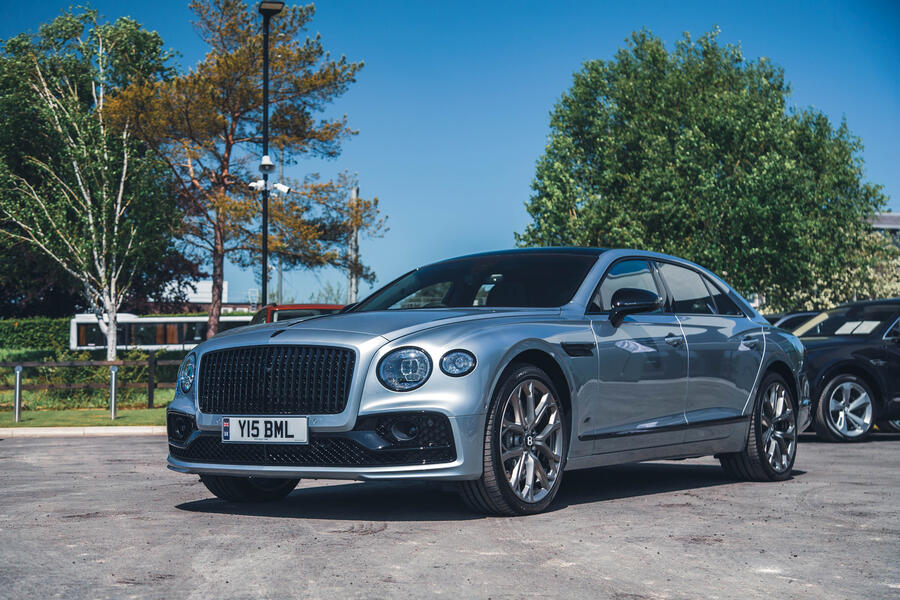 Life with a Bentley Flying Spur Hybrid: Month 1
Welcoming the Flying Spur to the fleet - 19 July 2023
It's always a great moment when a Bentley arrives in the Autocar household. It alters behaviour. People start positioning themselves to drive it and the list of aspirants grows. It swells further if potential drivers hear that this Bentley is a V6-powered plug-in hybrid, equal in performance to a V8 but much more economical if you religiously charge its 18kWh battery when opportunities present.
The queue has been shorter this time, because the plug-in hybrid in question is a Flying Spur limousine, whose 5.3m length means it won't easily fit our small office car park. And our usual multi-storey across the road (admittedly built for the Morris Minor) is entirely out of the question.
Which is not to say the length should be viewed as a shortcoming. This Bentley is a full-on limousine, a relatively practical car that excels at special occasions, as you learn the first time you open one of the long rear doors and survey the plush rear cabin. I have discovered that among the earliest instincts of a Spur debutant is to find excuses to take friends for rides.
I took delivery of the Autocar Spur at Bentley High Wycombe, a new dealership just off the M40, north-west of London. I'd discovered the place a few weeks before on the rebound from a nearby JLR dealership (I'd been surveying used car stock, a warped kind of hobby) and had been roundly ignored. I spotted the Bentley sign by chance, wondered if they would be more welcoming, and of course they were.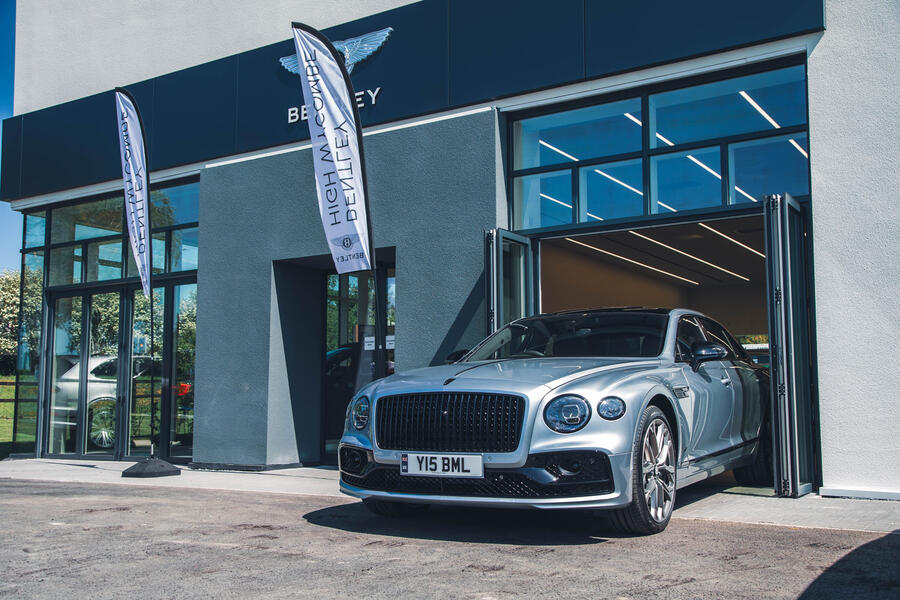 A friendly and non-pushy sales exec called Andrew Bradburn proved to be helpful and knowledgeable, so when we were later discussing with Bentley HQ a suitable place for the new Flying Spur Hybrid to be delivered, I thought of High Wycombe and everyone was happy with that. I arrived on the appointed day, met various staff members led by dealer principal Ian Smith, and spent an hour learning about our new car (again with Andrew Bradburn leading) before driving it away, dosed with quality coffee and very well briefed.
The Hybrid's major claim is its petrol-electric powertrain. It is pretty similar in overall weight to a V8, except that its battery weight migrates to the lower boot, which gives the weight distribution a 52% rearward bias. In practice, you feel nothing different. What you do notice, though, is the lack of the four-wheel steering system (omitted to make space for the battery) that has been available with non-hybrid Spurs since 2020. The Hybrid isn't cumbersome, but you're always aware of its size where the 4WS versions feel almost compact. 
However, there are no other drawbacks and some big advantages. So far, my overall fuel consumption is 35.5mpg, a cool 10-12mpg (or around 50%) better than I'd get from a V8. Of course, the available EV-only mode comes with amazing refinement, but you hardly notice when the twin-turbocharged V6 chimes in, both because that's also refined and because the integration of the different drive sources is first class. And it goes. The figures say it's a shade slower than the V8 and W12, but a Spur Hybrid can still lay down an effortless 0-100mph sprint in 10.2sec, which is all you need to know.
The battery-only range – quoted at 25.5 miles – has so far turned out to be 33 miles, which doesn't match a Range Rover's prodigious 50-odd miles but is still handy. It is delivered by a strong 134bhp electric motor that sits between the 2.9-litre V6 engine and the eight-speed automatic gearbox (and, like all electric motors, it delivers maximum torque at step-off), and the EV-only performance feels accessible and powerful.
The car will frequently cruise on motorways at 70mph with the engine off. At my Gloucestershire domestic power rates, using a 7kWh Andersen charger, a full charge (the battery's usable capacity is 15.1kWh) takes a little less than two and a half hours and costs a shade under £6. When I acquire more experience, I'll do the sums properly.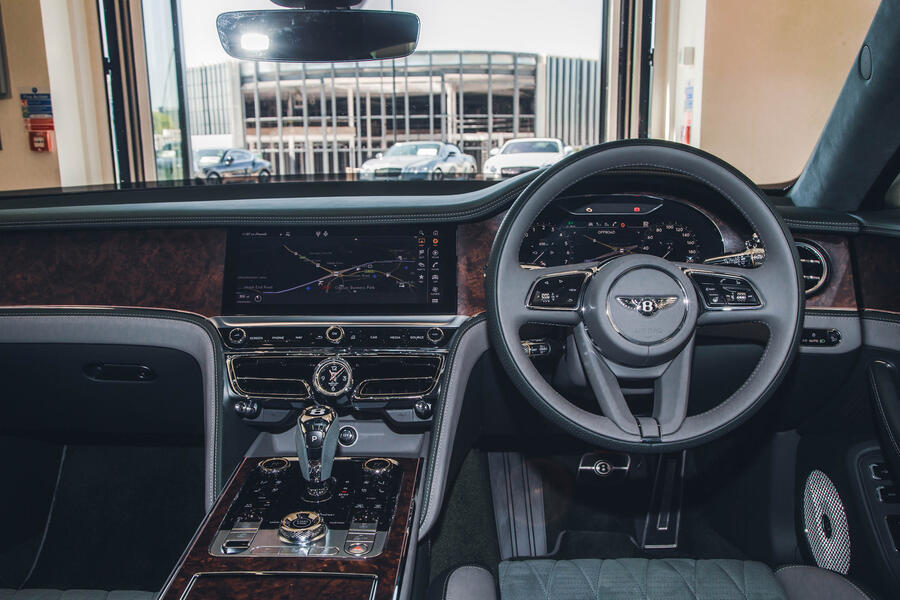 For the first few days, I treated the Flying Spur with an excess of reverence. I couldn't help it: even if you've driven your share of expensive cars, it's hard to act normally in a £250,000 Flying Spur. I mean, what is normal? I kept doing two conflicting things: trying to emulate the casual aplomb of people who actually buy cars like this, and imagining the awfulness of contacting a granite kerb with one of the 22in sports alloys finished in Pale Brodgar Satin, a £4770 option.
In succeeding days, I have become more used to the car, not least because its excellent steering allows it to be placed very accurately on the road, and its long wheelbase (as well as delivering a brilliant primary ride) gives it excellent directional stability. I'm not entirely sold on the secondary ride, mind. Those 22in alloys occasionally introduce the jitters. Still, we're getting on well, the Spur and I, and I predict an even closer relationship in future.
Second Opinion
I think the Hybrid might be the best Flying Spur. It's refined; it's fast; it's slick and polished in operation; it's got just that bit more driver appeal than you expect of a car its size; and, with the electric running, there's a duality to it that no other Spur has. This is how to electrify a luxury car: considerately.
Matt Saunders
#Back">Back to the top
Bentley Flying Spur S Hybrid specification
Specs: Price New £195,100 Price as tested £255,750 Options Naim audio £6860, Touring Specification (lane assist, night vision, head-up display, adaptive cruise) £6610, rotating fascia display £4965, 22in sports alloy wheels £4770, Diamond Quilting Specification £4200, full-length centre console £3390, tilt/slide double sunroof £2600, mood lighting £1980
Test Data: Engine 2.9-litre V6 petrol engine, plus electric motor Power 542bhp at 6000rpm Torque 568 lb-ft at 2000-4500rpmKerb weight xxxkg Top speed 196mph 0-62mph 4.0sec Fuel economy 35.5mpg CO2 70g/km Faults None Expenses None
#Back">Back to the top
https://www.autocar.co.uk/car-review/ben...-long-term