06-20-2022, 07:55 AM
Bicester Motion: Touring the radical new home of British motoring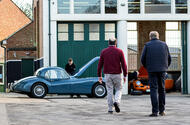 There are 100-plus buildings at Bicester and counting
Bicester Motion has grown rapidly in size and popularity since its opening in 2017, and there's much more to come
There was no fanfare inside the sober portals of the Oxfordshire civic boardroom when the big decision was handed down in early January, but there was plenty of cause for jubilation on the outside.
The Cherwell Planning Committee, an all-powerful local body whose authority encompasses the century-old former RAF Bicester air base – better known nowadays as Bicester Motion – gave its backing to the last and most controversial tranche of an ambitious redevelopment plan for the site, named the Experience Quarter.
The decision gave an instant green light to the long-term development of three miles of driver experience and car handling tracks, of an active airfield and of a network of exhibition centres designed to be occupied by a variety of automotive, cycling and aviation brands. Electric karting and 4x4 driving tracks would also feature. Cycling and walking trails in green areas would be on the cards, too, designed to encourage exercise and family days out.
Of the four Quarters long planned at the extremities of Bicester Motion's vast 444-acre site – named Heritage, Experience, Innovation and Wilderness – it's Experience that most clearly justifies the latter part of the name.
Dan Geoghegan, Bicester Motion's part-owner, CEO and lead developer, believes the committee's approval provided "the missing link" that was needed to achieve the project's overarching aim of linking the future of mobility with its past – in effect, Innovation with Heritage.
Best known of the site's four Quarters, mostly because so many of its buildings have existed since the 1920s, is Heritage. Geoghegan and co have sympathetically redeployed several dozen Edwin Lutyens-era redbrick RAF buildings and hangars to make a commercial area that contains car sales and repair businesses, niche component manufacturers, storage firms and media companies, plus a gin maker and a brewery (with a pub attached). There's even an apprentice school, called Starter Motor, specialising in training young talent in the skills that nearby businesses need.
Poorly maintained buildings have been brought back to life and new, in-character buildings are being carefully added to preserve the leafy and authentic period aura of a place that at times features in period productions such as the Foyle's War TV series. A hotel with architecture carefully matched to existing buildings has already passed the planning stage.
At the latest count, Bicester Heritage has 47 tenants running 100 separate enterprises. "We have a business that started other businesses," observes Geoghegan.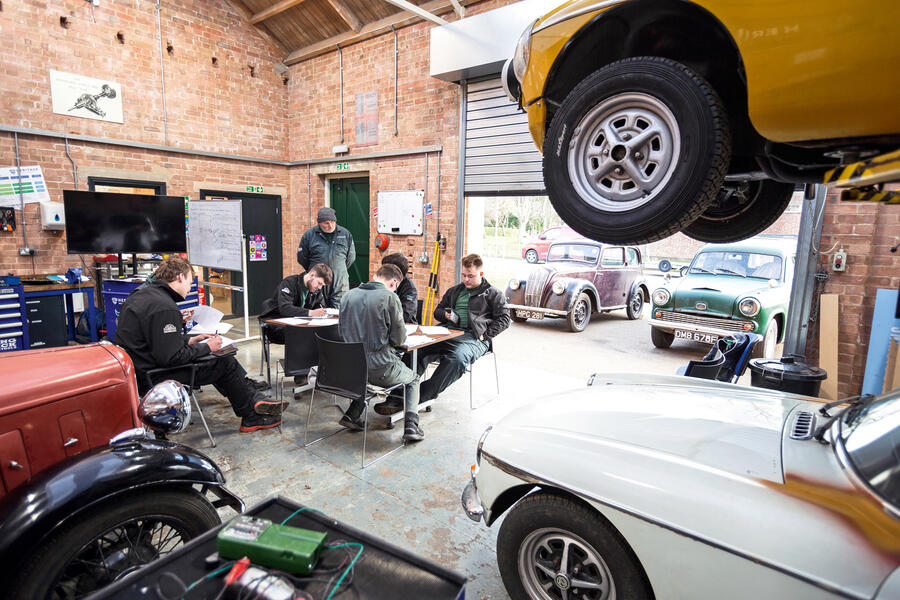 Demand for space is high and rents are "at a good market level", but the management is interested only in firms that understand and sign up to their ethos. In perpetuity, they want this to be an ideal venue, as it is now, for regular classic car shows and events, including monthly gatherings of Scramblers, the recently launched official Bicester Heritage car club.
Beyond the imposing Main Gate, manned by a genial retired psychotherapist called Neil (and his rescue dog Shelby), the history runs deep. A pioneer aviator, Lieutenant HRP Reynolds, first dropped in with his Bristol Boxkite in 1911. The Royal Flying Corps arrived in 1916, then the place was greatly expanded between 1925 and 1928 (as part of a general Royal Air Force build-up), when it became a base for research into new flying developments and techniques.
In the run-up to World War II, it was the pride of the RAF. Supermarine Spitfires and Bristol Blenheims were stationed here and the prototype of the Handley Page Halifax, an Avro Lancaster rival, made its first flight here in 1938.
Prince Charles learned to fly a glider here and the Queen came in 1965 to inspect what was by then a busy unit of aircraft and transport maintenance. Flying stopped in 1976.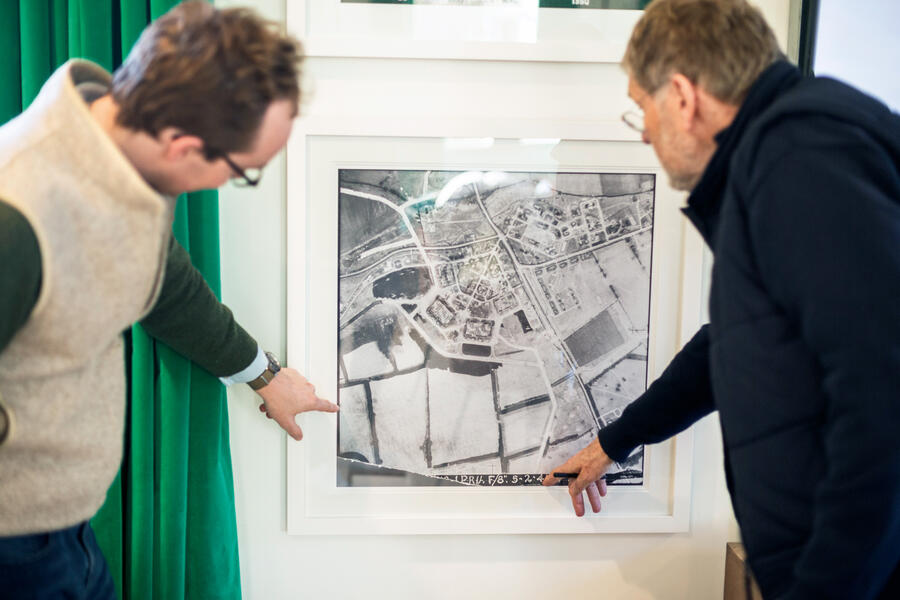 It's the biggest and best-developed Quarter at present, but Heritage is only part of it. Elsewhere, modern architecture and planning is much more in evidence. In the south-east, the Innovation Centre will encourage mobility businesses involved in future tech, housing them in "high-performance" buildings to match. Construction is just starting, but interest from potential occupants who like Bicester's history-meets-the-future narrative has been strong.
Geoghegan enjoys pointing out Bicester's long association with cutting-edge tech. "The original idea for this place was that it would be an important technical centre for the nation," he explains. "We had done steam, we were developing petrol and right here we were developing aircraft and flying. Given Bicester started as a major R&D hub, why shouldn't we return it to its roots?"
Away to the north (almost out of sight across the airfield, because the site is so large), the Wilderness Quarter will concentrate on the needs of short-term visitors. It will have around 100 acres of eco-focused green space with its own lake, the whole layout designed to encourage exploration by day visitors, campers and occupants of overnight cabins.
Bicester Motion bosses don't quite embrace the use of the word 'resort' to cover what they're building, but that's what appears to be happening.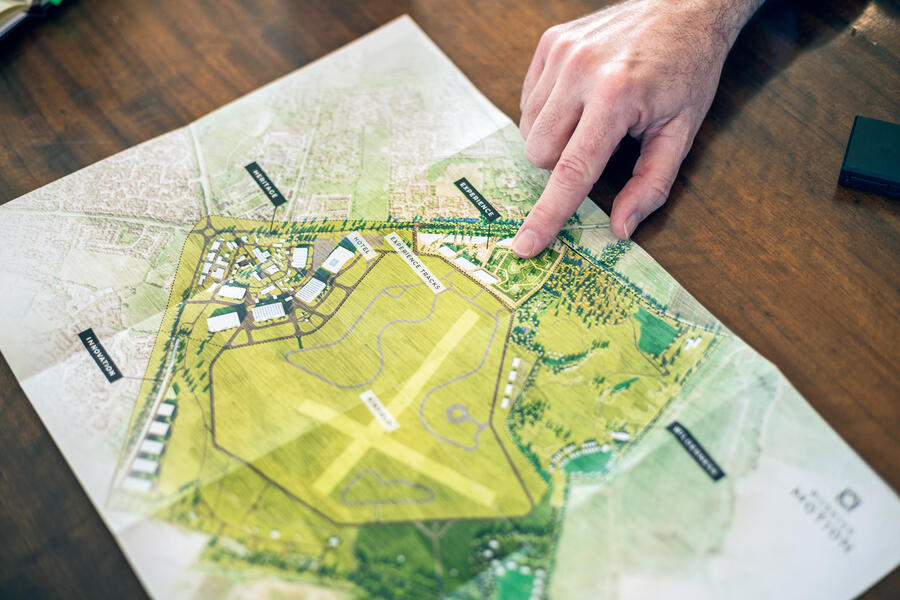 It has been nearly a decade since Geoghegan – a property developer with strong roots in rural Wales, where his dad ran the village garage and was a pillar of the community – had his first, unstructured ideas about creating a place like this.
"The whole thing started quite literally with an accident," he explains. "I was riding in a historic car rally in 2013 with a friend. Things went badly wrong; we went off the road and could both have been killed. I came out of it with a fractured pelvis, spent six weeks on crutches and took about six months to recover properly. That kind of experience makes you think about things.
"I had launched some businesses and started having new ideas to cheer myself up. One was to find a way of linking the things I was passionate about: cars, planes, skills and pride in what you do. As a kid, I had been part of a family business, and more recently I had come to realise that the sense of community you take for granted in a situation like that wasn't so common."
The idea of a classic motoring centre appealed strongly. Geoghegan started searching places and was amazed to find RAF Bicester: huge, pristine and available. He recalls walking through the Main Gate and left up Western Avenue, past the Crew Rooms (now an outpost of Morgan) with goosebumps on his arms. "It was an epiphany," he says simply. "I decided to give up my job, take this challenge and do the best I could."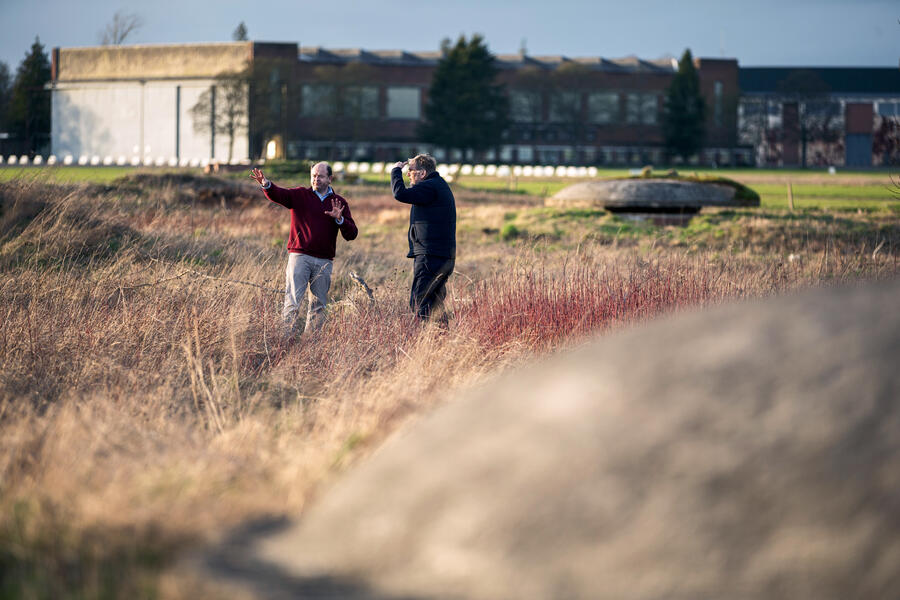 Bicester Heritage opened in 2017 and showed instant signs of success, tenants arriving quickly (and later staying solvent during lockdown). Public events were well attended and the name spread widely, because people enjoyed the special aura here.
Geoghegan doesn't do specifics, but he allows that Bicester Motion is now "a resilient business" with an annual turnover of £100 million-plus.
Soon the mission changed. Having saved the site and established a viable classic-based business, Geoghegan started thinking about his passion for all cars and how that squared with the ways all things automotive were about to change – specifically how concepts like shared mobility could match the pride, excitement and dynamism of car ownership.
Research revealed customers often knew more than dealers about the cars they sought, and they were deserting showrooms just as a shedload of new product was arriving. That's when it was clear Heritage had to become Motion – at most an embodiment of how the old times can work with and inform the new. To add fuel to the argument, Bicester just happened to be home to one of Europe's best-known and most popular outlet centres, visited by 7.6 million people a year. What a chance to entertain 7.6 million bored other halves and probably their families.
What about the future? Geoghegan admits that he thinks about it a lot. "I find myself wondering if mobility is about to become a new life science," he says. "Still, if in five or 10 years we've helped to show how the pride, the excitement and the dynamism of mobility can be preserved despite all the repositioning that's coming, that will feel very good."
https://www.autocar.co.uk/car-news/featu...h-motoring