04-04-2023, 03:09 PM
Bricks vs clicks: New car dealers open amid digital sales doubts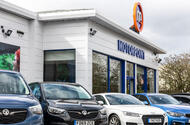 According to a survey by NTT Data, just 4% of car buyers plan to make their purchase online
'Bricks and mortar' used car dealerships such as Motorpoint are expanding, defying previous predictions
Predictions that traditional 'bricks and mortar' used car dealers would decline in the face of competition from online firms are proving premature as two major used car supermarket groups announce the launch of new branches, while two surveys reveal falling consumer interest in online-only purchasing.
Motorpoint, celebrating its 25th anniversary in 2023 and selling around 100,000 cars each year, will open its 20th outlet, in Ipswich, in May. Big Motoring World, which claims to have sold 47,000 used cars from its five sites in 2022, will add a sixth, in Wimbledon, south-west London, in June. The firm expects to sell 1000 cars a month from the new 6.7-acre branch. Explaining his decision to open the new branch, Peter Waddell, the company's owner, told Car Dealer magazine that the area was "untouched by volume dealers" and that car supermarkets offer buyers the opportunity to "touch, feel and test drive".
The news come as two major surveys of consumer buying habits show the public's interest in buying cars online appears to be fading fast. According to one of the surveys, carried out by What Car?, the proportion of car buyers planning to buy their next car purely online is just 4.2% compared with 9.7% in June 2022. Its findings are backed up in another survey by NTT Data, a leading technology partner of major car makers. It reports that only 4% of purchasers plan to buy online compared with 15% 12 months ago. 
Commenting on the decline in car buyers' interest in online car purchasing, Dominic Rowles, automotive client partner at NTT Data, said: "I am shocked by the 11% decline in people prepared to buy purely online. I do think there is a trust issue to overcome when buying a car this way but I believe the method has appeal for certain buyers. OEMs are placing a lot of bets on online generating higher profits and valuable customer insight. I'm seeing them pull back a little to develop hybrid models in which the retailer continues to play a role."
Professor Jim Sakar, president of the IMI, said car sales businesses, physical and online, thrive only if they add value. "The advantage a car dealership has over online is the value it adds, from physically presenting a vehicle to servicing it. In contrast, there is jeopardy attached to buying online. Most people would prefer to see the car they're considering buying and, looking ahead, I expect this to be even more important in the case of those buying electric vehicles."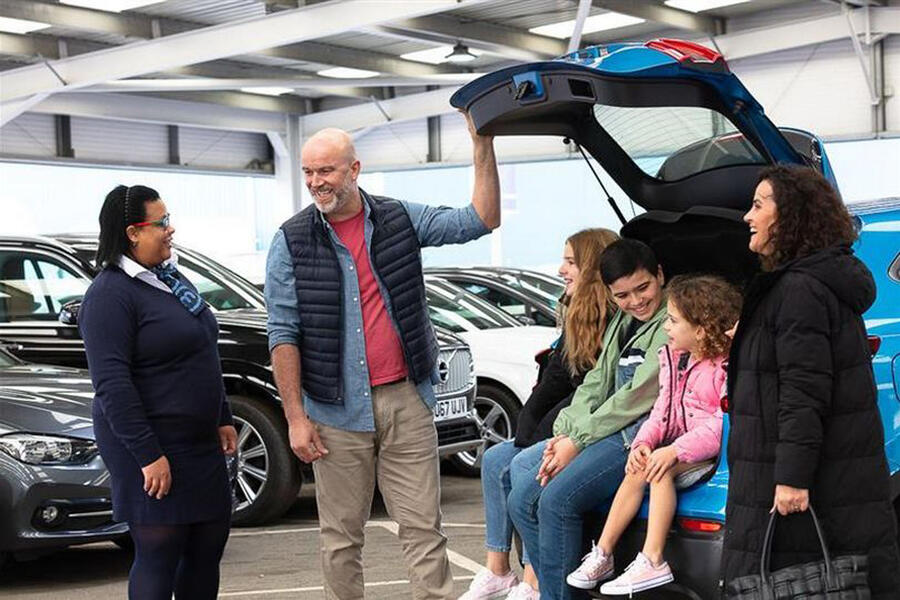 Coincidentally, as the results of the online car buying surveys were released, Cazoo, a major online-only used car retailer, closed its vehicle refurbishment centre in Westbury, Wiltshire, one of its seven such centres. Cazoo plans to reduce their number to three as it continues a major cost-cutting exercise designed to stem huge losses at the company, which has predicted it will sell around 45,000 cars in 2023 compared with 65,000 the previous year. To help steer it to profitability, Cazoo has recruited leading automotive executive Jonathan Dunkley, a former CEO of CarShop and board member of the Sytner Group, in the role of chief operating officer. 
Sakar said his appointment is a step in the right direction. "Dunkley will bring valuable motor industry experience to Cazoo. The company's founders are great disruptors but underestimated the industry's ability to quickly adapt to challenges."
He points to Cinch, notable for its sports sponsorships, as one of the few online-only retailers with a chance of succeeding in the digital space. "It's a different ball game with Cinch. It's owned by Constellation, which also owns British Car Auctions, Webuyanycar.com and Marshall Motor Group, a major car retailer. Crucially, this gives Cinch a supply of used vehicles, a serious challenge for similar businesses. Is the online market sustainable? I think Cinch stands a better chance than most of making a success of it." Rowles agrees, saying: "Cinch has the end-to-end supply chain sorted." Their words will be a comfort to Cinch's executives, this year working to reverse a pre-tax loss of £149 million in 2021/2022. 
Meanwhile, at Big Motoring World, Peter Waddell – who understands more than most the perils of online-only retailing having, as co-founder of Carzam, been forced to put the company into voluntary receivership in 2022 – is busily adapting to the challenges posed by online retailers. These include purchasing up to 70 vans required for the firm's vehicle purchasing and collection service – from, of all companies, Cazoo. In the competitive world of motor retailing, one sector's loss is another's gain.
Interview: Mark Carpenter, CEO, Motorpoint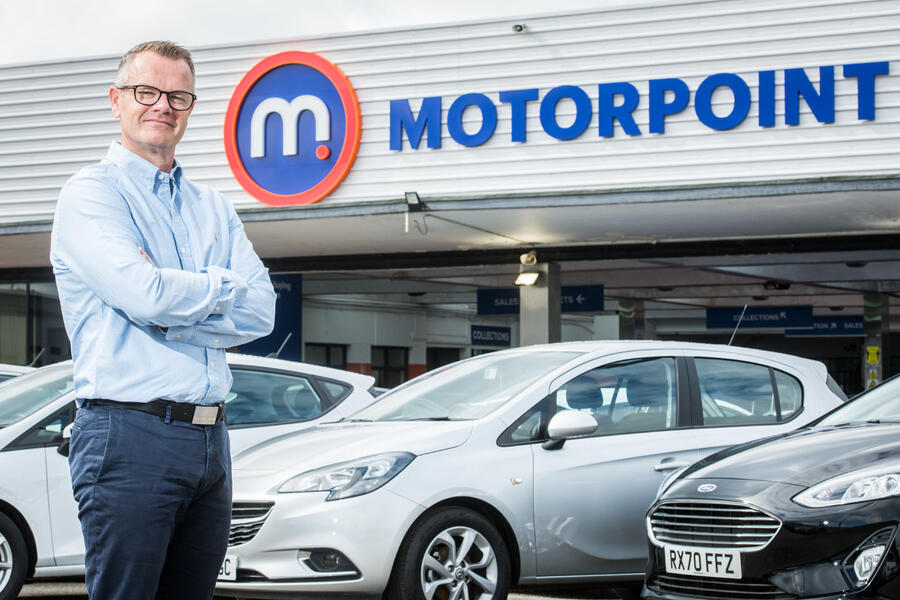 How many cars will you sell this year?
"We'll sell 60,000 cars to retail customers and a further 40,000 to wholesale buyers."
How many cars do you plan to sell from your new Ipswich site?
"In the first year, around 1000 and more as the branch establishes itself."
Do you plan to open more branches?
"We're always looking for new opportunities. Where one of our branches opens, we grow the zero to four-year car market and force other dealers to be more competitive."
What is the average age and price of the cars you sell?
"We're a nearly new car supermarket so none of our cars is more than four years old. Their average price is £23,000."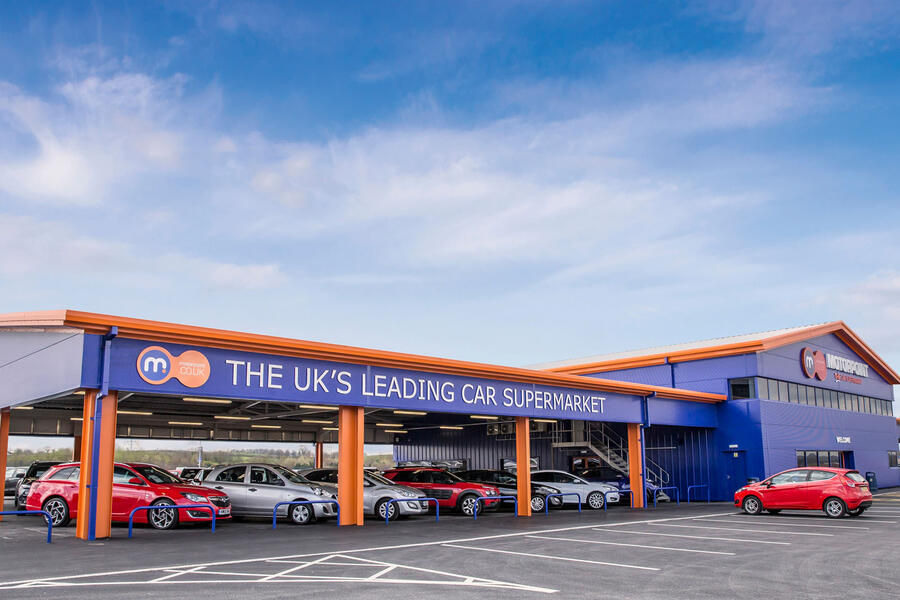 Where does your stock come from?
"From multiple sources including customers, auctions, leasing companies and manufacturers."
How have you adapted to the emergence of online-only retailers?
"By offering the same service, as well as physically at our branches. In fact, 60% of our customers reserve their car online before coming to us to see and try it. We deliver, too."
Are you surprised by the decline in the proportion of people who say they wouldn't buy online?
"We sell a lot of cars online but I do think that post-Covid, and like a lot of other sectors, consumer behaviour has simply changed. People are more willing to come out and shop, rather than staying in and buying online."
https://www.autocar.co.uk/car-news/busin...les-doubts