10-07-2021, 12:53 AM
Bringing up the rear: Jaguar XE vs front-driven BMW and Audi rivals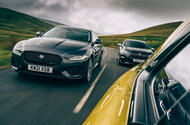 Germany's latest crop of compact executive saloons draw on front-drive hatchback hardware for their mechanical make-up. Does that put the latest XE at an advantage?
The Jaguar XE is a car that has always deserved greater showroom success than it has achieved. With the latest updated version, its maker has thrown caution – and, apparently, quite a lot of profit margin – to the wind, by taking the most direct route imaginable to commercial headway.
Having made some revisions to the car's interior and equipment specification, Gaydon slashed more than £4000 off the price of an entry-level diesel XE earlier this year, while at the same time giving the car a 20bhp power hike. A 201bhp, rear-wheel-drive XE S D200 automatic thus became cheaper at list price (which is now only a whisker above £30,000) than a whole heap of cars you simply wouldn't expect to compare it with. Is a 2.0-litre diesel Volkswagen Golf R-Line with a DSG gearbox on your shopping list? What about a mid-spec 2.0-litre diesel Vauxhall Insignia, or an entry-level Toyota Camry hybrid, or a diesel-engined Ford Focus ST? Well, if you like, now you can have an XE instead.
Higher up the model range, the price 'realignment' has brought Jaguar's most compact of executive saloons into competition with other new-found rivals. The XE line-up has been trimmed down since it was introduced in 2015 and now consists of only two mechanical derivatives: that rear-driven, 201bhp diesel and a four-wheel-drive, 296bhp four-cylinder P300 petrol junior performance saloon. The latter has benefited from an even bigger price slash than the former: a range-topping P300 R-Dynamic HSE is now £5000 cheaper than it was, and so it lines up almost exactly on price with an Audi S3 Saloon and BMW's four-door M235i xDrive Gran Coupé.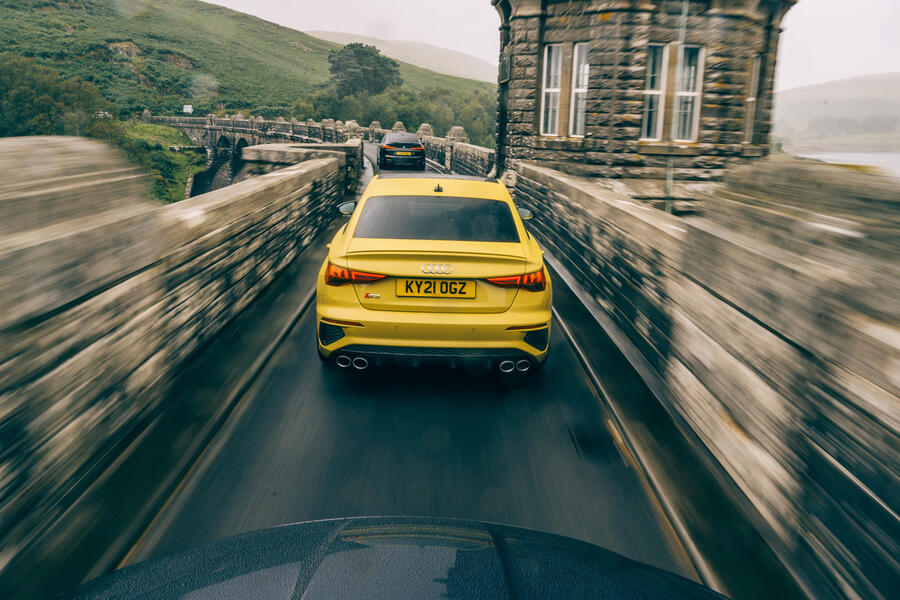 The sportiest XE has come down a full fighting weight classification, then. Is that a tacit admission of what so many have assumed: that this car won't be replaced? If you were Jaguar, would you make that decision if you had an all-new XE coming in another three years' time, a car that is heading back into competition with bigger fish? I doubt it. But either way, having been conceived as a classic longways-engined, rear-driven compact executive saloon to finally put Jaguar into the BMW 3 Series market, the XE is now taking on smaller, transverse-engined, natively front-wheel-drive saloons built on what we might think of as hatchback platforms. Easy meat? Let's find out.
On the surface, the technical specifications of the cars we're looking at here would seem to be comparable: you get 2.0-litre four-cylinder turbocharged petrol engines, two-pedal automatic gearboxes and four driven wheels in all three of them, and that may be as far as many modern car buyers are prepared to look to find points of mechanical differentiation. But there are other differences and, as we'll come on to addressing, they are key to defining why these cars look and handle as they do.
The first thing to note about a four-door Audi S3 and BMW M235i, parked up next to a pretty Welsh mountain road on a pleasant late summer morning, is that they remind you what a good-looking car the Jaguar XE remains. Here and now, it might never have looked better.
Good saloon design is all about practised, disciplined proportion. The Jaguar nails those classic saloon lines studiously well, while the Audi and BMW... Well, in this tester's opinion, they both flunk their scores for kerbside appeal, with one of them doing so quite spectacularly.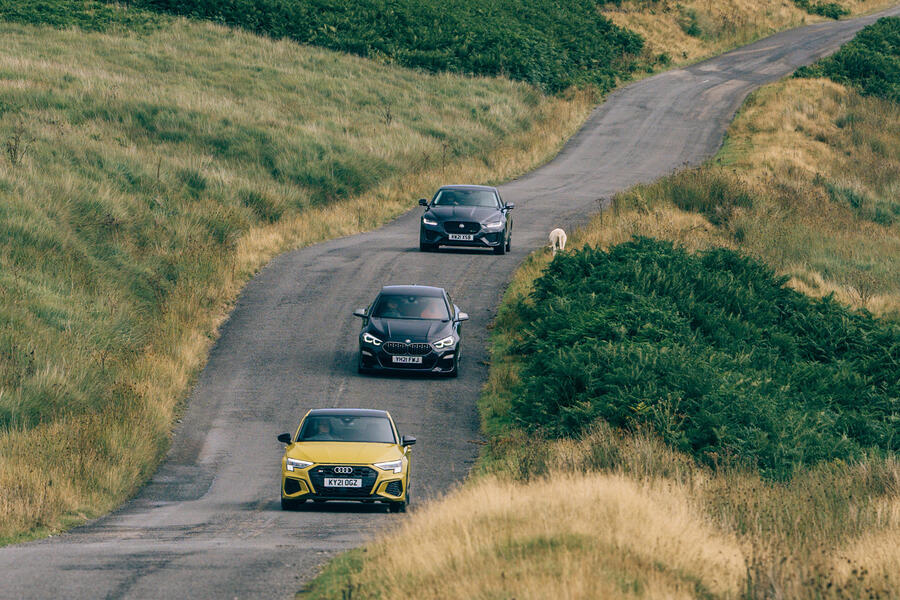 The two German cars have panels busy with curves, creases and pumped-up volumes, and bumpers stacked with exaggerated grilles and air intakes. This, we're told, is the way their buyers like them. But those features seem like a vain diversionary tactic when you realise how much higher the bonnet lines, scuttles and waistlines of the BMW and Audi are than those of the Jaguar; how much longer their front overhangs are; and how much taller, narrower and less planted they look as a result.
The smaller saloons are that way by necessity, needless to say; packaging an engine transversely, to drive the front axle primarily, means mounting it high up directly above that axle where the output of its gearbox can align with the front wheels, and accepting the design compromises that come with it. Bolt the engine in 'north-south' to drive the rear wheels instead and you can drop the powertrain down lower and move the front axle forwards, delivering the lower bonnet height, scuttle, waistline and, ultimately, roofline that allow a three-box saloon to look so visually well balanced and elegant – as the XE undoubtedly does.
That, in a nutshell, is why hatchback-derived saloons never quite look as good as classically configured, larger ones: high-mounted transverse engines. It's also how it comes to be that both of the cars here from the supposedly smaller class of the saloon market have higher roof lines than the Jaguar: because a high-mounted engine means a high-mounted everything.
The M235i is unquestionably the more awkward of the German pair. Those high, square, bunched-up shoulders make it look more like the 2 Series GT that never was than any kind of coupé. Its 18in wheels sit small within their arches, which themselves have a mass of bodywork above them that almost neuters any sporting appeal that might be conjured. The Audi, though typically overwrought and snouty, at least manages to look 'right' from some angles. The wide-haunched XE, meanwhile, outshines them both by a distance, just as it should.
A few years ago, we would all have banked on a brand-new junior Audi outscoring an XE for material cabin allure. Jaguar, however, has done much over the last couple of model- year revisions to bring the interior of its smallest saloon up to snuff, while the fourth-generation A3, which came along only last year, met with decidedly mixed reviews for its cabin quality – and quite reasonably so.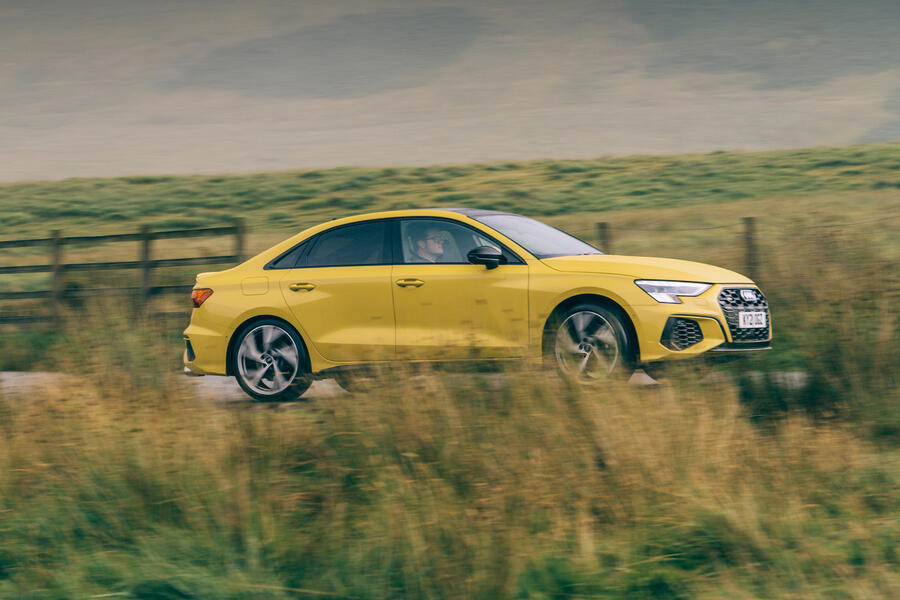 Ingolstadt has traded a certain amount of perceived tactile quality for a glossy, geometric visual appeal with its latest compact car interiors. To drive the S3 is to feel less like you're operating something hefty, expensive and immutably well built, and more like you've gone shopping for a new TV or a high-end fridge-freezer. The car's fascia has twice as much piano black plastic as there is in either of its rivals and a design theme that is all about three-dimensional sculptural form. This is clearly luxury product design for the 21st century as Audi sees it.
But when you feel with your hands for how well the Audi's various interior trims are secured, and how much evidence there is of good tactile quality elsewhere, you find a few creaky plastics and a few bare, hard, scratchy finishes. You wouldn't say the S3's cabin feels cheap, and it certainly doesn't look it, but it doesn't have that integrity and depth of solidity you expect.
That the 2 Series' interior isn't trying nearly as hard to look like the shop window of Currys is a relief. It looks and feels solidly constructed, but it's a darker, simpler driving environment than the Audi's, and for all its extra physical switchgear, it's also easier to instinctively operate. Darker, that is, not counting the Magma Red two-tone leather of our test car: an £1150 option that I could very happily live without (although other testers liked it).
But it's the Jaguar's interior that looks and feels the plushest. Gaydon added its latest Pivi Pro infotainment software to the car as part of the latest update, and while the XE doesn't have the larger touchscreen set-up of the bigger XF and F-Pace, the screen it does have is now better laid out and easier to use (it offers smartphone mirroring as standard). The combination of leather, chrome and sparingly applied decorative plastic just makes for a more luxurious, upmarket look and feel that neither the Audi nor the BMW can quite equal.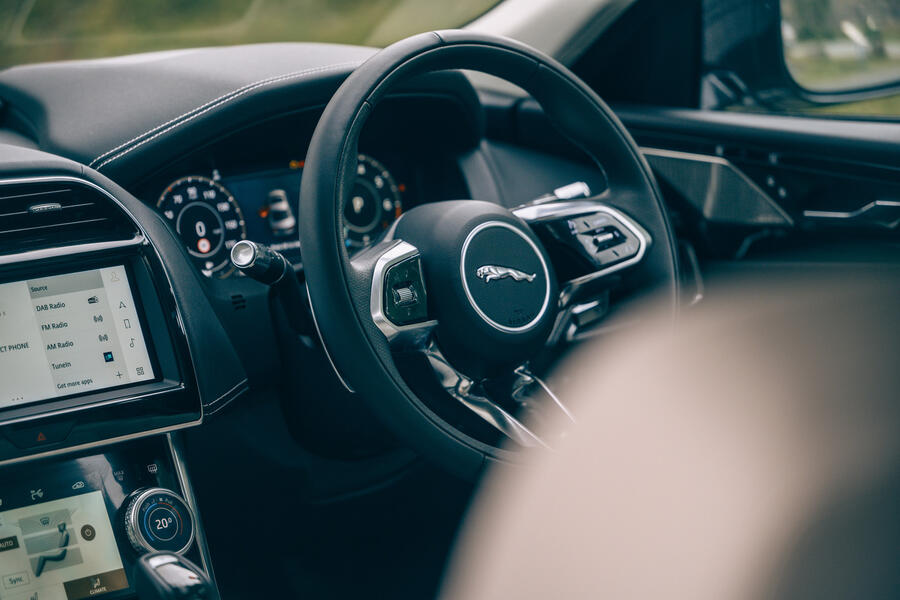 For practicality, both the Jaguar and BMW have their lures. The Audi's second-row seats are the meanest for outright head and leg room. These aren't the kind of saloons that carry full-size adults in the back row too often, and in all three children and younger teenagers would be comfortable. But the BMW's second row is the roomiest and offers the easiest entry and egress. Adults of six feet in height and under could travel in the back of the Jaguar or the BMW comfortably enough, but would be the comfiest of all, just, in the latter.
It's a bit disappointing to note how little extra passenger space the XE's greater overall length allows it to offer relative to its rivals, and how tight is the door aperture that rear-seat passengers have to squeeze through on their way in. Likewise, that its driving position only feels a little lower and more enveloping. For taller drivers, the BMW affords the most head room, although there is enough driver's leg room and head room in all three cars for a 6ft 3in tester to feel comfortable and well catered for.
Can there be any way back for either the BMW or the Audi when it comes to driving dynamics? Look at our specification table below and you might just expect so. The XE, with its lower-set engine, lower associated centre of gravity and native rear-drive chassis ought to handle the sweetest, of course.
But both German options wield an advantage over the Brit-built Jaguar on peak power and a bigger one still on power-to-weight ratio. The BMW's advantage on torque-to-weight, meanwhile, certainly ought to make it feel like the quickest car here in terms of accessible performance.
Sure enough, it's the M235i that has the most appealing engine and drivetrain. The BMW's greater energy and thrust in roll- on acceleration is actually quite noticeable. Drive the three cars back to back on a winding, varying stretch of B-road and it's the BMW that gets out of corners and down the road the quickest. It's more responsive than the Jaguar as well as harder-hitting through the mid-range. It's keener revving, too.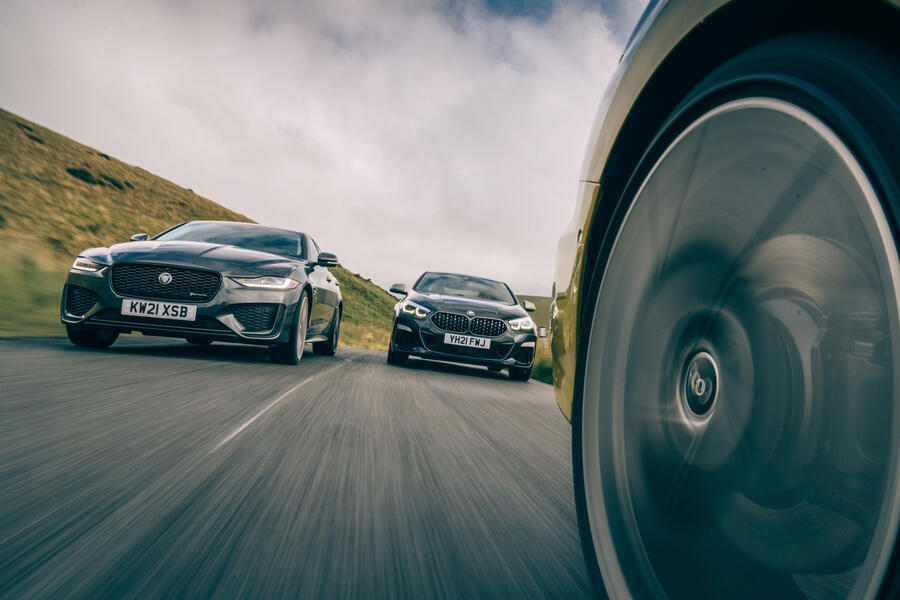 The Audi gets closer than the Jaguar to matching the BMW for outright punching power, and it has better linearity of power delivery than the Jaguar's Ingenium lump. The engine still feels a little bit softer under your foot than I'd like it to, it doesn't sound enticing enough and doesn't particularly like to rev. The S3 is fast, then. But the audible digital engine noise trickery in which the Audi engages when you use its sportier driving modes seems almost comically contrived after the other two cars, and it was a real turn-off for this tester. In isolation, if you weren't really paying attention to how 'real' your car sounds when you're properly exploring its capabilities, perhaps it might not offend you as much.
It would offend me, though, and it would be the reason why I'd seldom if ever drive the S3 in Dynamic mode, which is a shame considering how much grip it can develop, how well tied down its body control can be and how much tenacity and attitude the chassis has. Our test car (on optional 19in wheels and adaptive dampers) presented quite a different dynamic prospect than the softer-sprung, slightly lopier Jaguar and made a reasonably appealing alternative.
While the XE rolls and breathes with bumps a little when you stretch its legs on a back-road journey, the S3 feels leaner, tauter, more tied down and keener to be hustled. The XE has greater fine precision and natural balance about its handling; it tucks into bends so readily and glides its way past apices, allowing you to feed in power early while keeping its course effortlessly and allowing its body to move just a little.
The S3 is more of a handful, but a likeable one at that, like a hot hatchback with a boot. Preferring to roll and jounce much less, it claws the asphalt and eggs you on to give it more and more to do. It responds to bigger steering inputs with a rising rate of response, keeps f lat and level under plenty of lateral load and feels less sweetly balanced than the XE but ready, perhaps, for greater cross-country speeds in more testing conditions, and a firmer operating hand.
Where does the BMW slot in? Well, it's a lot more like the Audi than the Jag, just as you'd expect, but it's less grippy on its standard-fit 18in wheels and Bridgestone Turanza tyres, with a front axle that is quite a lot less willing to hustled, and steering that's slower, lighter, plainer-feeling and less communicative than either of its rivals. Despite a zestier engine, the BMW doesn't have the Audi's sense of purpose, tautness or tenacity. It's more practical and refined than the S3, but given how ungainly it looks and how disinterestedly it entertains, it can only come last in our reckoning.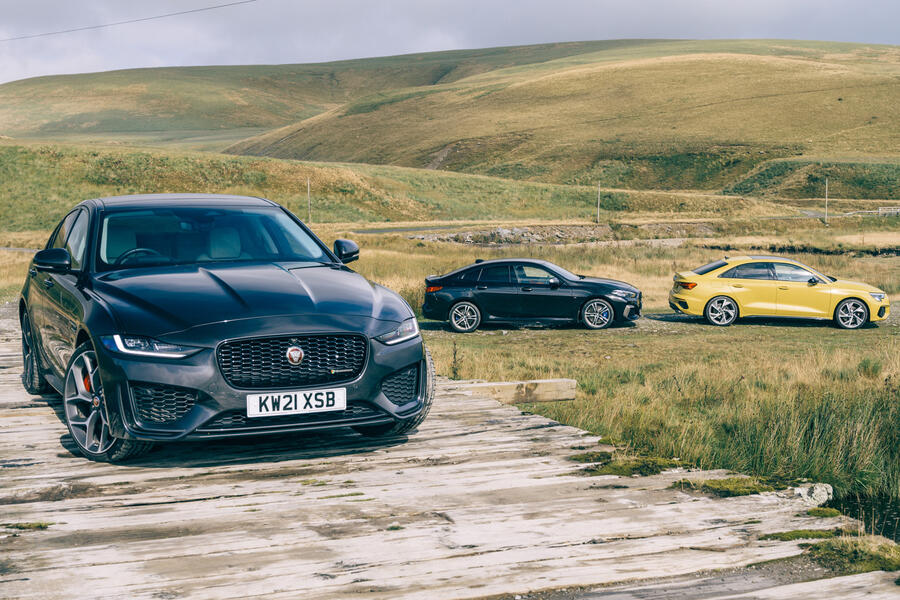 Which leaves the pretty, fluent-handling, slightly lacklustre-engined Jag and the fast and energetic but electronically contrived and slightly impractical Audi. For dynamic appeal, you might be surprised by how close a call it is, because the S3 is vigorous and involving to drive. But it doesn't juggle ride comfort, isolation and ease of operation against driver involvement as cleverly as the XE, and it doesn't have the kerbside appeal or presence to really threaten the Jaguar either.
It's a win for Jaguar, then – the one Gaydon will no doubt have expected. Although it was by no means always assured, it's well deserved, and a sign that, now it's priced right, the XE's last few years on sale might just win it more fans than its first.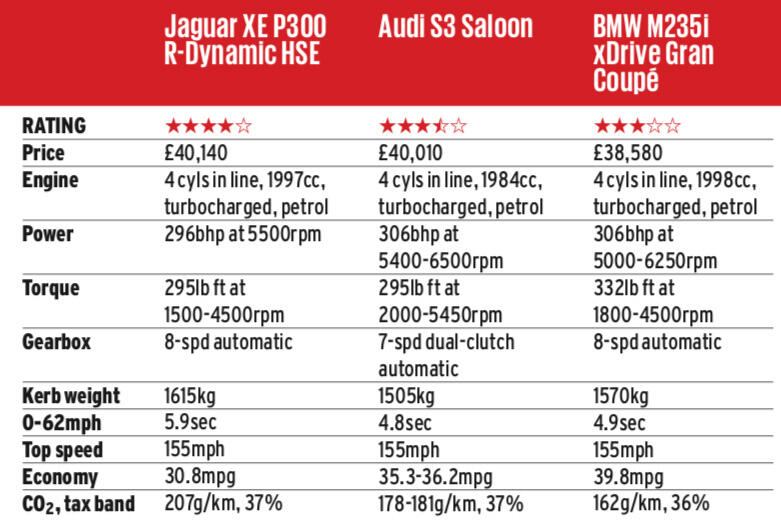 https://www.autocar.co.uk/car-news/new-c...udi-rivals