12-21-2022, 12:57 PM
Britain's Best Driver's Car 2022 | Part two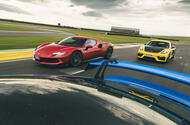 What will come out on top this year?
Every year, we gather some of the best driver's cars money can buy and pit them against each other in a battle to see what comes out on top.
This year is no exception. We headed back to Anglesey Circuit in North Wales, the on-and-off home of our Britain's Best Driver's Car contest, with some of the most special machinery of the past year (plus the Porsche 911 GT3, which returns as last year's champion) in attendance. With everything from a McLaren to a Morgan in attendance, it's set to be a bumper year.
Last week, we ran through the bottom half of the list - this week, we're looking at what came out on top.
https://www.autocar.co.uk/car-video/brit...2-part-two