02-28-2023, 01:19 AM
Britain's best cheap cars - Dacia vs Hyundai vs MG vs Kia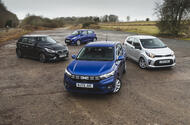 What will come out on top in this battle of the low-cost legends?
It's hard to buy a cheap new car these days, isn't it?
In a time of £40,000 Vauxhall Astras and £50,000 Mini Convertibles, you can count the number of new cars on sale for less than £15,000 on your own two hands.
However, although there aren't many around, it's still possible to bag yourself something that's both cheap and cheerful. We've gathered four of our favourites - the MG 3, the Dacia Sandero, the Kia Picanto and the Hyundai i10 - with the aim of finding the best affordable car in Britain.
Join Matt Prior and James Disdale as they take a relaxed look at these low-budget legends.
https://www.autocar.co.uk/car-video/brit...-mg-vs-kia