02-06-2023, 02:02 AM
British firm wins £6.6m to develop autonomous hydrogen HGV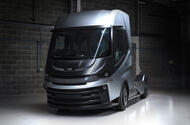 HVS awarded £6.6 million to help decarbonise "one of the biggest-polluting vehicle sectors on the road"
British commercial vehicle start-up Hydrogen Vehicle Systems (HVS) has gained £6.6 million of government funding to produce the world's first self-driving, hydrogen-powered HGV and it will begin trials next year in partnership with UK supermarket giant Asda. 
The funding will go towards the development of two prototype vehicles, with the end goal of introducing a next-generation logistics system and decarbonising what HVS has described as  "one of the biggest-polluting vehicle sectors on the road".
It was awarded by the Centre for Connected Autonomous Vehicles (CCAV) as part of its scheme to develop the "potential of autonomy in the transportation sector", which, CCAV says, will bolster efficiency and safety and provide new jobs for the industry. 
Plans for the HVS's hydrogen-electric powertrain were first detailed in November last year, along with a goal of developing a 40-tonne zero-emission HGV. HVS will now build two prototype vehicles that will both have level four autonomous driving capabilities. 
The first prototype will feature a driver's cab and its autonomous operation will be road tested with a human driver behind the wheel. The second will not have a driver's cab and will be tested on track. Its driver's cab will be replaced by an "aerodynamic fairing". 
HVS adds that future vehicles will have the capability to operate autonomously on a hub-to-hub route using a system developed by Fusion Processing, with a remote driver taking control for the remaining miles between a hub and the final destination. 
UK government business secretary Grant Shapps said: "In just a few years' time, the business of self-driving vehicles could add tens of billions to our economy and create tens of thousands of jobs across the UK. This is a massive opportunity to drive forward our priority to grow the economy, which we are determined to seize.
"The support we are providing today will help our transport and technology pioneers steal a march on the global competition, by turning their bright ideas into market-ready products sooner than anyone else."
The move is significant for UK retailer Asda, which is targeting a reduction in its fleet emissions as the company claims to move towards net zero. 
Asda's senior fleet manager, Sean Clifton, said: "We are keen to look at innovative new technology, such as autonomous HGV tractor units, which can make a real difference to our carbon footprint. 
"We will continue to work with like-minded partners on projects such as this to reduce our impact on the environment."
https://www.autocar.co.uk/car-news/techn...drogen-hgv