08-20-2022, 08:10 AM
Bugatti teases new model ahead of 19 August unveiling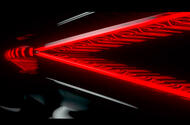 Latest Bugatti teaser video shows tail lights similar to those on the Bolide track car
Highly exclusive, as-yet-unnamed hypercar could be the final Chiron-based model
Bugatti has teased a new model – expected to be a variant of the Bugatti Chiron – ahead of its debut at Monterey Car Week.
Two short video clips published to social media show the silhouetted front and rear end of a car featuring styling radically different to the Chiron.
The fascia features a four-strip LED headlight design integrated into a thin, sharp-edged wheel arch, reminiscent of the track-focused, Chiron-derived Bugatti Divo.
The front end appears to show an open grille area underneath the headlight. Meanwhile, the bonnet features a central pillar and a large duct which is presumably mirrored onto the unseen side of the car.
The rear end features X-shaped tail lights similar to those on the upcoming Bugatti Bolide track car, linked by a central bar of LEDs.
The latest tweet's caption – "the last of its kind" – hints that this may be the final Chiron-based model before the next-generation Bugatti is launched.
THE LAST OF ITS KIND19 AUGUST 2022 | 10:20 PDT (17:20 GMT)THE QUAIL, A MOTORSPORTS GATHERING#BUGATTI #MontereyCarWeek #TheQuail @TheQuailEvents pic.twitter.com/OGCMmXrAXE

— Bugatti (@Bugatti) August 16, 2022
<script async="" src="https://platform.twitter.com/widgets.js" charset="utf-8"></script>
<script async="" src="https://platform.twitter.com/widgets.js" charset="utf-8"></script>
No performance figures have been released by the hypercar maker, but expect something similar to the 1587bhp quad-turbocharged 8.0-litre W16 from the Bugatti Chiron Super Sport 300+, if not the same engine.
Pricing for the as-yet-unnamed new Bugatti is expected to match the Chiron Super Sport 300+'s figure of around £3.1 million. A similar limited run of 30 units would also keep exclusivity high.
Bugatti – which merged with EV specialist Rimac Automobili in late 2021 to create Bugatti Rimac – will officially reveal the new model on 19 August at The Quail.
It's not alone in using Monterey Car Week for launches: Aston Martin has today revealed its bespoke DBR22 speedster, while Bentley is poised to unveil the Mulliner-made Batur on 21 August.
https://www.autocar.co.uk/car-news/new-c...-unveiling