01-11-2022, 07:42 PM
Business briefing: What the German election means for OEMs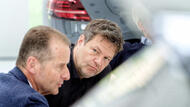 VW boss Herbert Diess and Robert Habeck, Germany's Federal Minister for economic affairs and climate action
With a new government in Germany, the likes of Mercedes and Volkswagen face potentially major changes
Germany's new 'traffic light' coalition government is planning a dramatic upsurge in electrified motoring together with greener industrial policies, putting a question mark over some 880,000 jobs and the future of its world-leading car makers and global tier-one suppliers – but also promising a radical reshaping of an industry at the heart of Europe's car-making skills.
The battle around electrification, synthetic fuels and the pivot in Germany's powerhouse assembly plants and supply chain to BEVs has already split the outgoing Merkel government from some sectors of the German auto industry – a trend that might continue since new transport, energy and industry ministers were appointed by the Coalition in early December.
For Autocar Business webinars and podcasts, visit Autocar Business Insight
Significantly, The Greens have been allocated the key economy and climate change department, under Robert Habeck. Best known for his gloomy environmental speeches, he will wield new powers to co-ordinate climate, energy and economy policy.
Germany has already made solid progress towards electrification in its automotive industry, with electrified cars approaching 675,000 sales in 2021, for 24% of the market.
The question now is how much faster and farther progress can be accelerated by the new government.
According to automotive industry analyst Matthias Schmidt, the car industry can at least expect a more intensive push towards EVs, possibly at the expense of plug-in hybrids.
"The traffic light coalition government is going to be a potentially major catalyst for the acceleration of the battery electric market in Germany," he said.
In his latest report, the German says combined sales of plug-in cars – BEVs and PHEVs - are already on a climb towards 675,000 units combined. But based on the coalition's manifesto, which promises 15 million BEVs on German roads by 2030, sales of BEVs will have to speed up dramatically from today's 350,000 units.
"We won't see a straight-line increase," said Schmidt, "but a gradual volume increase up to 2025 and then a large push from that point onwards."
In practice, Germans will have to be cajoled and incentivised to buy two million or more BEVs per year. That's two-thirds of three milion annual new car sales, whereas currently they make up 15%.
So far, there has been no detail from the coalition on how many euros it's prepared to commit to incentives to help this transition or where any money will come from.
Also explicit in the coalition plan is an earlier introduction of the ban on new ICE car sales, a couple of years ahead of the European Union's 2035 deadline, although that's controversial with car makers and the supplier industry, manifesting as a rift at November's COP26 climate conference in Glasgow.
Yet with dramatic targets being driven by The Greens and backed by the business-friendly Free Democrats, whose leader Volker Wissing has been handed the transport portfolio, Germany's car industry leaders have remained largely silent – with the exception of Volkswagen Group boss Herbert Diess.
Diess made his move early, going viral on social media with a plan for the coalition, grabbing the green agenda and majoring on accelerating the transition to electrification.
Neither BMW nor Mercedes-Benz has been as bold as Volkswagen and gone public while the coalition formulates policy, but given that Germany is the European economy with the biggest automotive industry workforce – some 880,000, which is nearly four times the size of the next-biggest, France — the risk to the German economy is significant.
Continental, for example, has previously warned that an over-enthusiastic switch to electrification will threaten jobs, while Bosch has 15,000 workers in Germany alone dedicated to diesel component manufacture.
The counter argument says a decisive and rapid switch will pay back with a more competitive industry leading the global transition.
The question is how sensitive the coalition will be to the business and employment challenge of pivoting too early to a new manufacturing normal and damaging the German economy.
Early signs suggest not very sensitive, if their resistance to e-fuels is anything to go by. E-fuels, in which synthesised hydrogen is combined with carbon to create a synthetic hydrocarbon fuel, can clean up internal combustion engines and extend their production life to reduce disruption to manufacturers and suppliers. They also offer a hedging alternative to batteries, whose hungry appetite for destructive mining of rare metals might yet limit their widespread deployment.
According to Schmidt, there are signs that the coalition might align at the EU with green pressure groups, who want to regulate e-fuels and limit their potential market by penalising them with duties and taxes, possibly resulting in a £2.30 litre – palatable only to well-heeled drivers.
But there are established contradictions in both the coalition and car makers' positions that will need sorting out. This was illustrated by paradoxical positions at COP26, where the outgoing Merkel government, BMW and Volkswagen refused to add their signatures to a declaration on zero-emissions cars, which excluded e-fuels, while Mercedes went in the opposite direction and signed up.
The Merkel government baulked at tying the hands of the coalition or leaving out e-fuels, while BMW CEO Oliver Zipse was reported as saying: "We don't intend to sign it, because it will be harmful for the climate under current framework conditions."
In the space of a month, Diess seemingly has changed his view, saying in November that an exit from internal combustion engines by 2030 "is not possible" and therefore not signing the declaration.
Meanwhile, Mercedes went ahead, stating that it's already strategically oriented to an all-electric future by 2030.
Whether these discrepancies can be resolved and combined with multiple new agreements in other policy areas to create a policy consensus will be eagerly-awaited in boardrooms across Europe.
Volkswagen's green automotive agenda
CO2 price of €65 per tonne by 2024
End fossil fuel subsidies
Phase-out coal earlier than planned
Expand renewables to 255GW by 2030
Re-orient company car subsidies to electrics
Gradually reduce electric vehicle premium by 2025
Huge expansion of charging network
Mandated targets for fast chargers
Limit green hydrogen to decarbonise steel, chemicals and cement
Refocus city transport onto ride-sharing and e-bikes
New rules on vehicle data and vehicle/cyber security
Nationwide 5G to accelerate shift to autonomous vehicles
https://www.autocar.co.uk/car-news/busin...means-oems