11-30-2021, 04:00 PM
Buy them before we do: second hand picks for 26 November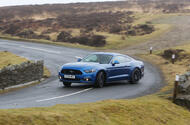 We take a look at a few American heroes with some real bang-for-your-buck
Everyone's fancied having a slice of Amercian muscle on their drive at some point. But what should you go for? 
Ford Mustang 5.0 V8 GT Fastback, £29,995: American performance cars make no sense in the UK, what with our expensive fuel prices and narrow country roads, but that doesn't make them any less desirable. 
The Ford Mustang is one of the most recognisable, and it's today's Mk6 car that we've taken a liking to on the used market. It was launched in 2013 as the first 'Stang to be sold globally and to offer right-hand drive. 
Coming with a fastback or slightly pricier convertible body, it offered a few engines. The 300bhp 3.7-litre V6 continued from the Mk5, joined by a new 435bhp 5.0-litre Coyote V8. But the headline-grabber was a new, more planet-friendly turbocharged four-cylinder unit with 310bhp. This provided a 0-62mph time of 5.5sec when mated to the six-speed manual gearbox (a six-speed automatic was a £1500 option).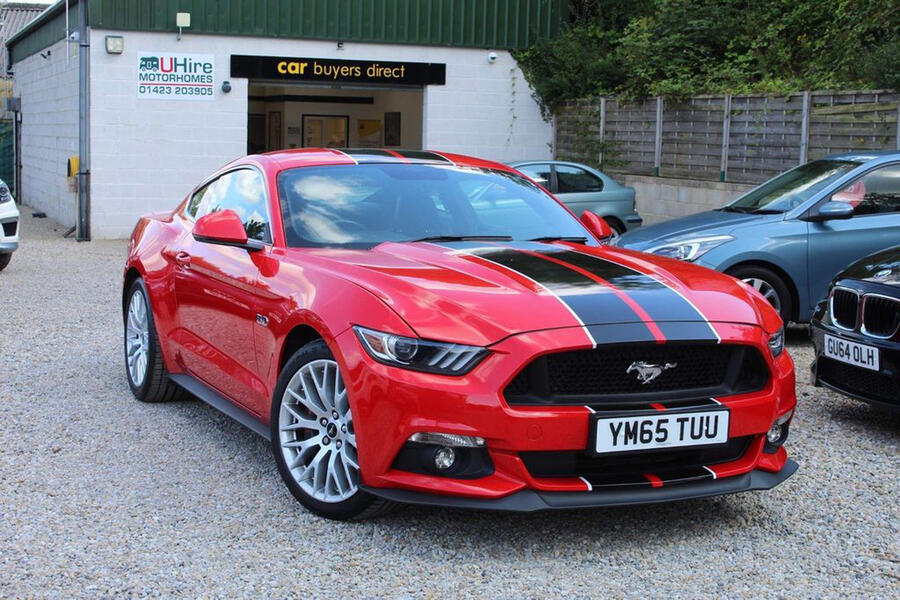 Every model got xenon headlights, an 8.0in touchscreen, dual-zone climate control, keyless entry, performance brakes, a rear diffuser, a reversing camera and cloth bucket seats, while the four-pot car gained electrically adjustable front seats. 
The track-focused GT350 joined the range with a host of performance updates, including a 526bhp 5.2-litre flat-plane-crank V8, a tuned chassis, aero changes and Brembo calipers. 
Britain's used market isn't short of Mustangs, although most are LHD, with RHD commanding a premium. V8 cars are also a bit pricier and those with the V6 are few and far between, given it was axed in 2017. 
We found a V8 example from 2016 with 21,000 miles on the clock up for £29,995, with the wheel on the right side and just one owner who has kept it well serviced and in top condition.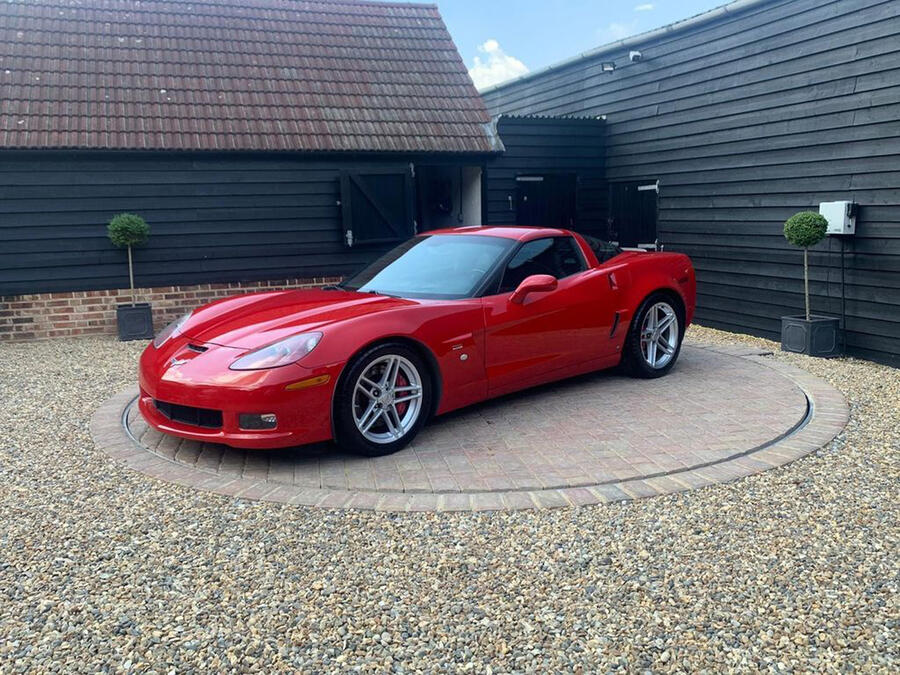 Chevrolet Corvette ZO6, £35,000: Another V8-powered behemoth, this uprated Corvette packs 7.0 litres, 505bhp and 460lb ft. It was the most powerful car GM had ever produced when it arrived in 2006. This example has a manual gearbox, too, which is an even rarer proposition.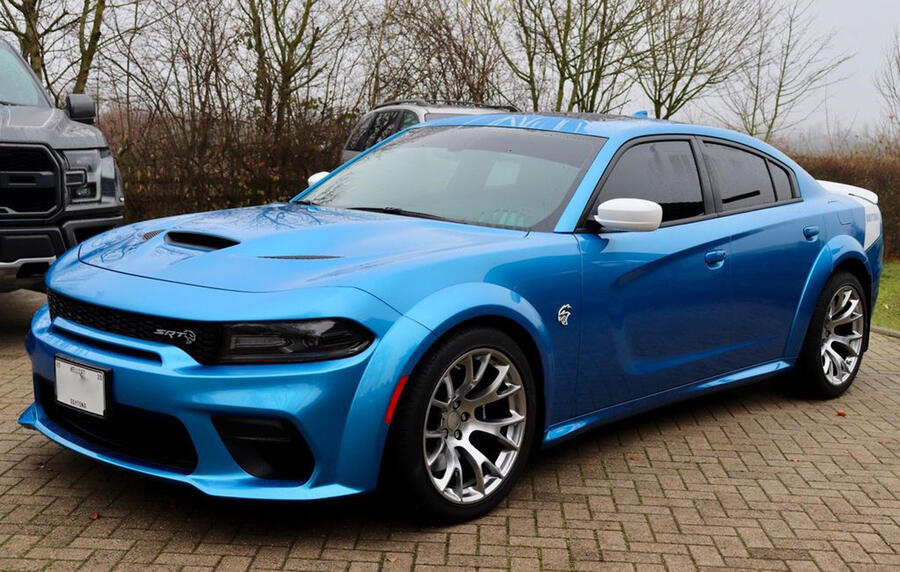 Dodge Charger SRT Hellcat Widebody Daytona 50th Anniversary Edition, £74,995: This special edition celebrates 50 years of the Nascar-famed Charger Daytona. Built last year as one of 501, with a 717bhp 6.2-litre V8, it has seen just 7000 miles. It can hit 62mph in 3.6sec and a top speed of 203mph.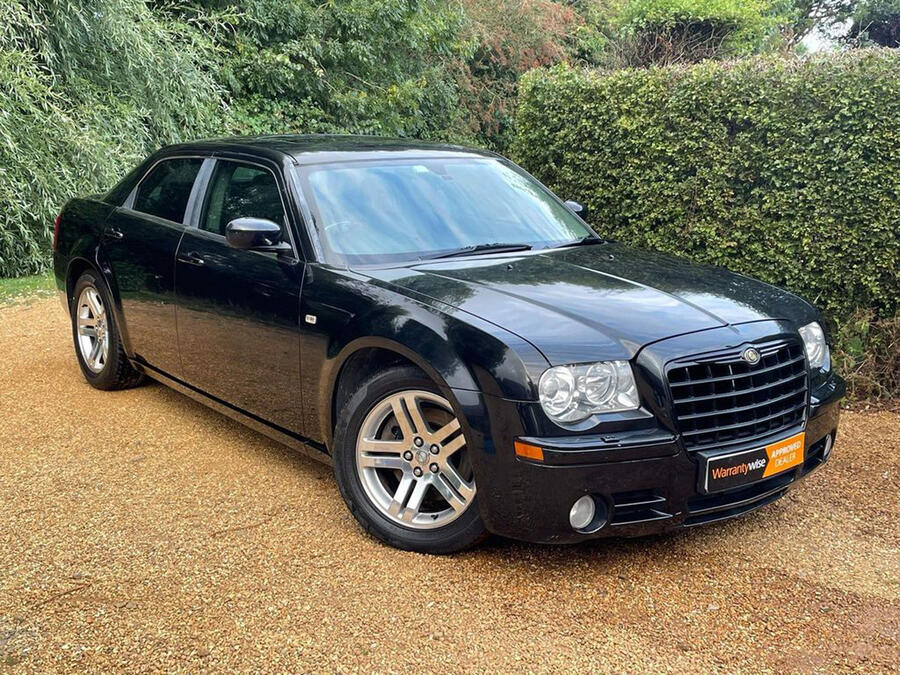 Chrysler 300C 5.7 V8, £5995: The 300C may be more of a cruiser, but this one has a 340bhp 5.7-litre V8 so is good for 0-62mph in 6.4sec. It will cost you in tax but not ULEZ fees. It has done 77,000 miles and comes with a fresh MOT and three months of warranty and breakdown cover. 
Chevrolet Camaro 396 SS, £38,750: Just 970 examples of the 396 SS were made. This one has its original Sequoia Green paint, leather interior, wheels and tyres, plus all the original paperwork given to its first owner. A 240bhp 5.7-litre Turbo-Jet V8 hides beneath that enormous bonnet. 
Auction watch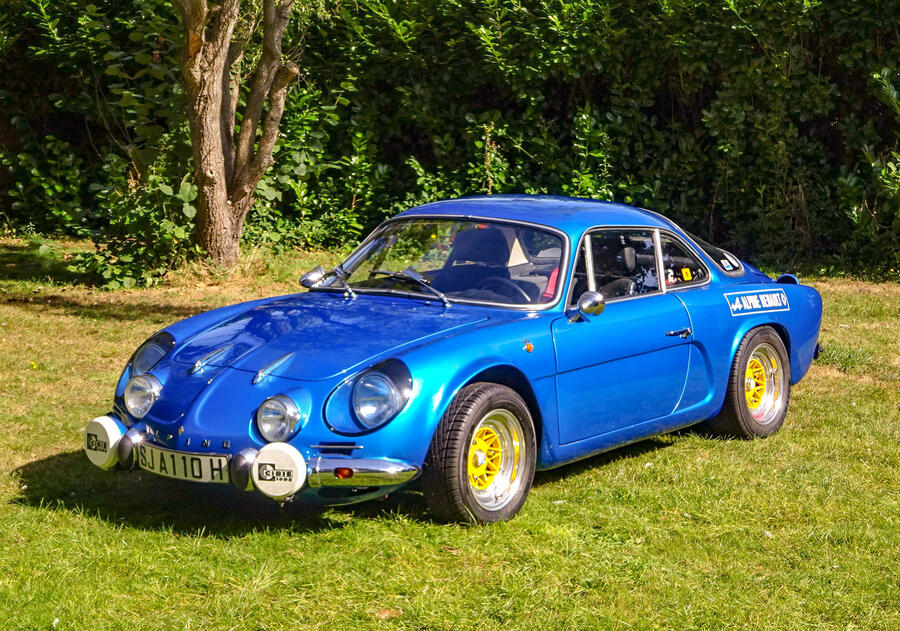 Alpine A110 1400: Powered by a series of Renault engines over its 1961- 1977 production run, the original Alpine A110 sports car rose to prominence by dominating the formative years of the World Rally Championship. This example was built in Spain in 1975 with a 1.4-litre electronically fuel-injected Gordini inline four and was brought to the UK in 1990. It had a full body refurbishment and engine rebuild last year, retaining several original features including its Moto-Lita Franco steering wheel. It has covered just 53,000 miles over its 47 years and sold at auction for £64,000. 
Future Classic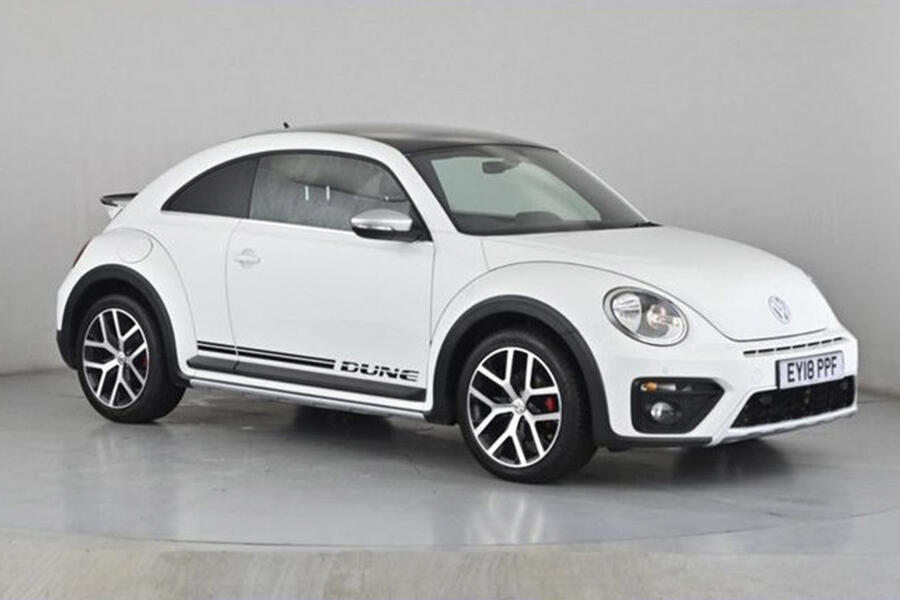 Volkswagen Beetle 1.2 TSI Dune, £18,998: Shortly before it was killed off, the Beetle received a limited-run special edition as a homage to the original Baja Bug. Its suspension was raised by 10mm, it gained a wider track and its arches were extended. Other changes included LED tail-lights, a new spoiler, 18in Mythos wheels and the unique option of Sandstorm Yellow paint. It was a fashion statement rather than a real off-roader, as four-wheel drive didn't feature, but its rarity allows some examples to command similar-to-launch prices today, like this one-owner car with a full service history.
Clash of the classifieds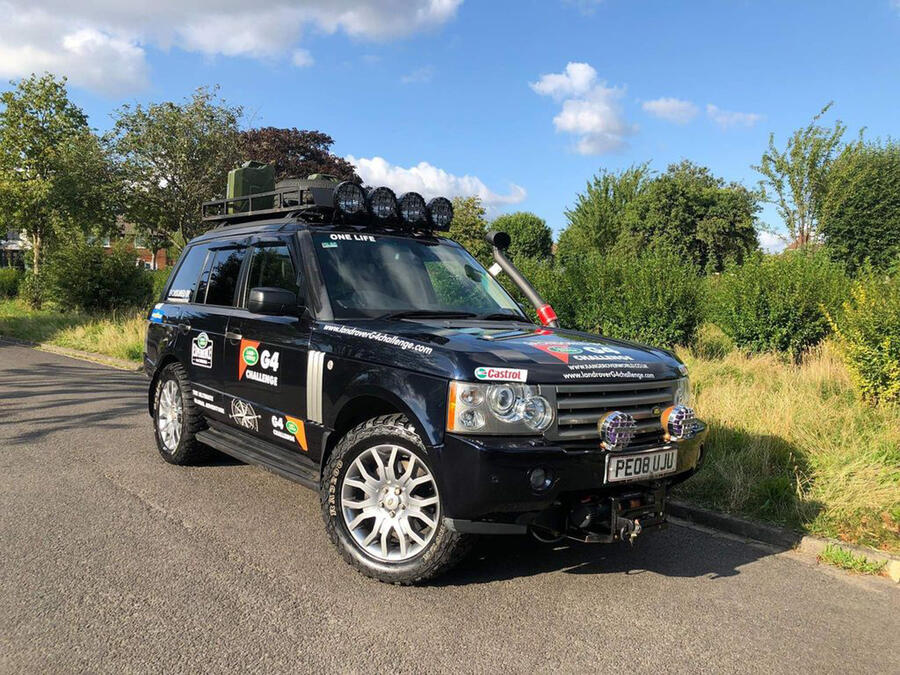 May I have a vehicle with a winch for less than £20,000?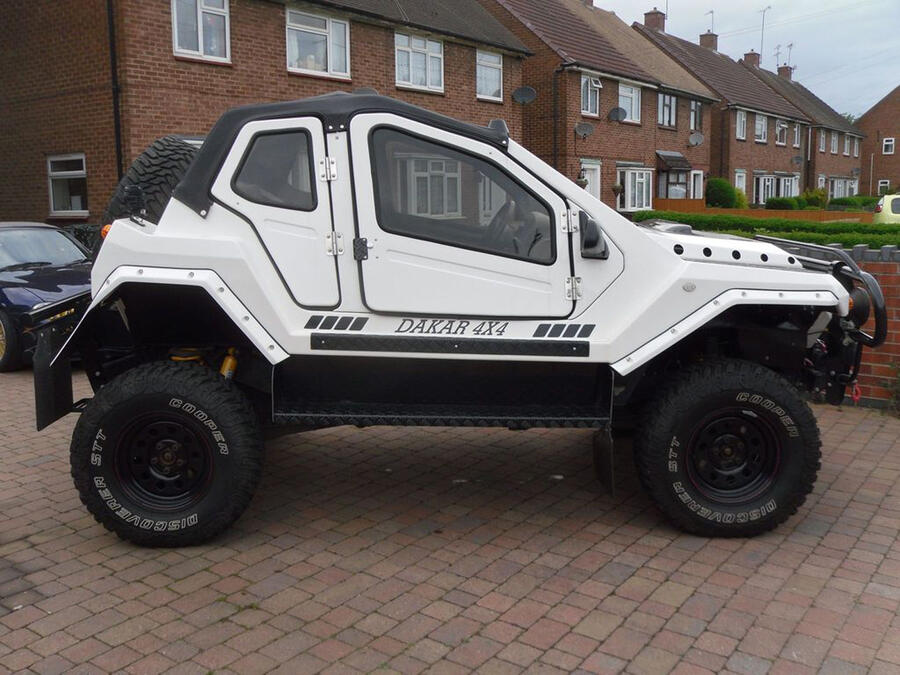 Range Rover TDV8 Vouge G4, £9995, vs Land Rover Discovery V8 Dakar conversion, £7950
Oliver Young: For an eminently reasonable amount of money, you can have one very special 4x4. It's a Land Rover Discovery that has undergone a transformative Dakar Rally conversion. Now, to call this off-road beast 'extremely rugged and capable' is an understatement. It's the ultimate go-anywhere machine, complete with a mega 4.0-litre petrol V8 and, as requested, a winch (which can deal with a mighty 2250kg of weight). Beat that, Mark. 
Mark Pearson: Good grief! Well, I think I can beat that old heap. I see you your lumpen old Discovery and its dodgy bodywork and raise the (winch) bar with this beautiful Range Rover, the proper off-road and on-road tool and undeniable best car in the world. Mine is the G4 Challenge model with a snorkel, roof lights, a detachable ladder and an opulent leather interior too. Take it to Chelsea. Take it to Chad. It will do it all. 
OY: Your Rangie is compromised, I'm afraid. I'm sure it's great at doing the whole off-road thing, as well as the luxury thing, but it's when you devote everything to one side of the equation that you get the best results. And my Dakar Discovery goes all in on being an off-road champ and winch-wielding hero. 
MP: I can't see James pootling to the cash 'n' carry in downtown Beccles in your thing, though. In mine, he would waft like a king. Let's ask him winch – sorry, I mean which – one he likes best.
Verdict, James Ruppert: Each is truly terrible in its own way, but that big lump of Range Rover is probably better for winching.
https://www.autocar.co.uk/car-news/used-...6-november