01-08-2023, 03:29 PM
Cadillac announces bid to enter Formula 1 with Andretti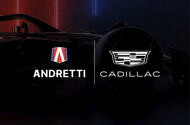 New General Motors race team would be based in the US with a UK support facility
General Motors (GM) has announced a shock plan to enter Formula 1 in the coming years in partnership with motorsport giant Andretti Autosport. 
The two American companies plan to create a race team named Andretti Cadillac. This would be the first time that GM had raced in F1. 
The operation would be based in the US but have a 'support facility' in the UK, although no location for this has been given.
Nor have the firms given any indication of when they plan to start racing, saying only that this announcement shows their shared " intent to pursue the opportunity to compete in the FIA Formula 1 World Championship". 
The move comes as F1's influence continues to grow Stateside. The series will visit Austin, Miami and Las Vegas in 2023 and already has a US-based team on the grid in the form of Haas - at seven years old, the newest F1 team.
Andretti and Cadillac said they will prioritise the appointment of at least one American driver if successful in their bid to compete.
Last year, Michael Andretti - son of Mario, the 1978 F1 champion and founder of the eponymous Andretti Global enterprise – voiced plans to enter F1 with his own team and Californian driver Colton Herta, but only this week has FIA president Mohammed Ben Sulayem opened the gateway to F1, putting out a call for expressions of interest from prospective new teams.
One already-confirmed new F1 entrant is Audi, which from 2026 will apply its branding to the car run by Swiss team Sauber, which is currently partnered with Alfa Romeo.
Sibling brand Porsche remains interested in entering the sport after scrapping plans to partner with Red Bull Racing. 
Andretti Cadillac would use an engine supplied by a third party but with technical support from the two American outfits, which previously partnered to run the Chevrolet team in the 2012 Indycar Series, winning the driver, team and manufacturer titles. 
Racing in F1 wouldn't affect Cadillac's efforts in endurance racing. The firm has raced successfully in the IMSA Sportscar Champioinship since 2017 and will take its efforts global from this year, entering its new V-LMDh racer in the FIA World Endurance Championship. 
GM president Mark Reuss said: "General Motors is honored to team with Andretti Global on this historic moment in racing. We have a long, rich history in motorsports and engineering innovation, and we're thrilled with the prospect of pairing with Andretti Global to form an American F1 team that will help spur even more global interest in the series and the sport. 
"Cadillac and F1 both have growing global appeal. Our brand has a motorsports pedigree that's more than a century in the making, and we would be proud to have the opportunity to bring our distinct American innovation and design to F1."
Notably, a move into F1 would also coincide neatly with GM's planned push back into the European car market. The giant has been all but absent from the region since selling Opel and Vauxhall in 2017 but has said that it plans to return as an all-electric company in the coming years. Competing in F1 would no doubt be an effective marketing tool to support this commercial effort. 
https://www.autocar.co.uk/car-news/motor...1-andretti