04-24-2022, 10:31 AM
Cars with the cheapest company car tax bills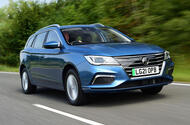 Here's our list of the best cars with which to lower your BIK tax bill
The UK may be one of the world's oldest company car markets, but drivers have perhaps never had it better than they do right now.
Aiming to phase out sales of new petrol and diesel cars by 2030, the government has heavily incentivised the alternatives with a set of ultra-low tax bands introduced last year. 
With a typical 90% reduction in company car tax compared to a petrol or diesel car, it's no great surprise that – according to the SMMT – two thirds of electric vehicles registered during the first nine months of 2021 went to fleets and business users. 
Better still, the ever-expanding choice of models means you don't have to compromise on your priorities to keep your tax bills low. Here's how. 
Autocar's company car tax calculator, showing exactly what you'll pay for each and every make and model
Cheapest Overall: Smart EQ Fortwo
Unless you're committed enough to opt for a quadricycle (such as the Renault Twizy), Smart offers the lowest tax bills in the industry. A range of 80 miles and no rapid charging means the EQ Fortwo's use case is limited to cities, but even the EQ Forfour undercuts its closest rivals if your company's choice list restricts you to five-door cars. 
Monthly BIK (20%/40%): £7.37/£15.85
Also consider: Fiat 500 Action (24kWh) 
For a small increase in tax outlay, the chic Fiat 500 has the advantage of a more useful 118-mile range, four seats and a charging rate that's twice as fast as the Smart.
Monthly Benefit-in-Kind (20%/40%): £7.93/£15.85
Cheapest motorway cruiser: MG 5 SW EV Excite Long Range
The 5 SW EV is the cheapest route to a 250-mile electric range and specced to make the most of it. This spacious estate includes adaptive cruise control, Android and Apple smartphone connectivity and rapid charging up to 100kW, restoring 200 miles of range in an hour. 
Monthly BIk (20%/40%): £9.88/£19.76
Also consider: Hyundai Kona Electric Premium (64kWh)
The long-range Konda is one of the most efficient electric cars on the market, offering an extra 50 miles of range from battery pack that's only slightly larger than the MG's.
Monthly Benefit-in-Kind (20%/40%): £11.67/£23.33
Cheapest tow car: Kia EV6 RWD Air
There's a growing selection of electric vehicles that can tow a four-berth caravan. Kia's new EV6 crossover has a range of over 300 miles, can pull up to 1600kg and has a power outlet that means it could even run your caravan while you're parked.
Monthly BIK (20%/40%): £13.63/£27.26
Also consider: Hyundai Ioniq 5 SE Connect 217hp RWD 73kWh
As the platform is shared with the EV6, the Ioniq 5 has all the same towing credentials and that power outlet, but in a retro-futuristic body. 
Monthly BIK (20%/40%): £13.63/£27.26
Cheapest seven-seater: Vauxhall Combo-e Life SE 
Despite being based on a van, the Combo-e offers a surprisingly car-like driving experience and 174-mile range, 80% of which can be recovered within half an hour. Sliding doors and a flexible interior are perfect for big families, and there are similarly priced Peugeot and Citroën alternatives if you don't like the way it looks. 
Monthly Benefit-in-Kind (20%/40%): £10.52/£21.04
Also Consider: Citroën ë-SpaceTourer M Business Edition
If space is your number one priority, then the entry-level ë-SpaceTourer is a no-frills way to move nine adults around. However, there's a big price gap for the more car-like trims. 
Monthly Benefit-in-Kind (20%/40%): £10.58/£21.16
Cheapest performance car: Polestar 2 Dual Motor Long Range
The top-spec Polestar 2 offers the most horsepower-per-pound of company car tax. It puts out a supercar-chasing 402bhp, reaches 62mph in 4.5sec and offers a range of up to 299 miles. The Performance Pack – with upgraded suspension, wheels and brakes – only adds £3.33 to a 40% taxpayer's monthly bill. 
Monthly BIK (20%/40%): £15.95/£31.90
Also consider: Tesla Model 3 Performance 
The 456bhp Model 3 flagship is one of the fastest accelerating production cars on the market, reaching 62mph in 3.1sec and with space for the family on board, too. It gets access to Tesla's excellent Supercharger network but arguably doesn't have the Polestar's styling cachet.
Monthly BIK (20%/40%): £19.98/£39.96
Alex Grant
https://www.autocar.co.uk/car-news/advic...-tax-bills