11-03-2022, 11:58 PM
Caterham reveals plans for all-new two-seat EV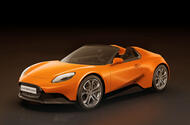 The sports car is part of Caterham's plan to boost annual production
Light, fun, electric sports car will sit alongside the combustion-engined Seven
Caterham Cars is working on an ambitious, three-pronged plan for the post-2030 electrification era. This involves building the much-loved petrol Seven for at least another decade, while using that time to develop a same-shape Seven EV and launch an all-new aerodynamic electric roadster that will draw on the traditional Caterham values of lightness, performance, simplicity and agility. 
Outlining the plan exclusively to Autocar, Caterham CEO Bob Laishley drew a picture of business that's currently booming: the firm last year built 500 cars and sold 670, the 'extras' adding to a waiting list that now runs to about a year. In the short term, he wants to expand the company's traditional annual output of 500 to cover those extra cars "at least", and has recently repurposed Caterham's former Crawley used car centre for the assembly of additional cars, alongside the main production line in Dartford, Kent. 
Laishley believes current regulations will allow existing ICE-powered cars, with logical developments, to be built until 2034. Even if the UK's proposed 2030 ban on diesel and petrol cars holds, he predicts that expanding export demand will keep production healthy. Hugely significant here is the US's recent 'Show and Display' amendment to car registration laws that allows "traditional or technically significant" imports – such as Sevens – to be sold in the US and to be driven up to 2500 miles a year. 
Meanwhile, UK demand for ICE-powered Sevens remains extremely strong and no one has yet asked to be sold an electric variant, although several experimental versions have been privately built and Laishley admits Caterham has its own work on an electrified Seven project well under way. 
However, the real bombshell news is the company's plan for a brand-new electric Caterham two-seater, designed to sit alongside the Seven, not to compete with it. Laishley insists the car is "just an idea in people's heads" at present but also makes it clear that the company's Japanese owner since mid-2021, VT Holdings, (and especially its "keen racer and all-round car guy" CEO, Kazuho Takahashi) is keen to make it a reality. Caterham's last attempt at a closed-body two-seater was the ill-fated C120, which ultimately developed into one-time partner Renault's acclaimed Alpine A110 coupé.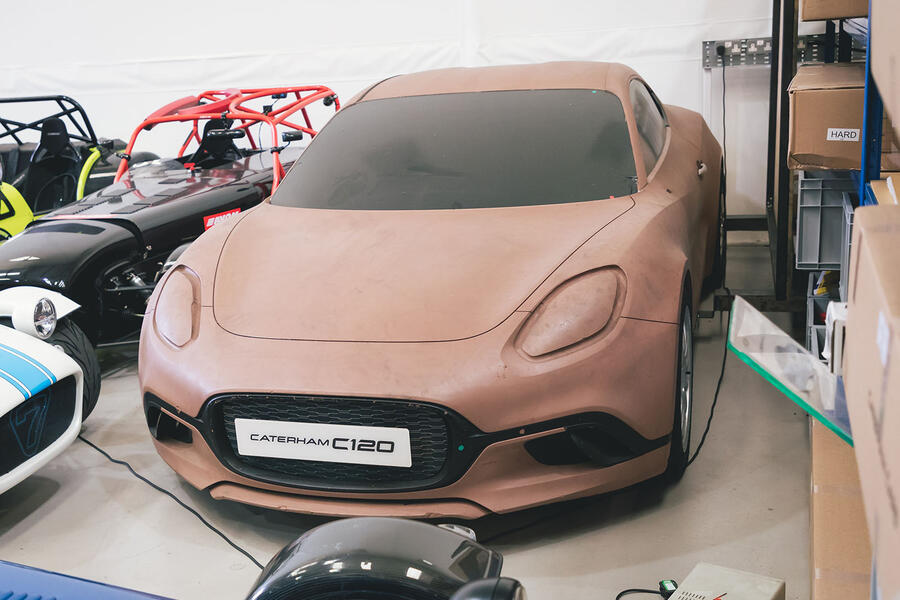 The new model would be built in a new factory at greater volumes than the Seven (Laishley does not dismiss an estimate of 1000 cars a year) and would have a higher base price than today's Sevens. Laishley is careful not to give an on-sale date for the new model's launch, but Takahashi's keenness to see it reach production suggests it could be unveiled as soon as 2026 – earlier than the Seven EV, which is likely to be held back until demand dictates. 
Laishley, whose 25-year Nissan career has brought lots of marketing nous plus excellent relations with OEMs he might potentially like to use as suppliers, has been doing a great deal of thinking and planning about the new car. "This will definitely not be a Seven," he said. "But it'll have all the characteristics today's Caterham customers know well: lightness, simplicity, agility and performance. Like the Seven, it will have a steel spaceframe (but a different one) because they're easy to modify in production if you need to. It will have a six-panel enveloping body in aluminium or carbon: two sills, two doors plus clamshell openings front and rear. 
"It will be prettier and more modern than a Seven – those will be big points of distinction – and maybe it will have a roof. We're designing it as a pure EV from the start, with rear drive only, and it will be registered under SVA rules." 
Laishley says, in true Caterham spirit, he would like to have launched the car without power steering, ABS or airbags, although the instant grunt of EVs might encourage him to relent on traction control. But the reality is it will need power steering, ABS and the rest because it is a 'new type' SVA-eligible car so has to offer functions like forward collision and lane departure warnings. Even so, Laishley is determined that the car will be as light and simple as it can be, probably with basic cockpit furniture and instrumentation that feeds mostly off the driver's smartphone. "There will be very few embedded dials," he said. "Maybe none." 
Meanwhile, Laishley insists he is in no hurry to launch a Seven EV, fearing the new car might not deliver the existing icon's "must-haves" of lightness, simplicity and fun. Laishley said: "From the beginning, Caterham's history has centred around repurposing OEM components in an imaginative way. If I want to do that with a Seven EV, where do I get lightness? We're still in the early days of small EV development. Parts are conservative and heavy. We're never going to want to launch a 1000kg Seven. We'd rather not do it." 
Laishley's ideal Seven EV weighs less than 700kg at the kerb and is capable of what he calls a "20-15-20" performance: owners can arrive fully charged at a track day, drive fast for 20 minutes, recharge it for 15 while they have a cup of tea, then do it again. "If we can't deliver a Seven that can do this, we shouldn't be launching it," he said. All of which makes it sound as though a Seven EV is at least five years away.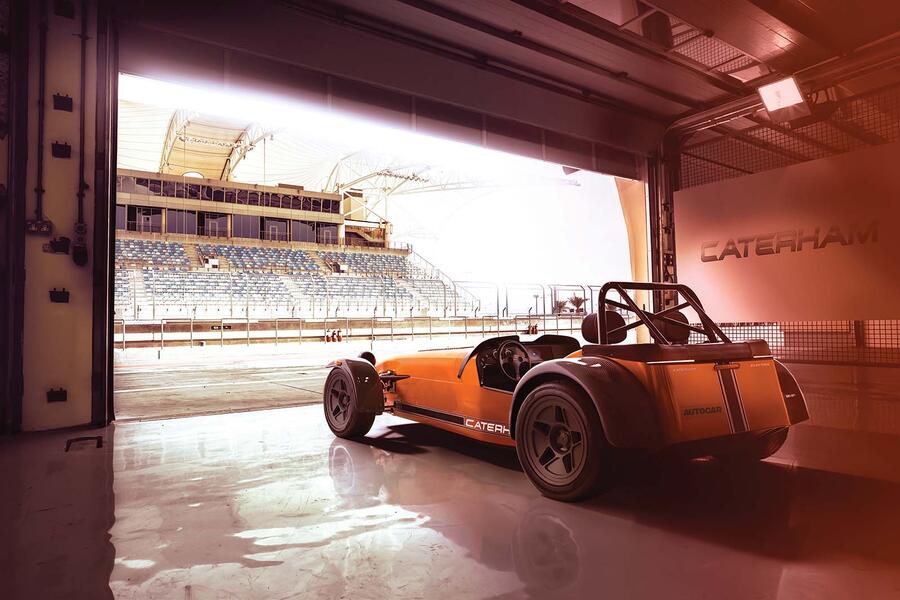 One thing Caterham definitely will not launch is a hybrid Seven, even if lighter and better powertrains become available. "We're about lightness," said Laishley. "Why would we build a car that needs two separate powertrains? It would be a horrendous compromise." 
Caterham's urgent business now is to deal with the same kind of component supply issues that OEMs are fighting – while finding a way to increase production by up to 200 units a year. "In some cases, our component suppliers are many decades old," said Laishley. "You're doing business with people whose parents shook hands on the deal with Colin Chapman all those years ago. Someone who makes 500 wiring looms a year – and has done for 30 years – may simply have no more hours in the day. These may look like simple problems, but they all need working through." 
Despite facing strikingly similar difficulties to most of the automotive giants, Laishley is proud of his thriving 135-person company and excited at the prospect of building on its success. "Not boasting," he said, "but the last problem we have at the moment is selling more Caterhams."
Colin Chapman and selling the rights to the Caterham Seven 
When Lotus founder Colin Chapman launched the Seven in 1957, it was considered to be the embodiment of his rare design skills in the way it took components from ordinary cars and combined them – cheaply – in a way that delivered five times the performance and 10 times the excitement. 
The car soon won a high reputation for affordability and surprising performance on the track, and it was built (both by home-builders and in the factory) with a huge variety of engines.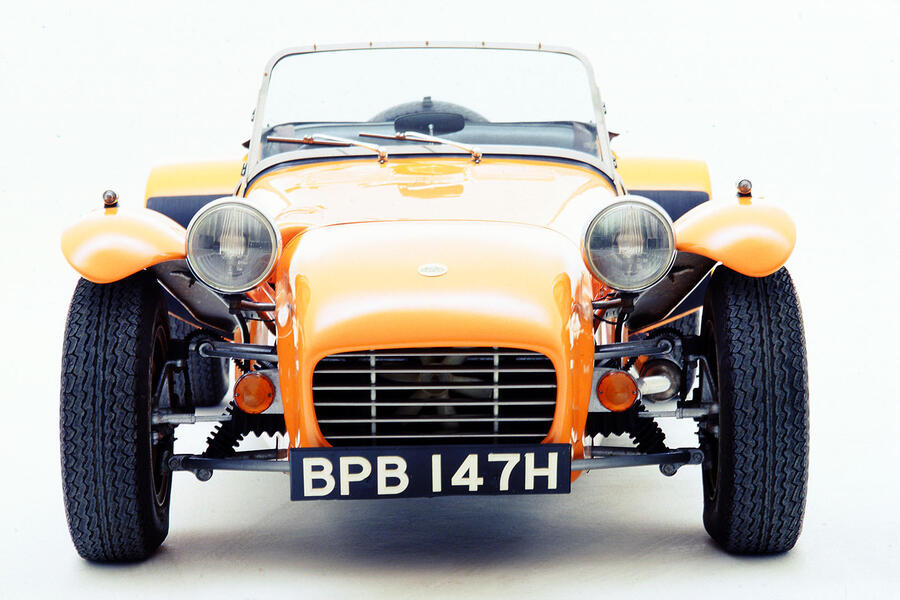 The Seven stayed successfully in production as a Lotus until 1972 but Chapman's other dominant characteristic was an insatiable desire for progress: for him, the Seven came to be old hat. He willingly sold the rights to the car to a canny Caterham garage owner and dealer, Graham Nearn, who launched a new company, Caterham Cars, to build it. 
There are an estimated 15,000 Sevens in circulation today, and demand continues to thrive. The fact that it has never quite been eclipsed in 65 years illustrates better than anything the rightness of the original and the genius of its creator.
https://www.autocar.co.uk/car-news/new-c...wo-seat-ev