10-16-2023, 10:12 AM
Chinese premium brand Exeed primed for UK launch by 2026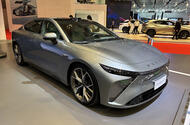 The Exeed Exlantix E03 is a four-door saloon and will be sold alongside an SUV
Chery-owned maker of ICE SUVs and EVs has already expanded into Arabia; had a stand at recent Qatar motor show
Chinese premium brand Exeed is aiming to expand into the UK and other key European markets within the next two years, bosses have confirmed.
Exeed was established in 2017 by Chinese giant Chery, which also owns the Omoda and Jaecoo brands that have already confirmed UK launch plans.
It has already expanded into Arabia – it had a stand at the recent Qatar motor show – and markets such as Chile and Kazakhstan. 
It currently offers four combustion-engined SUVs (the RX, LX, TXL and VX), which are set to gain plug-in hybrid powertrains in the near future.
It also recently revealed two electric vehicles: the sleek Exlantix E03, a BMW i5-sized saloon, and the Exlantix E0Y, an Audi Q8 E-tron-sized SUV. A third EV is on the way.
Chief engineer Peter Martin – formerly of Jaguar Land Rover – confirmed that Exeed was planning to enter nine European markets, including the UK, within the next 24 months. 
While the UK line-up hasn't been finalised yet, Martin said "we've got a cross-section of powertrain options with ICE, PHEV and BEV, so we can adjust our offering to best suit demand in each market".
Martin said that Exeed wouldn't be positioned as a budget brand but would have a focus on offering better value for money than rivals.
"When you price cars, it all depends on your business model," he said. "We can offer cars at competitive prices, but they will offer the premium feel and technology you would find in a Mercedes-Benz or BMW.
"My benchmarks when developing Exceed models are Mercedes, BMW, Tesla and Lexus. When we're developing our next full BEVs, out benchmark is the [Mercedes] EQS. We won't be priced as high as them, but we will offer a similar experience."
Martin added that the Exeed would adapt its business model in each market, with varying focus on private, fleet and subscription sales, but said "we will do the majority of the work ourselves" rather than appoint an official importer.
He added that the Chinese brand would have physical dealerships and offer online sales.
https://www.autocar.co.uk/car-news/new-c...aunch-2026