02-21-2023, 10:04 PM
Citroen C5 Aircross 2023 long-term test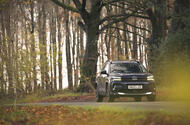 What other strings does our new tax-busting, stress-busting PHEV have to its bow?
Why we're running it: To find out how relaxed it can make you feel about a UK charging network that has so few places for a PHEV to plug in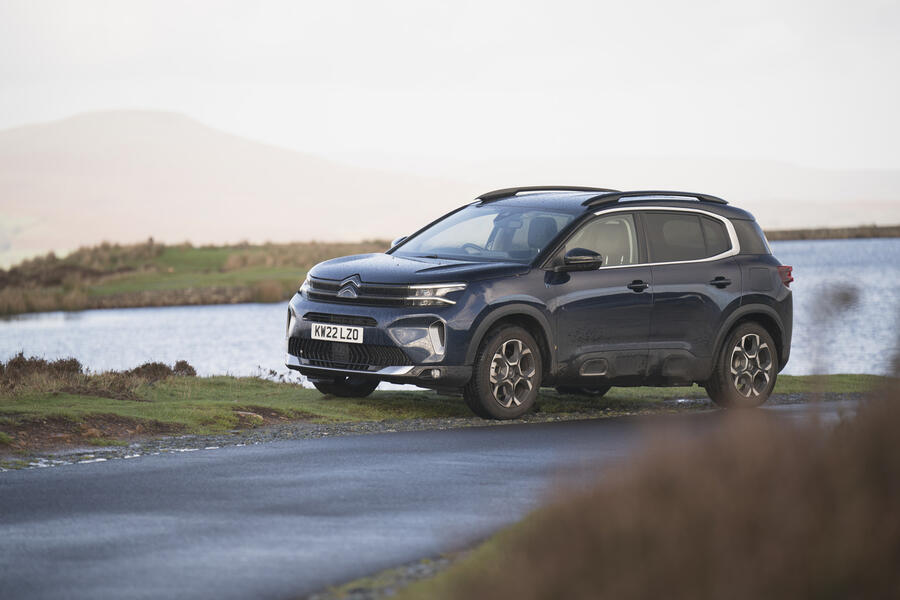 Life with a Citroen C5 Aicrosss: Month 1
Welcoming the C5 Aicross to the fleet - 25 January 2022
Picture this. It's late in the evening, you've been travelling all day and you've just come off a long flight with miles yet to cover before bed. You don't want to drive, you just need transport, and the comfier, roomier and easier-going it is the better. More often than not you're stuck with the last Ubers left in the rank, but just occasionally the airport taxi of your dreams heaves into view and sweeps you serenely off on your onward journey as if on the wings of angels.
That superbly relaxed, comfy-as-they-come vibe is the heart and soul of the appeal of my new long-term test car, a Citroën C5 Aircross.
Citroën facelifted the big SUV early last year, adding new lights, a new front grille and some interior design revisions, but the crucial update for the plug-in hybrid version came later, last autumn, when battery capacity rose by just enough to put the car into an 8% benefit-in-kind tax bracket. It became at a stroke one of not very many sub-£40,000 family SUVs to be so tax-efficient. Now it will be under consideration by a lot of drivers (and for very sound, rational reasons) who would be new to Citroën.
I'm not, having had the pleasure of running a Berlingo a couple of years ago, its no-nonsense space and versatility suiting me very well.
Quite honestly, a PHEV probably isn't such a perfect fit for me, because I can't charge one at home. But that won't stop legions of people in similar circumstances from running a car just like this, because the system incentivises them to. And if PHEVs don't work for everyone, while at the same time saving more money for richer folk with solar panels on their roofs, driveways to park on and the like, I would say that's well worth writing about.
So the C5 Aircross PHEV now has a new-generation battery with 1kWh of extra storage in it. It can supposedly do up to 41 electric-only miles on a charge – a claim that I will have to go out of my way to investigate as we go.
I've selected the lighter-equipped Shine trim level, which is claimed to have greater potential for economy and electric running than the C-Series Edition. But on either version, it's possible to option your car well out of that important 8% tax bracket, so this is a car to order with care.
Ours gets plenty as standard: Citroën's suspension equipped with hydraulic bump stops, a crash mitigation system with pedestrian and cyclist detection, cruise control with speed limit detection, auto-dipping LED headlights and memory foam front seats.
The only options on mine are metallic paint and lane-keeping assistance, neither of which ought to affect its running efficiency.
A C-Series Edition car would have opened the door to things like heated leather massage seats and parking assistance, but I certainly wouldn't have wanted leather in the car in any case, and I don't use those gimmicky parking systems, so it definitely would have been £2500 wasted on what's already a pretty expensive car.
Preliminary driving impressions are good, that dream taxi flavour having lasted well through my first week. I'm still really enjoying arriving at photoshoots calmly and comfortably, and I've already managed a weekend away in Cornwall with my girlfriend and a surfboard, among other things.
It was a disappointment to find that she had to sit behind me in order to make room for the board, but a roof rack would sort that problem and wouldn't be hard to fit to the available roof bars.
As already mentioned, I don't expect to be able to do much charging of the car's battery in the natural run of things, but this seems to me to be a lot to do with the way the UK's public charging infrastructure is developing. All of the new charging stations you see now are for dedicated DC rapid charging of fully electric vehicles, and very few PHEVs come with CCS ports for this, so PHEV drivers are left with little to do if they, like me, can't charge at home.
I don't often visit those supermarkets and out-of-town retail parks that sometimes have free-to-use AC 'slow' chargers. And so while I might be able to plug in at the Autocar office to test that 41-mile electric-only range claim once or twice, I fear that it won't be a regular thing. Financially as well as practically for a great many of us, the charging of PHEVs is becoming precisely the afterthought that some feared it might be.
My first few hundred miles in the C5 Aircross have suggested that, without much charging, the turbocharged 1.6-litre four-cylinder petrol engine will return about 35mpg and its downsized 43-litre fuel tank needs filling every 320 miles or so. Those are figures that I can live with, but they don't feel like great strides or selling points in their own right.
It's a good job, then, that it hasn't taken me long to find plenty of others about this singularly laid-back, roomy and comfortable SUV. PHEV or not, it promises a very agreeable few months.
Second Opinion
A recent group test on some classic big Citroëns has rekindled my interest in cars like Luc's C5 Aircross, so I will be keen to find out just how comfy it is. The growth in EVs is making great long-distance cars a bit of a dying breed, I fear. Here's to cherishing the good ones that are still left
Matt Saunders
#Back">Back to the top
Citroen C5 Aircross Plug-in Hybrid Shine specification
Specs: Price New £35,935 Price as tested £37,030 Options Eclipse Blue metallic paint £595, Highway Driver Assist £500
Test Data: Engine Turbocharged 1.6-litre four-cylinder petrol engine, plus electric motor and 12.4kWh battery Power 222bhp Torque 243lb ft Kerb weight 1,770kg Top speed 140mph 0-62mph 8.9sec Fuel economy 217mpg (WLTP) CO2 28g/km Faults None Expenses None
#Back">Back to the top
https://www.autocar.co.uk/car-review/cit...-term-test