05-12-2023, 08:09 PM
Citroen launches longer-range EV powertrain for e-C4 and e-C4 X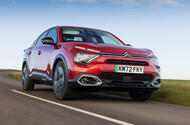 Citroën's new 54kWh electric powertrain produces 153bhp and 191lb ft
More powerful, 260-mile 54kWh-battery EVs will arrive in July – joined by petrol and diesel versions of C4 X
Citroën has introduced a new powertrain for the ë-C4 and ë-C4 X electric family cars, significantly extending their ranges. 
The new powertrain brings a larger 54kWh battery pack and a more efficient motor that makes 153bhp and 191lb ft – a 20bhp increase over the existing 50kWh EVs.
Both the 50kWh and 54kWh powertrains will be sold alongside each other.
Destined for production in July, the new powertrain brings a WLTP range of up to 260 miles, putting it five miles shy of that achieved by the Volkswagen ID 3 Pro but 20 miles more than the Hyundai Ioniq 5 in its standard SE RWD form. 
Charging times remain the same as for the 50kWh car, with 100kW rapid-charging available.
According to parent company Stellantis, the addition of this new drivetrain makes Citroën the only "generalist" brand to offer two EVs with two powertrain options in the C-segment.
However, Stellantis will broaden the range of all its EVs based on the CMP platform, meaning the Peugeot e-208 and Peugeot e-2008 will eventually be joined by more powerful and efficient editions.
In an attempt to maximise range, Citroën offers the e-C4 and e-C4 X with low-rolling-resistance 18in tyres; a heat pump that takes into account ambient conditions and adjusts in-car systems accordingly; and an aerodynamically optimised body. 
Citroën also confirmed that order books will open for petrol and diesel versions of the C4 X in an attempt to meet demand from both fleet operators and regular customers.
The C4 X will be available in three ICE specs: Puretech 100, Puretech 130 and BlueHDi 130. The basic petrol will offer a six-speed manual gearbox only, while the more potent petrol and the diesel will come with an eight-speed automatic.
Citroën couldn't comment on pricing for any model, but with the current ë-C4 starting at £22,080 and ë-C4 X at £31,995, we expect the more powerful 54kWh editions to command slight premiums.
The same goes for the ICE C4 X, which could start at a Peugeot 2008-rivalling £26,000. 
https://www.autocar.co.uk/car-news/new-c...and-e-c4-x