09-15-2021, 08:13 AM
Cupra Formentor 2021 long-term review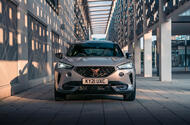 We're about to get familiar with this head-turning crossover in plug-in hybrid form
Why we're running it: To see if Cupra's classy crossover is up to the rigours of day-to-day running
Life with a Cupra Formentor: Month 1
Welcoming the Formentor to the fleet - 18 August 2021
Some enthusiastic horn-tooting accompanied my first drive in the latest addition to Autocar's long-term test car fleet: the alluringly different Cupra Formentor.
There was I, waiting at the traffic lights when I looked to my right and saw an excited man gesturing at me to lower my window. "What is that? I like it so much." I told him. Maybe now he's a Cupra customer-in-waiting.
Evidently this is a car that has an effect on people, and that alone ought to make the coming months interesting. I remember finding it similarly arresting when I first saw the Formentor concept on a motor-show stand a couple of years ago (the production version hasn't changed much in the meantime).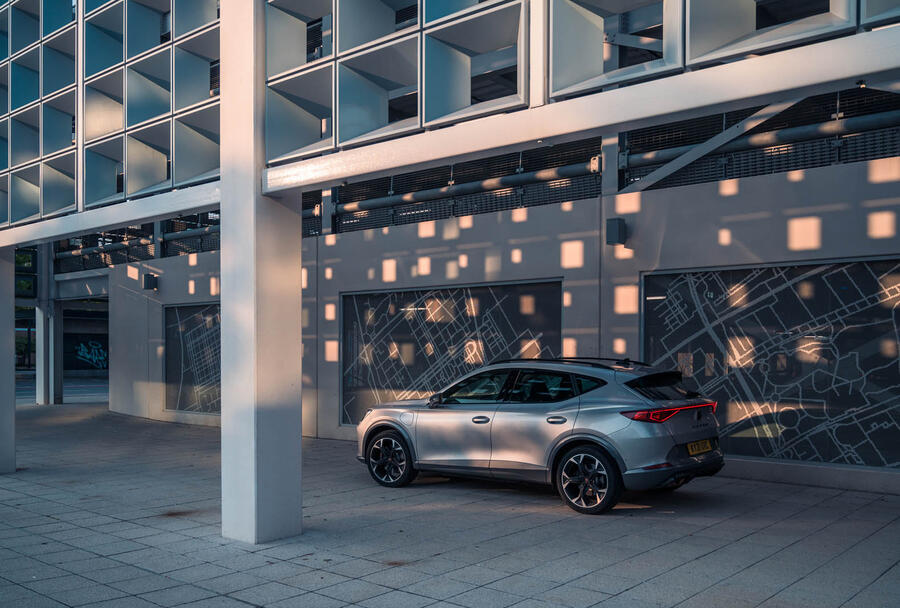 The details all look great. The full-width light bar at the back is really well integrated and more cohesive than it is on the Cupra Leon. The front foglights, tucked away neatly beneath the headlights, give a concentrated look to the car's face. And I'm particularly taken by the crease above the rear wheels: it's confident, it adds dynamism and it breaks up the car's visual mass in a clever way.
All of which is another way of saying I'm looking forward to taking photos of this car as time passes. The Urban Silver paintwork will allow the shadows and highlights created by its sculpture to really shine. I think the standard-fit 19in alloys could have been a little less generic and a touch more technical in their design, like some of the options offered by Audi and Volkswagen, but otherwise I've got very few complaints.
Taking in the car as a whole, perhaps it's the unconventional body type that makes people stare. The Formentor is a 'crossover-lite' kind of vehicle. The ride height and overall profile is only slightly raised over that of a Cupra Leon: just enough to make the driver's seat a bit easier to access but not feeling so tall that the car feels at all bulky or becomes in any way unwieldy to drive.
The Formentor is a something of a throwback to all those early, family- size crossover hatchbacks that the market wasn't quite ready for around 20 years ago: the Vauxhall Signum, Fiat Croma, Subaru Forester and Lancia Delta. I think it's a much more accomplished design than those earlier efforts, though: more attractive and less geeky. It lacks some of their quirkiness, granted, but that should play well for its commercial success. I foresee a lot of these emerging onto our roads over the next 12 months, and have already been eyeing a neighbour's black one.
Ours comes in a lovely shade of silver, with a slightly golden-grey look to it. It's a higher-spec VZ2 trim level, which means you get leather as standard, and you can choose between regular black nappa hide or a two-tone interior in black and petrol blue (which we plumped for, and very nice it looks, too). The air vents have a bit of a Lamborghini vibe about them, and there are lots of copper-coloured trim highlights around the place (a Cupra-brand design signature) to help lift the ambience.
In the past I've noted that Seat's cars have often had funkier interiors than their Volkswagen Group opposites, but ultimately they are less classy-feeling ones with harder, more monotone plastics. In this Cupra, however, that situation has been emphatically reversed: there's real material plushness here. I'd much rather spend a long journey in the Formentor than the Volkswagen Golf R we had recently, for example. The Cupra has lots of soft-touch plastic, and the combination of interior colours is both lavish and classy.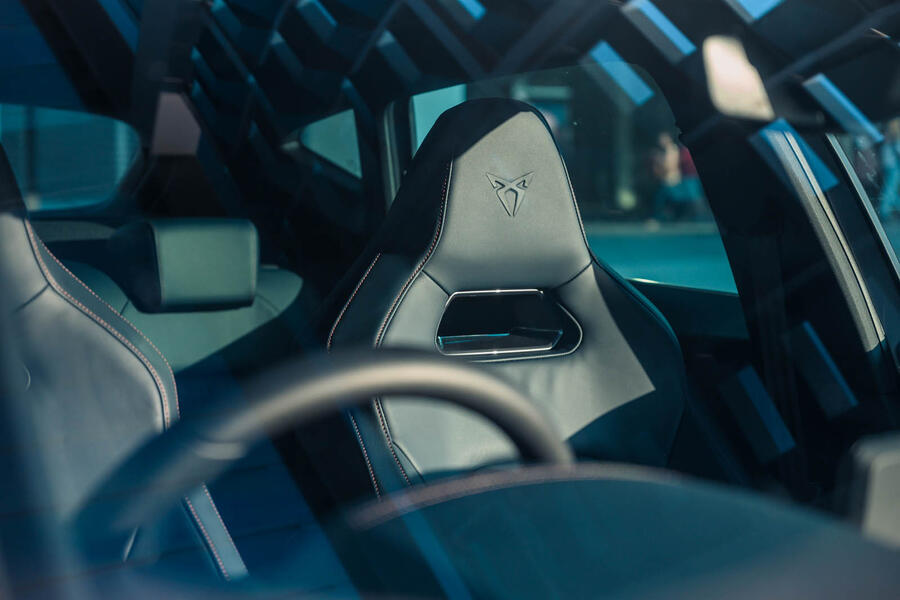 We've gone for Cupra's upper- level plug-in hybrid powertrain, which is sure to be popular with fleet operators. It's the Volkswagen Group's familiar combination of 150bhp 1.4-litre petrol turbo, 114bhp electric motor and six-speed DSG dual-clutch automatic gearbox: the same one that powered a Skoda Superb iV I ran for a while last year. The difference is that here it makes nearly 30bhp more than in the Skoda (242bhp in all), and it gives a slightly quicker 0-62mph time of 7.0sec versus 7.4sec.
The Formentor is smaller than the Superb was, of course, and I'll be interested to find out if that also makes it any more frugal in the real world. With lots of motorway miles to do and little opportunity to charge, I'll be doing well if I can beat 45mpg. Already it's clear that this isn't a slow car, and apart from four-wheel drive, it lacks little of the technical content that you get on the more powerful, top-of-the-range petrol version (it comes with Cupra's adaptively damped sports suspension and variably geared steering, but no Brembo brake calipers).
All in all, I'm very happy with the specification of this car. It doesn't have a panoramic sunroof or surround-view parking cameras, which is a bit of a shame; but it doesn't have matt-finish paint (which isn't remotely a shame in my book). Overall, the car seems well prepared for everything my daily motoring routine may throw at it.
Here's to continuing to cut a dash at the traffic lights, then. If you see me, just wave your arms and honk your horn like a lunatic – I'm always happy to chat.
Olgun Kordal
Second Opinion
A big chunk of the Formentor's appeal lies in the richness of its interior, so I'm delighted that we've got a pretty high-end trim with the two-tone leather and multi-coloured ambient lighting. It's a really handsome car externally, too. If Olgun ever needs somewhere to charge it, there's a spot on my driveway always open to him.
Matt Saunders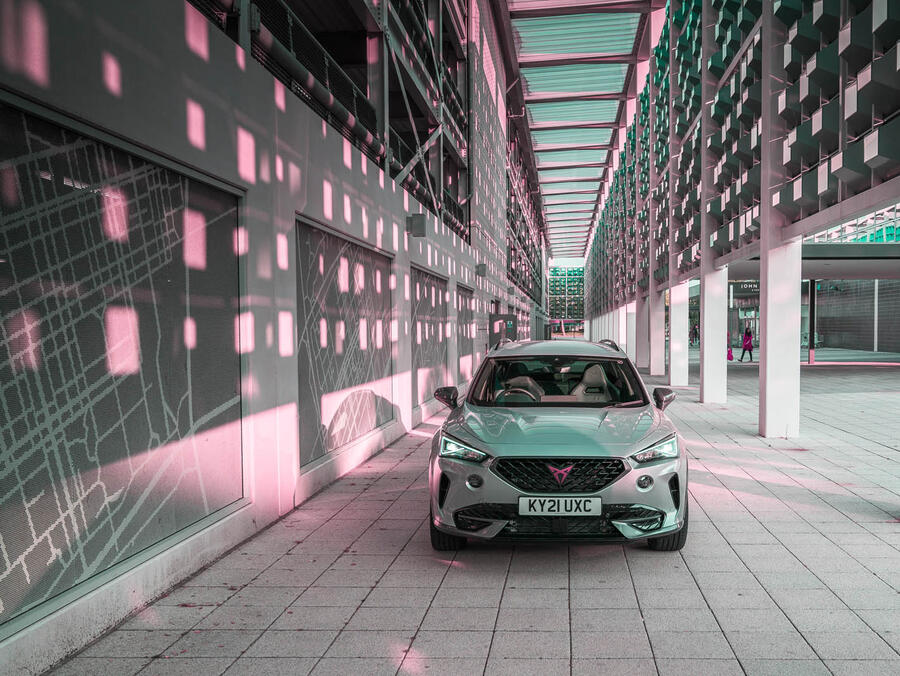 #Back">Back to the top
Cupra Formentor 1.4 Hybrid 245 VZ2 specification
Specs: Price New £40,560 Price as tested £41,115 Options Urban Silver metallic paint £555, Mode 3 charging cable £0
Test Data: Engine 4cyls in line, 1390cc, turbocharged petrol; plus front-mounted electric motor Power 241bhp (combined) Electric power 114bhp Top speed 130mph 0-62mph 7.0sec Fuel economy 176.6mpg CO2 33g/km Faults None Expenses None
#Back">Back to the top
https://www.autocar.co.uk/car-review/cup...erm-review