09-12-2022, 07:16 AM
Dacia Jogger 2022 long-term review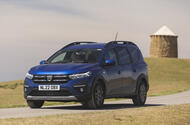 Value-brand, genre-defying seven-seater arrives to carve its own cut-price niche
Why we're running it: To see if this humble but capable, seven-seater Dacia Jogger is slick enough in day-to-day use 

Life with a Dacia Jogger: Month 1
Is no-frills interior common sense or an affront to the senses? - 31 August
Life with the Jogger continues, and so far, this Romanian-built, budget-friendly, seven-seat option is proving likeable and adept.
I've not had the opportunity to properly stretch its 999cc, front-driven legs yet (although my colleague Felix Page has done so, the resulting 2000-mile feature appearing in last week's issue), but hopefully that will happen soon enough – and before then, there's plenty more worth discussing.
Starting with the interior, which is where unflattering cost-cutting is usually most apparent and is probably where most reservations harboured by any prospective Jogger buyers will reside. However, it isn't the explosion of cheap plastics and rough fabrics that you might expect it to be. That, indeed, I was absolutely expecting it to be.
Clearly, it's all built to a cost and in outright plushness is a step down from what you get even with the traditional master of the rational car purchase, Skoda, but there's nothing that offends in here, and there's actually something of modern Audi about the gearlever and the climate-control dials.
I also like the textural variety of the dashboard, which gives this monotone cabin a much-needed visual lift and mitigates some of the coarser material elsewhere. In short, I find the Jogger's interior perfectly acceptable when it comes to ambience.
Unfortunately, I can't quite say the same about the driving ergonomics. Visibility is fine and there's nothing dangerous here; it's just the driving position, which is hampered by the lack of steering-column adjustability and the fact that you can't set these seats especially low. It means taller drivers are stuck with a short-leg, long-arm layout of the type found
in old Italian performance cars. It's a bit van-like and not especially comfortable. However, worse still are the headrests, which I imagine wouldn't receive the blessing of many chiropractors. They jut forward, pushing your head forward and in turn compounding my existing 'millennial mobile phone' neck.
The general ergonomics are better. Rear-seat space is good, and even the third row is a realistic prospect for adults, if only for journeys of up to, say, an hour's duration. What's really useful is that those back-row seats can be fully and easily removed from the car.
Do this, and also fold (and then tumble) the second-row seats forwards so they nestle up to the backs of the front seats, and you've got outright carrying capacity that's roughly equal to what you get from the Mercedes-Benz E-Class Estate. I find this ridiculously impressive for something built on a supermini platform and a real string to the Jogger's bow.
Assuming you have space in your house to store the rearmost seats, the car is indecently capacious but not always the most comfortable for the driver. It's a true tool car in this respect, which is as you would expect, but when Dacia devises changes for the eventual facelift Jogger, a more car-like driving position should be top of the list. 
Love it 
Infotainment
There's no nav, but the system is otherwise modern and generally nice, and it works well with Apple CarPlay and Android Auto.
Loathe it
Driving position 
I'm not getting on particularly well with the short-leg, long-arm arrangement. The headrest pushes your head forward awkwardly, too 
Mileage: 11,481 
#Back">Back to the top
You can live easy with the Jogger - 24 August
There are plenty of economy-spec materials in this car, unsurprisingly. You do notice it. But it's reasonably cheerful, and if opting for the Jogger means your heating bills will be that much easier to pay this summer, more power to you. Simply, you can easily live with this in a seven-seater that costs little more than £18,000.  
Mileage: 1080
Welcoming the Jogger to the fleet -17 August 2022
As a photographer (and not in any official way a writer), I tend to leave the undercooked and overblown opinions on cars to our team of road testers. After all, it's what they exist to do.
They possess a collective experience that you won't find anywhere else, so if you need to know about the transient handling of a Mazda MX-5 or the steering-wheel adjustability in a Toyota Aygo, they're usually able to enlighten you.
However, when it comes to Tardis-rivalling esoterica that doesn't get much of the limelight but does generate cultish followings, usually by virtue of versatility and low-key personality, I have an edge: I understand these cars, having used them often, and I like them a lot.
My need to transport photography kit nationwide and my love of camping, climbing and surfing makes me the go-to custodian of such motors in the long-term fleet. In the past few years, I've had the pleasure of running a Citroën Berlingo, a Ford Transit, a Skoda Kodiaq and a Honda HR-V.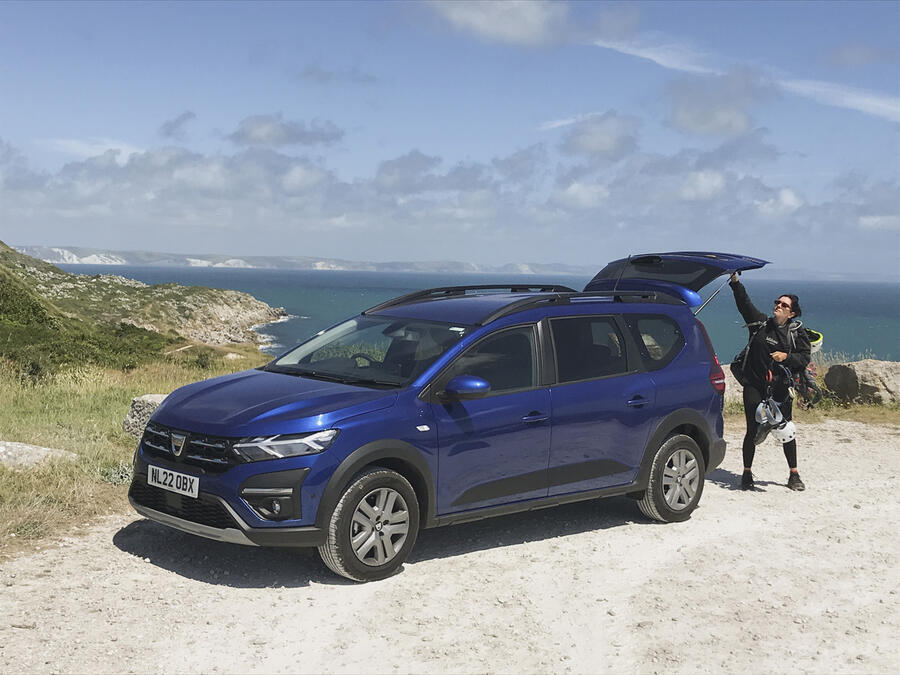 I enjoyed them all in different ways but especially the Berlingo, whose frugality, space and truly captivating long-haul grace made it an indispensable companion for my lifestyle. One day, I will buy one.
Or will I? Not to disrespect the memory of the Citroën, but if there's a machine to displace it at the top of my own-money buying list, it might just be the Romanian seven-seater that has recently arrived.
You may already have heard of the Dacia Jogger, because tremors of its incipient cult status are already starting to be felt. It's a little rustic but also quite smart and extremely inexpensive for what it offers, costing less than £16,400 in its most basic Essential trim. 
Whether its legend ever surpasses that of the Skoda Yeti – that longstanding king of the plain but acceptably well-heeled high-utility class and unexpected darling of the British middle classes – remains to be seen, but it has every chance. Not least because I already like it – and, as already explained,
I get cars like these. The Jogger is neither an MPV nor an SUV, and it isn't really a crossover either. Come to think of it, it's sort of a stretched Yeti: long and tall but only to the extent that you might, at a distance, confuse the silhouette for that of some Volvo estate.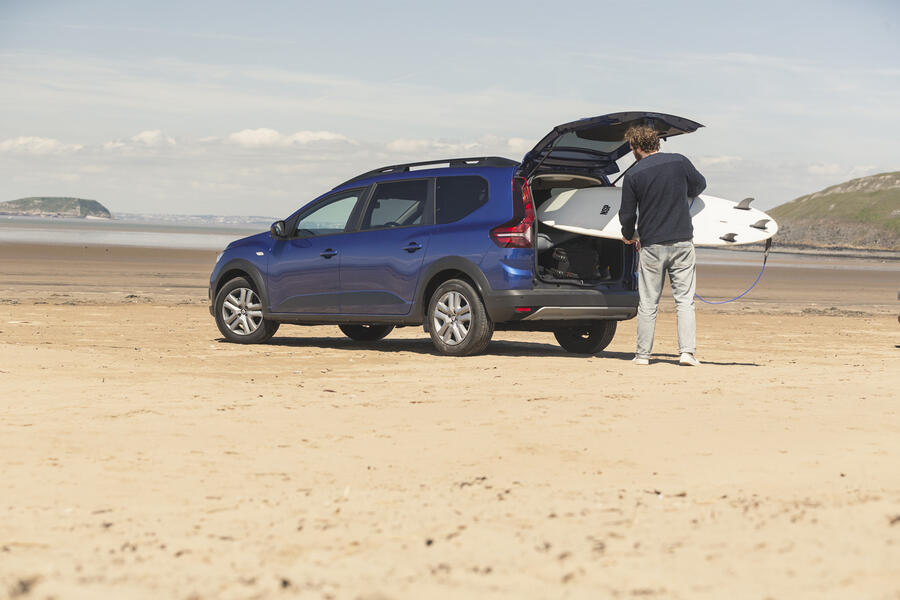 Except it isn't actually all that big. According to the road testers, the footprint is a little shorter than that of a typical C-segment MPV such as the BMW 2 Series Active Tourer and the basic underpinnings are shared with the Renault Clio (Renault owns Dacia). So it should prove manageable.
It nonetheless features that third row of seats, which can be lifted out wholesale to create an extra-deep boot with 1800 litres of capacity. That's basically what you get in a Mercedes-Benz E-Class Estate, which is the OG family Tardis.
It has decent ground clearance, too, which is sure to come in handy on rugged tracks down to campsites and photography locations, although you can't currently buy a Jogger with four-wheel drive. Still, simplicity in the driveline department ought to make it frugal, and our car claims to achieve 48.7mpg combined.
So what exactly is our car? It's a Jogger TCe 110 in mid-ranking Comfort trim. And unless you're going to treat this as an out-and-out utility car, Comfort is probably where you would start.
Entry-level Essential doesn't even come with an infotainment system and certain safety aids, but Comfort gets those, along with modular roof rails, automatic wipers and a reversing camera. It also gets body-coloured door mirrors and bumpers, cruise control and, handily, a tyre-pressure-monitoring system. Go for top-billing Extreme and you add alloy wheels, heated seats and touchscreen infotainment.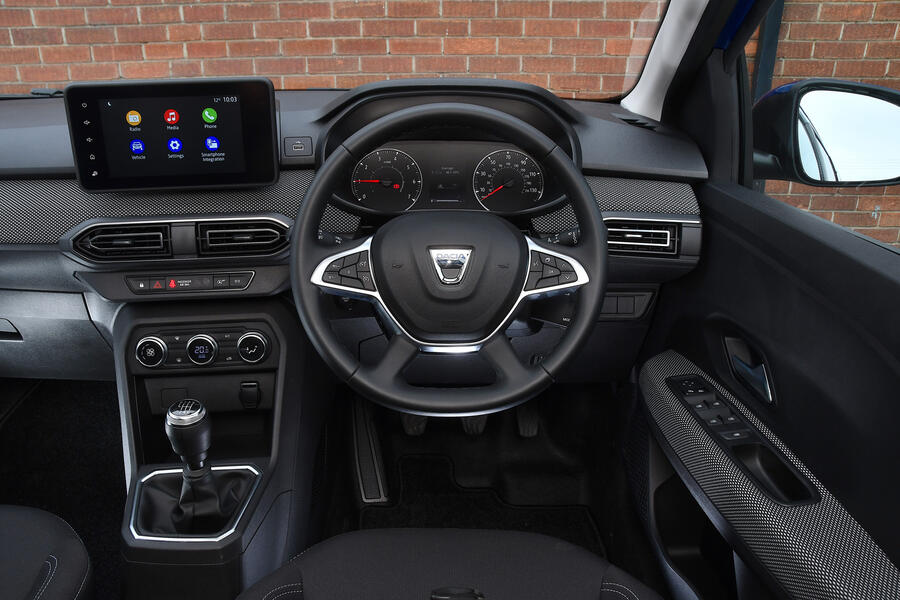 As for the oily bits, there's a sideways 999cc turbo petrol engine paired with a six-speed gearbox. For now, this is the only configuration available in the UK, although a more powerful 1.6-litre hybrid will make its way here next year. Chassis-wise, there's not even the option of adaptive dampers and the back axle is by torsion beam (although let's not pre-judge).
What I will aim to find out over the next few months is just how well the Jogger works with sustained real- world use. Is it really comfortable enough over distance? Just how versatile is the seating? Is 108bhp enough if you have more than five people in the car or lots of kit? Is this vehicle truly spacious enough? Is the Jogger as frugal as Dacia claims?
And, let's not forget, can this car burrow under your skin like the characterful best of its kind? Plenty of questions, and now plenty of time to find some answers. 
Second Opinion
I'm looking forward to borrowing the Jogger from Luc, not least to find out what the ride is like on those tiny steelies (don't be fooled by the plastic covers!). It may be ruggedly attractive, versatile and cheap, but if this car can't waft, I'm not really interested.  
Richard Lane
#Back">Back to the top
Dacia Jogger 1.0 TCE 110 Comfort specification
Specs: Price New £17,945 Price as tested £18,840 Options Iron blue paint £595, spare wheel £300
Test Data: Engine xxx Power 109bhp at 5000-5250rpm Torque 148lb ft at 2900-3500rpm Kerb weight 1205kg Top speed 114mph 0-62mph 11.2sec Fuel economy 48.7mpg (claimed) CO2 130g/km Faults None Expenses None
#Back">Back to the top
https://www.autocar.co.uk/car-review/dac...erm-review