09-06-2021, 04:07 PM
Dacia Sandero Stepway 2021 long-term review
Has a good car for the money become a good car without caveats? Let's find out
Why we're running it: To live with Europe's bargain-priced, best-selling retail car and see if it lives up to the bullish road test claims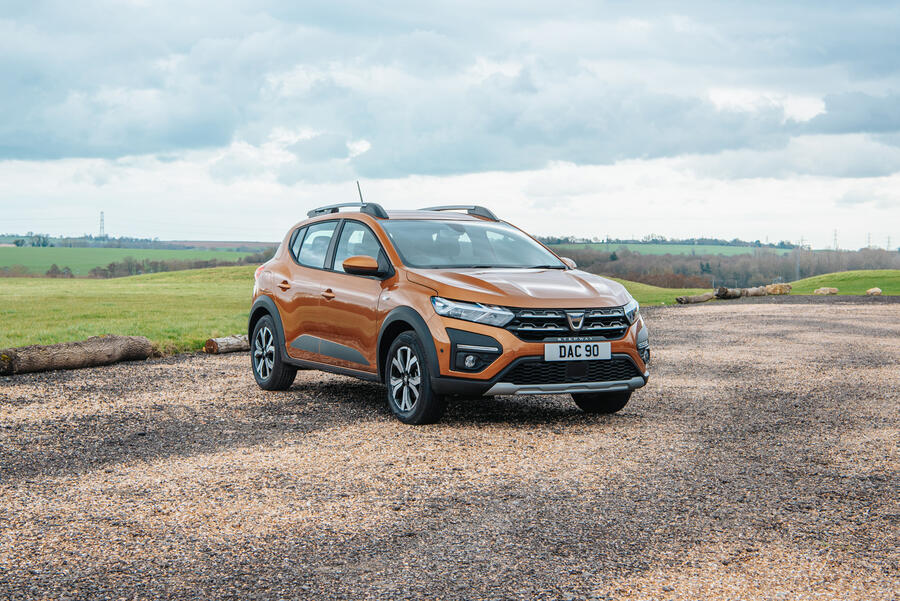 Life with a Sandero Stepway: Month 2
Not so lesser-spotted any more - 18 August 2021
I'm starting to see new-shape Sanderos all over the place – and a lot of them in the bronze hue of mine that suits it so well. People you meet in a Dacia treat you in two different ways: those who appreciate its great value are respectful, while the quick and impatient imagine you will hold them up – or perhaps they just want to pass you for reassurance that it was worth all that extra money.
Mileage: 7464
#Back">Back to the top
Rugged, value-brand supermini proves its do-it-all credentials - 11 August 2021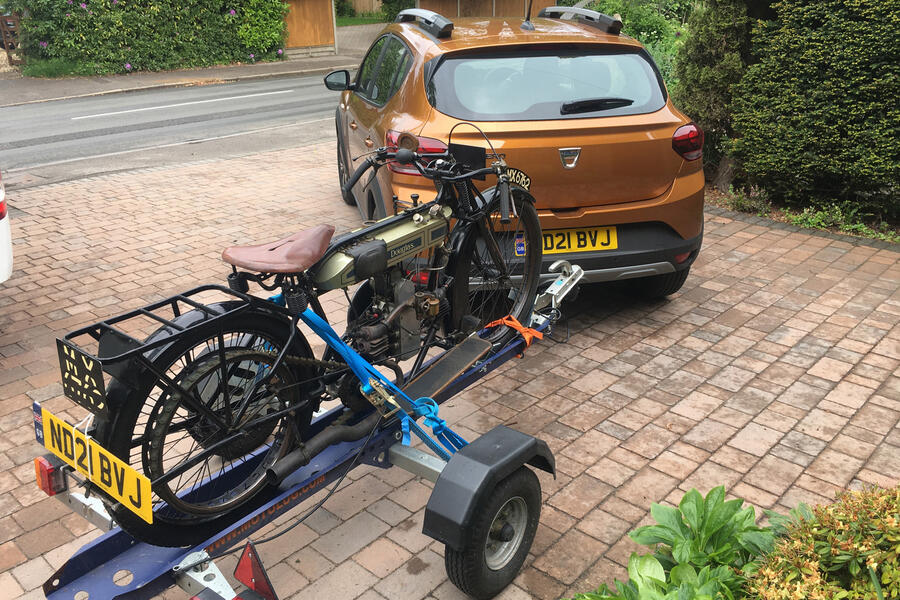 The Sandero Stepway has been acquiring mileage hand over fist, for a couple of excellent reasons. First is our extra dependence nowadays on reporting-by-driving jobs around the country, rather than day trips via Heathrow to Germany or France (an excellent development, in my opinion).
Second is the Stepway's do-everything nature: it's small enough to fit into tight traffic gaps and parking spaces suitable only for superminis, yet it's roomy enough in the rear (partly because it's taller) to accommodate full-size adults, with enough boot space for their stuff.
Even if you have access to other cars, you tend to grab the Dacia because it's convenient. Its cheerful and willing nature means it's always ready. The result is that I've amassed close to 7000 miles since it arrived in early May, and that progression doesn't look like stopping.
One frustration is that I haven't managed to get the trip computer's running fuel economy figure to the 50mpg that my initial gentle treatment promised. It seems to have settled at 48.9mpg and hardly changes whatever I do. But that figure matters even less now, because recent accurate checks of the fuel computer's veracity have established that it's exactly 1mpg optimistic, so the real running figure is 47.9mpg.
That's still excellent for a car I've used for absolutely everything, even towing my motorbike trailer with an (admittedly light) old Douglas on the back.
It still amuses me that this ultraaffordable car, for which you can get only two options (metallic paint and a full-size spare wheel), has automatic lights and wipers, climate control, auto walk-away locking and an autorelease electric handbrake – plus a knurled gear knob, just like a Bentley.
Given that the Stepway is performing so well, it's not hard to understand the truth of Dacia's claim that this is Europe's most popular privately bought (as opposed to business fleet) car. Maybe business fleets need to get with the programme as well.
One recent interesting episode was spending a week in a Renault Clio powered by the same 1.0-litre petrol turbo engine as the Dacia's – and riding on the same platform – to clock the differences. The fact that the Stepway has a slightly lumpier ride and creates a bit more road noise is understandable enough, given that there looks to be £3000-ish extra value in it. But you have to wonder which came first: refinements to the Renault's platform and engine to make them quieter and smoother or deliberate omissions of sound-deadening measures to create a small but noticeable difference.
The only meaningful fault I can find with the Dacia, given its great price and equipment and decent quality, is the lumpy engine response, which includes a gigantic flat spot around 2800rpm that you can never quite 'drive around'. In the Clio, interestingly, the same was present, but it was far less noticeable, causing me to wonder again whether my own car's electronics would benefit from some sort of reprogramming.
Enough readers have now raised this issue, either through ownership or on test drives, to convince me that it's a genuine foible of the Sandero Stepway. Before I write about it again, I'm going to lift the phone and establish whether a cure exists. If it doesn't, it probably should.
Love it:
Outrageous value This sector is supposed to be stuffed with alternatives, but you won't find another car with this much capability for the money.
Loathe it:
Engine response The engine trips over itself at 2800rpm. It's smooth, economical and strong, but its progression through the range needs attention.
Mileage: 7688
#Back">Back to the top
Life with a Sandero Stepway: Month 1
We compare old and new Stepways to see how far it has come - 21 July 2021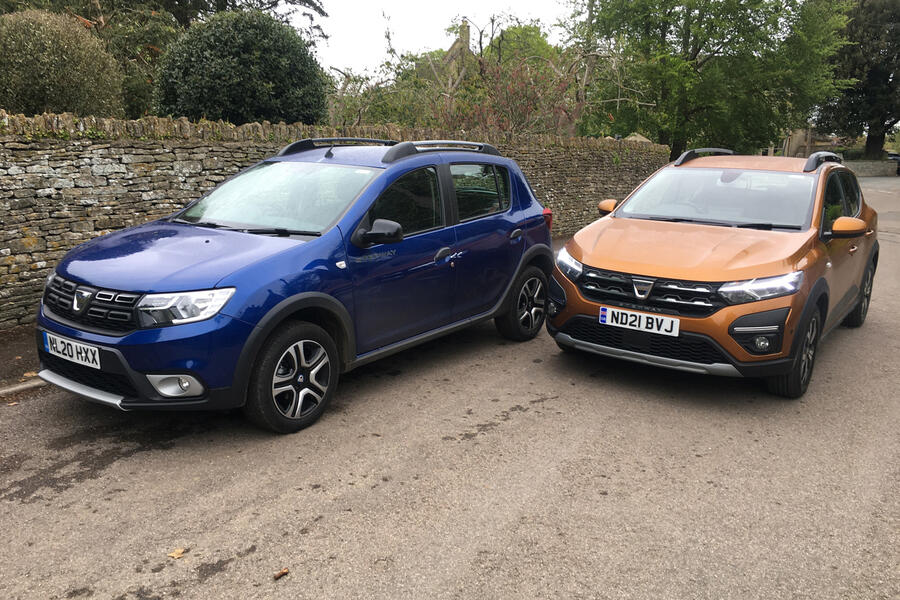 When we road-tested the Dacia Sandero Stepway a few months ago, the verdict was so effusive (not the perfect car but much better than you would expect for the money) that we started wondering exactly how big the upward step had been to this all-new model, utilising its modern Renault Clio platform.
Dacia, not remotely shy about helping us quantify the scale of its improvement, happily sent a previous Stepway for assessment, similarly powered to our TCe 90 but on a now- outmoded platform. Immediately obvious were that car's much- discussed lack of rear knee room and less comfortable ingress/egress, despite there being only millimetres of difference in the overall package.
This old-versus-new thing was especially beguiling when we made an on-paper list of what the two cars have. They're remarkably similar. The real differences are in execution: the new car looks classier and much more modern. The fuller, more sculpted body sections give it far more presence; it's less willing to 'know its place' in the car firmament.
Proof that the new Stepway is as attractive as any supermini lies in the fact that people who don't study car brand hierarchy simply see no status difference between this latest Dacia and, say, the Volkswagen Polo. The previous Stepway was much more styled to stay in its pigeonhole.
Such differences continue into the cabin. A knurled metal gearknob in the latest Stepway is a dig at sellers of much more high-tone cars. Clever use of fabric-covered hard plastic softens it in the eye of the beholder, while saving money. The central screen is as businesslike and well executed as that in many a pricier supermini.
With a sensibly sized and shaped wheel and low-effort input, the steering competes well with better cars', too, whereas its ancestor is fairly vague. Only after many miles do you notice a few foibles. Just sometimes, around the straight- ahead, it does some minor tramlining and lacks a bit of precision.
On our favourite B-road, the old Dacia is softer but also less well controlled. The new one is more chuckable, cornering neutrally even in very long bends taken hard. The differences also show in ride quality. The new car is night-and-day f latter and better controlled, although there are still times when it feels it could do with more wheel travel and better control at the extremities. While both 1.0-litre turbo three-pots are remarkably smooth, the new car has noticeable cut-in noise intrusion and footwell vibration.
These differences won't matter to everyone. For the many to whom the price is the be all, such shades of difference barely have significance. But for those with an Autocar-led order of priorities, there's a big step up in driver appeal: the new edition is constantly enjoyable to drive.
But the nub of the matter is more fundamental. Whereas the previous Stepway was content to undercut its supermini peers and be happy with that, the new one offers at least the same price advantage yet is quite prepared to challenge its betters anyway. That approach gives the car a powerful and enduring appeal.
Love it:
Plenty of presence Dacia's designers have found ways to modernise the Stepway's shape and toughen its character.
Loathe it:
Engine flat spots It's smooth and quite powerful, but the engine's uneven mid-range response can be annoying.
Mileage: 6262
#Back">Back to the top
Three cylinders, one litre, 89bhp: what more could you want? - 7 July 2021
One of the enduring fascinations of the new Sandero Stepway is just how much all-round capability is delivered by its modest 89bhp 1.0-litre three-pot turbo engine. You can cruise as quickly as the others on motorways with a decent amount of shove left in case you need it and you can thrum smoothly along right at the bottom of the rev range in traffic.
The price you pay (if price is the right word) is gear-changing. You're in top gear far less than you would be in a car with, say, a 1.5-litre engine.
Sixth is geared at over 28mph per 1000rpm, which means you never select it until you're doing 50mph- plus. You spend a lot of time in third, fourth and fifth, which seems wrong at first, because you think it's going to blow a hole in your fuel consumption. Only it doesn't. We're averaging a tad under 50mpg, and I'm using the revs more freely now than ever. But why doesn't the tacho have a redline?
My gripe about engine flat spots persists, but with familiarity you drive around it. The bottom line is that I'm enjoying the car. Every single day, I like comparing the modesty of its name and price with its excellent all-round delivery. It's easy to see why so many private buyers choose the Sandero.
Mileage: 5235
#Back">Back to the top
One key feature - 30 June 2021
The Stepway's key card is turning out to be an unexpected boon. I love the way you don't have to remember to lock the car – when paying in filling stations, for example. I was initially worried about losing the card (feeling it there was no substitute
for the reassuring rattle of a regular key), but if you keep it in your wallet, there's never a problem.
Mileage: 4398
#Back">Back to the top
Welcoming the Sandero to the fleet - 23rd June 2021
I have to admit that it was quite a change. Going from a £200,000-plus Bentley Bentayga with a blizzard of classy but pricey options to a Dacia Sandero Stepway Prestige priced at £14,605 – including the only two offered extras, metallic paint at £560 and a £150 spare wheel – is the kind of step that a real car buyer never makes. But I was really looking forward to it.
For one thing, our road testers had already established that the Dacia is a very decent car according to the 'fitness for purpose' criterion that guides all well-founded verdicts. And Dacia's own sales experience across Europe, which has established the Sandero as the most bought retail car going, was irresistible. I have a weakness for simple, affordable cars, and so do 1.3 million Sandero buyers (around 10% of them British).
Not that I'm truly slumming it, even in Dacia terms. The Stepway Prestige sits right at the top of the Sandero pole. The cheapest Sandero hatchback costs a shade under £8000, and even the taller and better-equipped entry-level Stepway is just £11,500.
Sure, our Prestige model bristles with what others regard as options (8.0in touchscreen, LED headlights, reversing camera, electronic parking brake and keyless entry), but all of that comes in the price. And as well as saving money, it also spares you the trouble of understanding a complex range and the time of filling in a fiddly form when your choices might be wrong. Dacia does the job for you.
Right from the off, the Stepway has overdelivered. Its £560 paint – in lively Desert Orange – has been applied with a quality that would distinguish the panels of a Ford or a Volkswagen. Which is to say very well. The car looks modern, well proportioned and eye-catching. The many people who don't know Dacia as a value brand presume the Stepway carries a far bigger price than it does. Get familiar with this car and you soon start wondering why people spend so much on other makes.
The Stepway came our way with 1400 gentle miles already on the clock, and though its tiny turbo triple engine is naturally free-revving, it felt rather tight. At that stage, it was delivering around 46mpg (praiseworthy enough, you might think), but now that the engine (and gearbox) are better run-in, we're much more used to seeing 50mpg and occasionally a bit more. This means the car has an easy touring range of 350 miles, yet it costs less than £45 to fill. No matter what your state of wealth, these are heart-warming figures.
The prospect of spending much of my driving life behind an 89bhp, 999cc three-cylinder engine didn't excite much at first, but it has turned out to be a remarkably easy thing to do, especially since there are plenty of ratios, including a gratifyingly long-legged sixth that doesn't really work below 50mph. The engine pulls surprisingly well at lower speeds, but spins so smoothly into the 5000s that such use is routine. It has become routine on another count, too.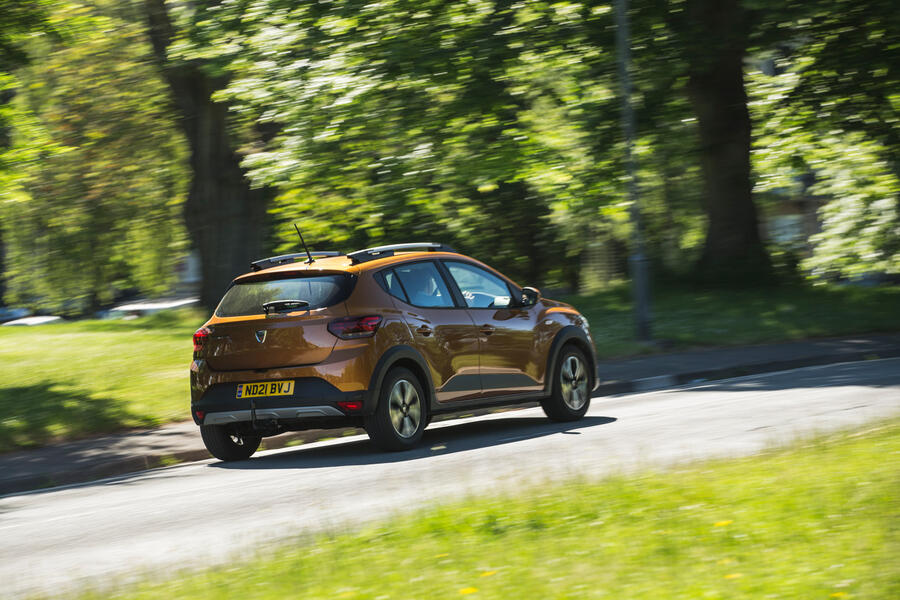 Our car's main foible is a rather uneven torque delivery at lower speeds. It promises plenty from around 2000rpm but there's an annoying flatspot around 2500rpm, which means one minute you're getting too little, but by the time you get to 3000rpm, you're getting too much. You can drive around it by staying further up the rev range (there's almost no noise penalty and the six-speed gearchange is fun to use), but a more linear power delivery would be welcome and might deliver even better economy. When there's time and the car has a few more miles under its belt, I might consult the service people to see if it makes sense to reprogramme the ECU.
On all other counts, the Stepway is faring well. It's well built (I've cured the one and only dashboard buzz), and I've become used to niceties like the reversing screen and the Apple CarPlay capability. The seats are comfortable and appear especially great at the price. People comment on the impressive look of the fascia, unaware that it simply uses a durable fabric to cover hard plastic. It stands for Dacia's resourceful approach to life: we can't afford expensive stuff so we're going to make affordable stuff work hard for its living. And so far I see absolutely no durability penalty evident or on the horizon.
Three Stepway features I love above all others. First is the way you can detach and refit the standard roof rails across the car to make a roof rack, for which you would pay extra on almost any other car. Second is the convenient keyless locking and unlocking, considered a luxury feature on a Range Rover. Third and best is the well-executed knurling of the gearlever knob, an especially amusing feature, because the makers of my previous Bentley claim knurling as an emblem of quality.
In a way, this modest metal detail stands for the whole car. It eats other manufacturers' lunches. It sets out deliberately to reward buyers who are not brand conscious, and the benefits are real. I have warmed already to the Dacia ethos and am bonding with the Stepway as the miles roll easily by.
Second Opinion
I spent a day in the Cropley Dacia and liked it a lot. Dead easy to rub along with and, thanks to things like the natty fabric trim and the quiet drivetrain, you're never over-aware that it's a budget car. I don't remember the throttle hesitation on other Sanderos I've tried, mind.
Matt Prior
#Back">Back to the top
Dacia Sandero Stepway TCe 90 Prestige specification
Specs: Price New £13,895 Price as tested £14,605 Options Metallic paint £560, spare wheel £150
Test Data: Engine 3 cyls in line, 999cc, turbocharged, petrol Power 90bhp Torque 118lb ft Kerb weight 1096kg Top speed 107mph 0-62mph 11.9sec Fuel economy 50.4mpg CO2 127g/km Faults None Expenses None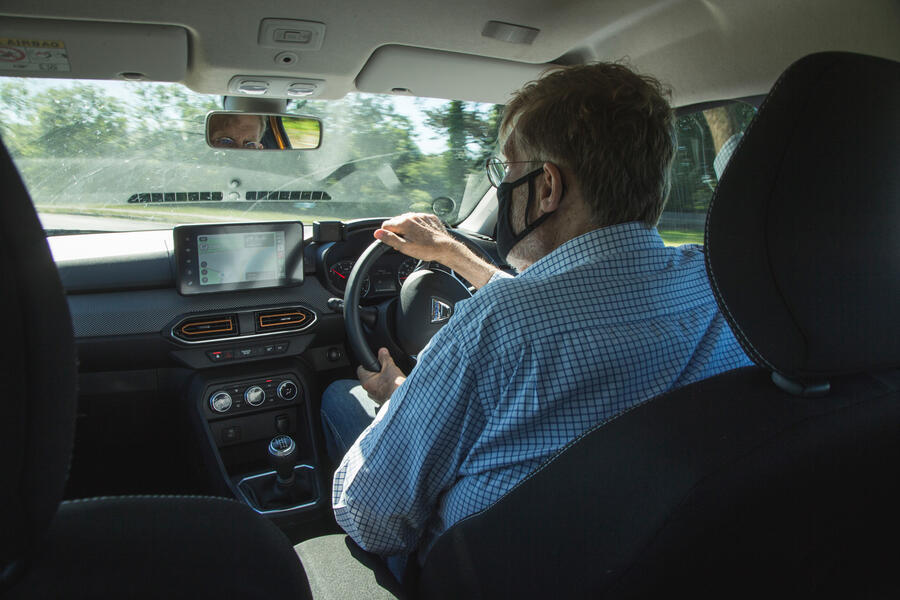 #Back">Back to the top
https://www.autocar.co.uk/car-review/dac...erm-review