04-04-2022, 08:23 PM
David Brown reveals Mini Remastered Marshall Edition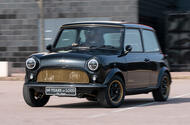 Limited-edition Mini restomod features gold details and boot-mounted amplifier
David Brown Automotive has unveiled a new special edition of its Mini Remastered in collaboration with amplifier manufacturer Marshall.
Called the Mini Remastered Marshall Edition, the limited-run restomod celebrates the 60th anniversary of the British company.
Each of the 60 cars will be finished in Marshall Black with gold detailing to mirror the look of Marshall's amps. The bumpers, wheel arches, window frames and headlight surrounds are finished in dark chrome, while the brake callipers and wheel surrounds are painted gold. A large mesh grille, also finished in gold, mimics the look of an amp.
The Marshall Edition is further marked out from the standard Mini Remastered by hand-painted pinstripes on the side and along the roof, as well as a Marshall logo in the centre of each wheel.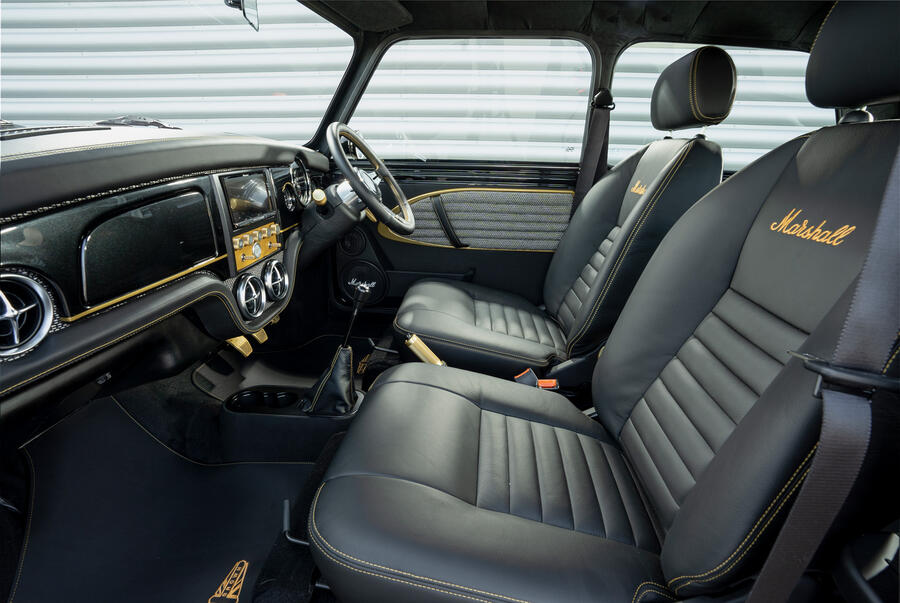 Inside, a gold control panel in the centre console features amp-style control knobs, with gold detailing also appearing on the handbrake and door cards. The pedals - which are also finished in gold - have the 'skip track', 'pause' and 'play' symbols engraved into them as a further nod to the special edition's musical inspiration.
Unsurprisingly, the audio system has been significantly upgraded. New dashboard-mounted tweeters work together with additional speakers in the doors, while the boot has been fitted with a full-size guitar amp featuring an independent power supply and an integrated bluetooth speaker.
Under the bonnet is a rebuilt 1.3-litre A-Series engine, producing 82bhp and taking the Mini from 0-62mph in 8.9sec and on to a top speed of 90mph.
Like all David Brown Minis, the car will be rebuilt using an original Mini, with only the engine, gearbox and VIN number being carried over from the donor car.
Pricing hasn't been revealed, but the limited-run Marshall Edition is likely to cost from just under the £100,000 mark, like the company's Oselli and Monte Carlo editions.
For each car sold, both David Brown and Marshall will make a donation to the Music Trust Venue, a charity that's helping the UK's independent music scene recover from the disruption of the Covid-19 pandemic.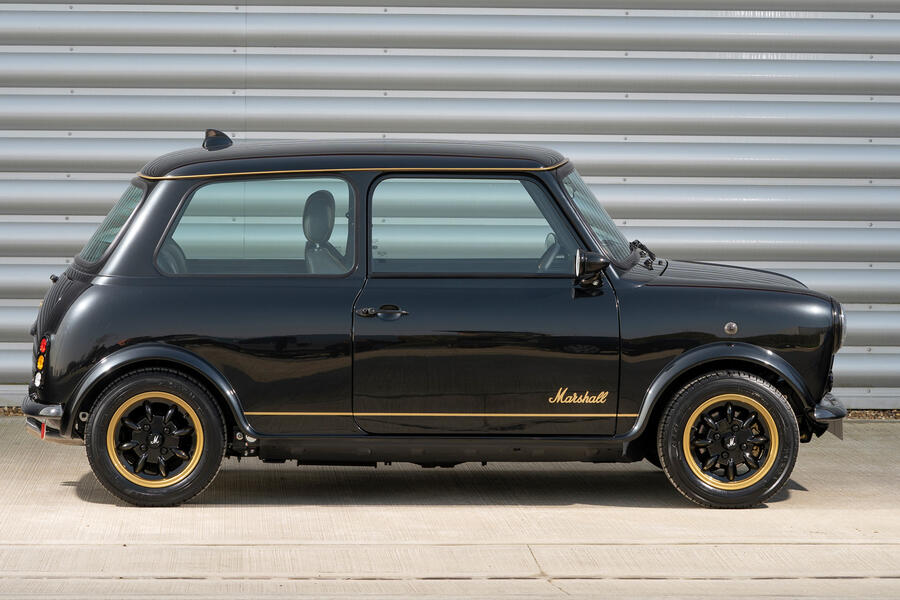 Company founder David Brown said: "It seems fitting to unite the classic Mini and Marshall - two British icons - and in doing so to inject the Mini, a favourite among music stars through the ages, with serious rock-and-roll appeal. We're delighted with the resulting car.
"We're hugely influenced by music, and to partner with such an iconic brand to create this very special Mini Remastered, and to help them celebrate 60 years in business, a momentous milestone, was an opportunity we didn't want to pass on."
https://www.autocar.co.uk/car-news/new-c...ll-edition