05-12-2022, 01:56 PM
David Richards on world rallying and running Aston Martin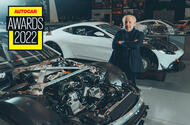 Autocar Awards 2022: Sturmey Award winner David Richards has many stories to tell from 50 years in motorsport
Famous people achieve their star status by finding something at which they excel, then practising it at the highest level to the exclusion of everything else. Jim Clark was brilliant at winning motor races, but he never designed a car or managed a racing team – and nobody would have expected him to.
David Richards, winner of this year's Sturmey Award, Autocar's most personal accolade, has an entirely different way of working. In a long career, he has amassed a wide variety of difficult and diverse successes, and he continues to be active and effective in many areas when ordinary people might think they had done enough. In his twenties, Richards was organising international motorsport events for clients who had already spotted what would soon become his lifelong ability to make things happen. By 30, he had won a World Rally Championship for Ford, co-driving with his friend Ari Vatanen, before retiring early to concentrate on other promising facets of motorsport.
Within a couple of years, he had formed a new company, Prodrive, first to bring Porsche into rallying, then to establish BMW in both rally and racetrack competition. The BMW successes led promptly to a hugely productive 18-year world rallying phase, during which he nurtured the stellar careers of Colin McRae (1995) and Richard Burns (2001) to fruition as world champions.
Meanwhile, on the circuits, Prodrive ran saloon campaigns for Alfa Romeo, Honda and Ford, also building a 10-car batch of 'private' Ferrari 550M endurance racers, one of which won the GT1 class at Le Mans in 2003. Over Richards' 50-year business career, there are almost too many diverse highlights to list: stints as team principal with the Benetton and BAR F1 teams, the establishment of a highly successful Aston Martin GT racing operation that continued to prosper (Prodrive has built upwards of 200 Aston GT racers since 2004) and close involvement in a rethink of the ways British motorsport is governed, as chairman of the renamed Motorsport UK.
Most recently, Richards and Prodrive have set up the Bahrain Raid Xtreme off-road team and programme, starring nine-time WRC champion Sébastien Loeb and an all-new car called BRX Hunter. The car promises a whole new avenue of opportunity for the Banbury company: Richards seems to specialise in finding them. How does he do it? He'll tell you luck is involved, but of course there's much more to it than that.
"So much about life is being in the right place at the right time," he says.
"But that's not the main thing. You've got to see opportunities as they come – and they will – and then grab them with both hands. The trick is not to be risk-averse."
He cites a perfect example: "I was 23 years old, had just finished my accountancy articles and was co-driving for Tony Pond in rallies, doing a kind of motorsport gap year. I went to see Rothmans to ask for sponsorship – tobacco companies were big sponsors back then – and got the usual don't-call-us message. But something I said must have lodged because they rang me a few days later. This isn't a sponsorship offer, they said, but could you help us with something?
"It turned out to be a request to go to Kuwait and organise a car rally, leaving the following day! The event was imminent and the guy organising it had been shot. So I went – and finished up organising the first international rally they'd ever had. It was a modest event but it went pretty well and I made friends in the Gulf that I still have after all these years."
The sponsors must have been happy too, because they were soon back on the phone asking Richards to organise a similar event in Qatar, this time from scratch. It was a tall order. He had no contacts there, so he decided to try to enlist the aid of the chief of police: "I waited three days outside his office until he was free to see me, but when he did give me some time, we had a good conversation and he agreed to help. That event went well, too."
Richards lists his next career milestone as meeting Vatanen, the Finnish rally star who later became a prominent EU politician but remains a great friend to this day: "Ari was on his first trip to the UK and didn't speak much English, but he had the same kind of farming background as me so he came to stay with us in North Wales. We got on well and started doing stuff together and got pretty successful. Then we went to the Ford factory team and won the world championship."
Richards' next highlight, the deal to run Subaru's WRC team, ostensibly arrived out of the blue too, but it was actually a result of Prodrive's rally success with their BMW team: "A friend told us that a man from Subaru, Mr Kuze, would be at Heathrow on his way back to Tokyo from the Safari Rally and wanted to see us. I didn't even know who Subaru were; I had to look them up.
"Anyway, we picked Mr Kuze up from the airport and had a meeting here in Banbury. He told us they were building a new car, the Impreza, aimed at a younger audience. He'd seen us run our BMWs, and as long as we could come up with a sensible proposal, he said they'd like us to help them run an Impreza team in the World Rally Championship. It was the beginning of an 18-year relationship. We didn't have the resources back then, but we had great engineers and plenty of ambition. Four years later [in 1995], we won the championship with Colin McRae."
One of the best things about that success, recalls Richards, was seeing the pride and the change of attitude at Subaru: "They had thought of themselves as 'little' Subaru, a second-stringer battling giants like Ford, Toyota and Lancia. But in an amazingly short time, they went from selling pick-ups for pig farmers to performance cars for petrolheads."
"The Subaru experience taught us a huge amount about what motorsport programmes can achieve," he says. "There was even a Henley Business School study about how it changes the company's reputation and how it was perceived. It wasn't just a 'win on Sunday, sell on Monday' thing; we used our success to recruit engineers, and Subaru suddenly found they could attract the best young Japanese talent. A lot of really good technical stuff was fed into the road cars, and the rally imagery did a lot to sell the cars."
Setting up Prodrive's Aston programme – already 19 years old and counting – had a lot to do with another of Richards' personal qualities: persistence.
"I've loved Astons all my life," he says. "Hounding the management every year to let us set up a race team had become a bit of a religious ritual. So was their usual reply: we just don't have the money. But when they launched the new DB9 in 2003, it looked like a fresh opportunity.
"They gave me the usual stuff about money but this time I said: 'Tell you what: I'll take the risk. I'll do the development if you allow me a five-year contract to build and sell the cars, do the merchandise, everything. In theory, the DB9 wasn't the perfect race car, what with a front engine against the mid-engined Ferraris. But the balance of performance regs were just arriving, which helped make a more level playing field. We won at Sebring first time out."
The Aston business has changed shape a few times but it prospers to this day. There are always plenty of race cars at the Banbury works being built or refurbished. Venerable models come back for rebuilds, some of them now extremely valuable. A 2007 Le Mans winner recently sold at auction for almost £2 million. For five years from 2007, Richards was actually chairman of Aston Martin proper, having led a Kuwaitbacked consortium to acquire Aston Martin from Ford for $925m. The principals were people Richards had first met 30 years before while organising that very first car rally for Rothmans in Kuwait.
"Things go full circle in life," he says. "If you do your best and try to treat people correctly, they usually remember."
Other business? Non-motorsport activities have often taken Richards' and Prodrive's fancy: there's a thriving composites business that makes vital components for contemporary automotive, marine and aerospace clients, a carbonfibreframed folding bicycle called Hummingbird, an electric truck development programme, a contract with Jaguar Land Rover's Special Vehicle Operations to make a fold-out drinks console for Range Rover's SVAutobiography and even a project to build an amphibious vehicle, which Richards has a lot of faith in.
He also likes spending time in Cornwall, where he owns two hotels. Running the hotels is good practice for all forms of business, he argues.
"F1 is nothing compared with making a success of hospitality," he says.
"In motorsport, the goal is clear: you cross the line first. By 4pm on Sunday, the result is clear to everyone. In hotels, every person through the door has different expectations. The challenge is to anticipate their needs, and it can be tough." 
https://www.autocar.co.uk/car-news/autoc...ton-martin