04-20-2022, 11:43 AM
Deus Vayanne: 2169bhp EV hypercar to launch in 2025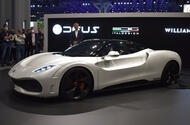 Deus Vayanne is "a safe, reliable and feasible product that will make it to the market"
Williams Advanced Engineering and Italdesign engineer "reliable and feasible" hyper-GT, which will begin testing next year
New Austrian car manufacturer Deus has unveiled an all-electric hypercar at the New York motor show that looks set to become one of the most powerful cars on sale.
The Vayanne – named after Vienna, Deus' home city – is being developed in partnership with Italdesign and Williams Advanced Engineering (WAE). Speaking to Autocar in New York; Deus's head of design Adrian-Filip Butuca said: "The collaboration means we are delivering a safe, reliable and feasible product that will make it to the market. That is the number one priority for us. And on a personal level, they are great people to work with."
The first cars are expected to be delivered from Italdesign's Turin factory in 2025. 
Computer simulations predict that the Vayanne's twin-motor, four-wheel-drive powertrain will produce more than 2169bhp and 1475lb ft of torque.
If accurate, it would mean the 4WD model is significantly more powerful than the 1876bhp Pininfarina Battista, 1923bhp pre-production Lotus Evija and 1888bhp Rimac Nevera.
The target top speed is 248mph and 0-62mph is projected to take 1.99sec, according to Deus. Despite sitting just 120mm from the ground, its creators say the Vayanne will offer a comfortable ride that's unusual in the hypercar class.
Italdesign and WAE are serial collaborators but the Vayanne is not based on the two companies' 'turn-key' EV package, despite similarities in the modular battery technology.
Dyrr Ardash, head of strategic partnerships for WAE, told Autocar: "EVX's skateboard-type chassis wouldn't make sense from a platform perspective because your hip point needs to be quite low. This is a more traditional, mid-engined type of approach."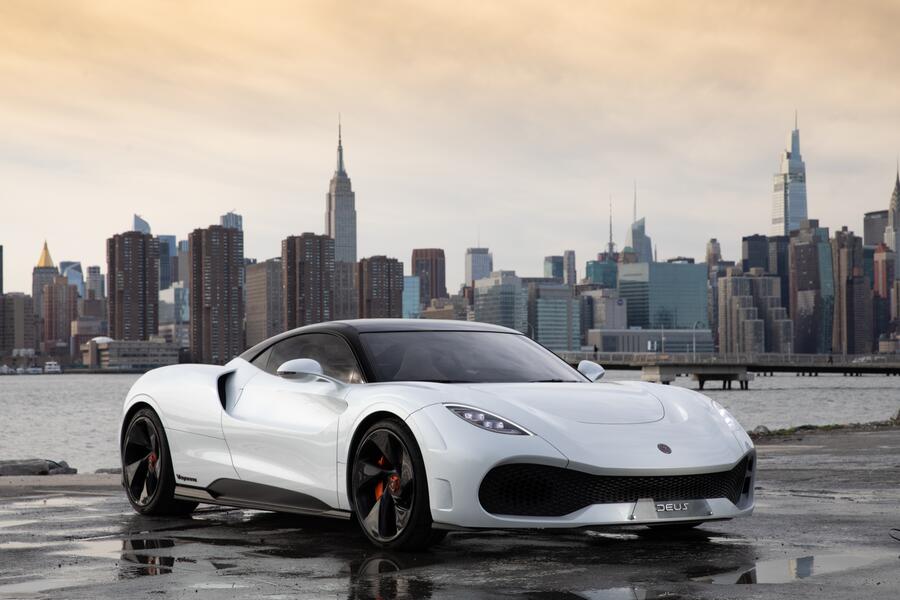 As such, Williams has drawn on its prior experience in high-performance car projects, including the Jaguar C-X75, to create the electric propulsion system, chassis architecture and composite structure. A supplier has been selected for the Vayanne's electric motors. Ardash adds that for the battery pack behind the rear seats, "we're using 21700 cylindrical lithium-ion cells, because they're the best balance between performance and cost."
Charging at 350kW ought to fill the 85kWh pack in around 20 minutes, unlocking about 300 miles of range.
Drivability will be a focus for the development team when prototypes are put through their paces beginning in 2023. Ardash said: "It's not a three-off, track-only special that needs a race team to support it. We want anybody to be able to get in and drive it, and therefore it needs to be accessible, whatever your driving skill."
The car's design language was inspired by "symmetry and infinity". The grilles at the back and front are intended to represent the infinity loop, a feature emphasised by a light strip at the rear.
Inside, the Vayanne has a fully digital instrument cluster and control display. The show car's black and white interior also features wrap-around 'infinity mirror' trim. The fading-depth effect is created by two LED strips and two mirrors – one fully reflective, the other partially reflective –in what Deus says is an automotive industry first.
Pricing information for the Vayanne has yet to be confirmed, but Butuca indicated that it'll fall around the US$2.5m mark (£1.9m). Production will be limited to just 99 units, each with a unique, customer-specified paint finish and interior trim to maintain exclusivity for collectors. There will be no Bugatti-style special editions, but Butuca said that further Deus vehicles could follow in the longer term.
https://www.autocar.co.uk/car-news/new-c...aunch-2025