04-02-2023, 01:20 PM
Diesel should be 152p per litre as wholesale cost falls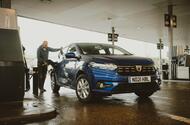 Since the start of March, the average weekly wholesale price of diesel has fallen by 5ppl
RAC slams supermarkets for not lowering prices as wholesale costs of diesel sits around 114.5p per litre
Criticism has been thrown at the UK's top supermarkets, who are selling diesel at an average of 17.5p per litre more than petrol, despite wholesale costs being the same.
They're currently buying up both fuel types at around 114.5ppl yet are selling petrol at an agerage of 146.3ppl and diesel at an average of 164.26ppl.
According to the RAC's Fuel Watch, diesel should now be priced at around 152ppl. Since the start of March, the average weekly wholesale price of diesel has fallen by 5ppl.
"For retailers to be taking a margin of nearly 20p a litre on average throughout March, compared to the long-term average of 7p, is devastating for every driver and business that relies on diesel," RAC fuel spokesman Simon Williams said.
"As the supermarkets buy so frequently, they've had plenty of time to pass on the lower prices they're benefitting from on the wholesale market to drivers at the pumps, but they remain resolute in their refusal to cut their prices substantially.
"We're also seeing many independent retailers charging far less than their supermarket rivals."
When approached for a response, the British Retail Consortium (BRC), which represents the big four major supermarkets – Asda, Morrisons, Sainsbury's and Tesco – said retailers are doing "everything they can" to offer the "best value-for-money across petrol forecourts".
The BRC gave a near-identical response when asked to respond to a similar claim in August.
An anonymous source at a leading trade association told Autocar: "The days of large supermarkets subsidising fuel as a loss-leader are over, because margins are already tight and it's unaffordable in this economic climate."
The Competition and Markets Authority, a government-backed UK trade regulator, is currently reviewing the fuel market and retail pricing behaviour.
Volatile fuel prices have been caused by an array of issues, including the growing price of crude oil (50% of the UK's supply of which comes from Norway), refinery production, distribution costs and high fuel duty (currently 52.95ppl).
The RAC predicts that the wholesale and forecourt cost of diesel will continue to fall, but it still remains higher than prices seen between January 2013 and January 2021, despite largely stagnant wholesale costs. As of 2 January 2013, wholesale diesel cost 111.51p, with a forecourt sale price of 139.93p.
AA spokesman Luke Bosdet said: "While there are retailers charging excessively more for diesel, there's usually one or more forecourts locally that are pricing much lower. We assume that local businesses are probably switched on to where the diesel is cheaper. 
"However, many bigger businesses have fuel deals with the oil companies or through fuel cards. The fuel stations have complained in the past that because the return from supplying diesel on these contracts is so low, they have to pump up the margin for the rest. However, many bigger businesses have fuel deals with the oil companies or through fuel cards."
Bosdet added that this leads to inflated localised prices, citing Derby as an example, with customers living north of the city paying 3ppl less than those living farther south.
https://www.autocar.co.uk/car-news/new-c...cost-falls