04-08-2023, 10:33 PM
Do the UK's low-traffic zones really work?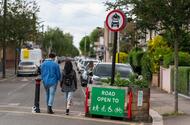 Non-local traffic is banned from using an LTN, with fines used as a deterrent
Created to provide safer and cleaner traffic-free spaces, critics say they just push congestion elsewhere
A feud is brewing over the roll-out of low-traffic neighbourhoods (LTNs), created to provide safer and cleaner traffic-free spaces, as more cities across the country adopt the government-backed scheme. 
Critics say LTNs generate more problems than they solve – especially affecting local traffic, pushing congestion elsewhere. Meanwhile, supporters argue residential quality of life has improved drastically, with urban streets no longer used as congestion-escaping rat runs. 
However, there is a suspicion that because many LTNs are policed by numberplate-recognition cameras triggering fines of up to £160, they are a revenue-raising tool. Indeed, in 2021, 'moving traffic offences' in London – the highest LTN adopter with 100 – increased by 55.4% compared with the year before (from 2.1 million to 3.25 million), a rise due largely to the introduction of LTNs. 
But it's not just the capital where LTNs are being adopted. Cities such as Bristol, Manchester, Birmingham and Sheffield are also creating the traffic-free spaces. 
Others, such as Oxford – which sparked one of the biggest reactions, with thousands of protestors taking to the streets – have announced upcoming plans. 
Similar areas with the same aims have existed since the 1970s, but following the launch of a £225 million active travel fund by the government in 2020 – including a separate £250m London-only fund – to be spent by councils on creating more LTNs, they have received far greater attention as, increasingly, motorists have found themselves barred from previously accessible streets.
Another cause of scepticism among critics is the fact that last year, the Department for Transport (DfT) admitted its data, used by London councils to justify the creation of LTNs, was incorrect in that it showed a significant rise in traffic on the capital's residential streets between 2009 and 2019. 
In fact, after a review of the data, no increase was recorded. Studies into the effectiveness of LTNs paint an equally confusing picture. 
One, also commissioned by the DfT, showed that in 2021, within 10 inner-London LTNs, the number of miles driven had actually increased by 41 million compared with the previous year. In contrast, two London boroughs without LTNs posted an increase of only 29 million miles. 
Critics have suggested the figures could be interpreted as showing that LTN schemes are simply displacing vehicles onto streets not covered by them. 
A report by Imperial College London published in 2021 found this to be the case in areas of Walthamstow Village, an early adopter of LTNs, where a small number of roads neighbouring the schemes experienced an increase in traffic. However, it reported that traffic levels within LTNs had fallen 44%.
Its findings were echoed by a more comprehensive survey of 46 LTNs published last year by the University of Westminster's Active Travel Academy (ATA). It found that while average traffic levels within LTNs had declined by 46.9%, half of boundary roads had experienced a rise in traffic (on average by 0.7%, or 82 vehicles per day), but the rest a fall. 
Professor Rachel Aldred, director of the ATA and co-author of the study, said: "The research indicates there has been overall 'traffic evaporation' as a result of these schemes. Not only do LTNs have substantial benefits inside their boundaries but they can also contribute to wider traffic reduction goals." 
Nevertheless, according to a study last year by online newspaper i, 28% of LTNs created since March 2020 had since been scrapped by councils that had faced fierce and occasionally violent opposition to the schemes from motorists and residents. 
They included Salisbury, which abandoned its city centre LTN after local businesses complained. Other councils are not giving in so easily and many pledge not only to keep their LTNs but also to increase their number.
https://www.autocar.co.uk/car-news/consu...eally-work