09-20-2021, 01:46 AM
Drivers of Change: Retail focus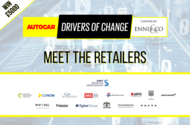 Following a turbulent 18 months for car retailers, our judges are excited to see your Drivers of Change ideas
The past 18 months have been turbulent for the retail side of the motor industry. Arguably, though, there has never been a better time to be involved, and the Drivers of Change competition – run by Autocar in association with executive search specialists Ennis & Co – is your chance to get your great retail idea in front of some of the biggest names in the industry. Here's what our sponsors have to say about their current views of the industry, and what Drivers of Change means to them.
For a chance to win £5000 and impress the largest dealership groups in the UK, click here. 
Daksh Gupta
Group CEO, Marshall Motor Holdings
"We recently posted record results for Marshall Motor Holdings, with revenue of £1.33 billion, while reported profit was up by almost 49%. As well as this, profit rose by 65.3% to £157.4 million.
"Following this, we also paid back government support for furlough and grants, as well as a thank-you bonus to all colleagues – because we genuinely could not be where we are today without the people making these positive changes happen.
"This is where Drivers of Change is an extremely appropriate title for what is going on in this industry right now. The sector is changing at a really rapid rate. The evolution to meet emissions requirements means manufacturers are moving quickly towards electrification – and products are becoming more and more exciting, coupled with the digital transformation alongside this. It is now, more than ever, that we need people with ambition who are inquisitive – not necessarily with automotive experience, yet with great people skills and passion. There will be lots of transformation, challenge and opportunity in our industry – and I can't think of another with such an exciting future. So what better time to join it?"
Neil Williamson
CEO, Jardine Motors Group
"Pre-pandemic, we had already made great progress with our digital transformation strategy, enabling us to successfully navigate the business challenges faced throughout the pandemic and to continue to provide excellent support and service to our colleagues and customers.
"As a group, we have had a strong start to the year and continue to adapt to changing customer behaviours and increased expectations, offering a blended approach to engagement. Combining the physical dealership experience in tandem with our e-commerce self-service offering and providing multiple alternative channels of communication, including live chat and virtual appointments, we can meet the needs of our customers, however they choose to interact with us.
"The Drivers of Change initiative is a great way to get people thinking about what more can be done to drive the industry forward, whether it's operational changes in the way we do business or how we support our teams to deliver new ways of working."
Mel Rogers
HR director, Sytner Group
"An unprecedented level of disruption has occurred as a result of the challenges caused by the pandemic. However, the unwavering spirit and relentless dedication of our colleagues has seen Sytner Group deliver outstanding first- half commercial results. Delighting colleagues is a priority that has been a core value for Sytner Group for decades. We are committed to developing talent and building careers.
"The resilience our colleagues continually demonstrate has enabled us to adapt and drive change with great success. Because Drivers of Change aligns with our values and ambition to always recruit the best talent, it's a natural fit.
"Sytner Group has recently appointed a head of diversity and inclusion with the aim of elevating efforts in this area. This is a critical area going forward as we strive to build a truly diverse workforce who can relate and support the communities in which they operate. We anticipate recruiting in sales, aftersales and support functions for the remainder of the year and intend to refocus on our drive to recruit new talent through our established and developing apprenticeship programmes in 2022."
READ MORE
Gordon Murray joins Autocar Drivers of Change judging panel
https://www.autocar.co.uk/car-news/featu...tail-focus