08-09-2021, 04:14 PM
E-bike review: Ribble Hybrid AL e Fully Loaded Edition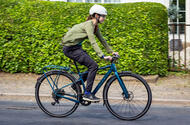 The Ribble Hybrid AL e is created for leisure, urban, or commuter riders
Comfortable, aesthetically pleasing and with up to 60 miles of electric assistance - but is it worth the £2000+ asking price?
Ribble Hybrid AL e – Fully Loaded Edition
What does it cost? £2299 for the fully loaded edition which includes a pannier rack, or £2199 without.
What is it?
The Ribble Hybrid AL e is a visually stunning electric hybrid bike, created for leisure, urban, or commuter riders. Its sleek design is complemented by the motor's single button operation, situated on the top tube. It works well on its own, but you can pair the bike to the Ebikemotion app which essentially makes the bike a 'smart' bike. On there, you can check battery levels, record trips, and adjust the levels of electrical assistance to suit your needs.
Assistance is delivered from a 250W Mahle Ebikemotion rear hub-mounted motor, which notably does not detract from the overall aesthetic of the bike. A European based company, the Ebikemotion system is used by other popular brands such as Orbea, and other types of electric bikes. The entire electric-assist system weighs just 3.5kg, and the battery takes a mere 3.5 hours to charge, offering an impressive up to 60 miles of range. If that's not enough, you can buy a battery extender to effectively double the range.
The charge point is located at the base of the frame and is sealed by a rubber cover. Amazingly the weather stayed dry for all of the test rides so there wasn't a chance to test the waterproof qualities of it, but Ribble advises it can be ridden in all weather conditions.
The bike is very well specced for the price, with an 11-speed SRAM NX groupset and a wide range of gears on the cassette. The Mavic wheels and Schwalbe hybrid tyres provide a comfortable ride over pothole laden roads, and Ribble have also used hydraulic disc brakes which work well in all conditions.
The fully loaded edition comes with a colour co-ordinated rear pannier rack which adds rather than detracts from the appearance of the bike. If luggage mounting isn't a necessity, however, the regular edition of the Hybrid AL e is £100 less. It also comes equipped with mudguards, which are essential for most of the year.
What is it like?
The Ribble Hybrid AL e combines flair with the proven performance of a Ribble bike. At first glance, you'd be forgiven for believing it's an unassisted bicycle, such as the subtle nature of the motor and battery.
And at 12.5kg in weight, the ride is incredibly smooth and at times you forget you're riding an electric bicycle.
The motor engages quickly and quietly, engaging enough to be a comforting reminder that the motor is on and working,  but without any added whirs or extreme engagement noises. The Hybrid AL e glides up hills. The range of the battery is excellent; we got 50 miles on one charge with most of the rides on the highest assistance level without any issues. Even when the assistance is turned off the bike rides well, too. 
The one-button e-motor operation is simple, using colours to guide you through the assistance levels. If there was one inconvenience with this system it would be the inability to select levels manually, rather than scaling through to reach the desired target. The bike's smart capabilities are enhanced when it's paired with the Ebikemotion app, which provides you with all the ride information you're likely to ever need.
The sleek design of the Ebikemotion battery does have one drawback – maintenance access. Due to its position within the downtube, any work done on the battery requires the removal of the crankset and bottom bracket. For most, this isn't a job that you'll want to tackle at home, so you'll need to find a bike shop that can carry out this kind of specialist work.
You might wonder whether the sparkling paint and polished composition signify form over function on the Hybrid AL e – it doesn't. While the paint job on these bikes is spectacular, Ribble has managed to create a well-rounded bike by focusing on its strengths and outsourcing the electric system to a specialist company.
The e-bike performed beautifully during test runs and is a perfect partner for the British roads and towpaths whether it's for fun or for riding to work or the shops. You can even bring the kids along, as there's room for child seats, making your rides a family affair.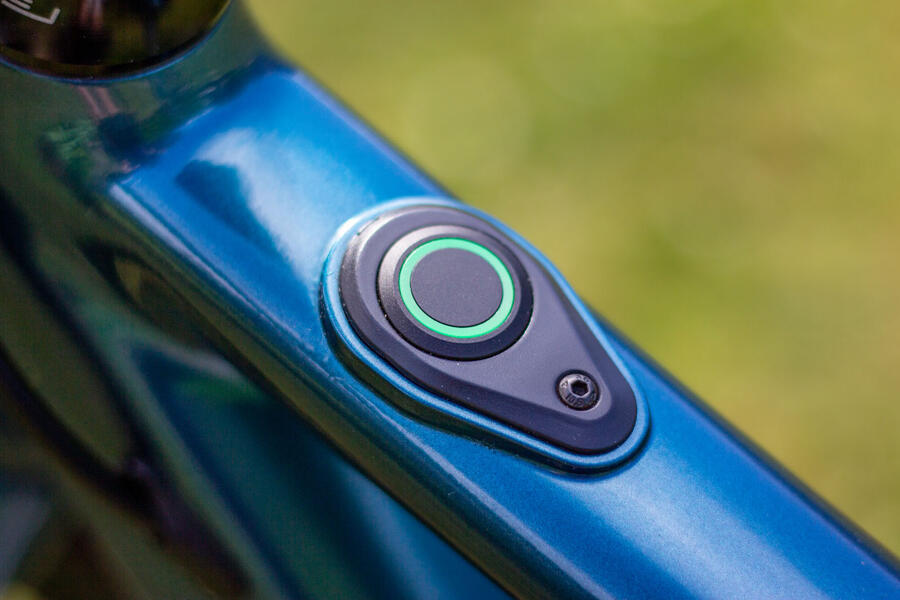 Ribble Hybrid AL e – Fully Loaded Edition verdict - 4.5/5
The Ribble Hybrid AL e is a dream of a bike. It's perfect for leisure riders, commuters, or even longer distance riders who want a bit of assistance. The fully loaded edition enhances the bike's capabilities. The only concern is the potential difficulties in accessing the battery. At this price point, the bike is well specced and an excellent companion for most riders. 
Where can I buy it?
You can buy the bike directly from Ribble either on their website or from one of their three showrooms across the country.
How does it arrive?
The bike arrives largely assembled; just the handlebars and seatpost need adjusting.
Ribble Hybrid AL e – Fully Loaded Edition at a glance
Cost £2299
Frame size tested S
Weight of bike 14.5kg (for medium)
Groupset SRAM NX Urban 1x11 speed, Tektro Hydraulic brakes, 11-42T cassette, 42T chainring
Wheels/tyres Mavic Ksyrium disc wheels - (12x100 front/12x142 rear), Schwalbe Marathon Rigid 700x35c tyres, Black/Reflex
Motor MAHLE Ebikemotion X35+ M1 250W,  Rear hub-mounted
Battery Panasonic 36V/250Wh
Mileage range Up to 60 miles
Assistance levels 3 modes, up to 15mph
Charge time 3.5 hours
Included extras Top tube button for assist control; Pannier rack colour coded to the bike;  Front/rear mudguards; Knog classic bell; Custom colour bike available.
Words and pictures by Rebecca Bland
This is one of a series articles being published by Autocar in the coming weeks exploring e-mobility under the Move Electric name, a new editorial channel created by Haymarket, our owner. We intend to cover electric cars, motorbikes, scooters, bicycles and more, as well as exploring themes around electricity generation and electric lifestyles. Content will include features, reviews and opinion. If you have any thoughts about what kind of content you'd like to read - or that you wouldn't like to read - please use the comments section below to provide feedback.​
MOVE ELECTRIC - READ MORE
E-bike review: Decathlon B'Twin Riverside Original 920 E Electric Hybrid
E-bike review: E-bike review: Perry Ehopper 16" Electric Folding Bike
E-scooters: the future of city transport, or an urban menace?
E-scooters: 10 reasons why you SHOULDN'T buy one
E-scooters: 10 reasons why you SHOULD buy one
Airspeeder: 8 things you need to know about the race series for flying cars.... that aren't cars
https://www.autocar.co.uk/car-news/move-...ed-edition