04-05-2022, 09:20 PM
EV across the Outback: charging a Polestar 2 with chip fat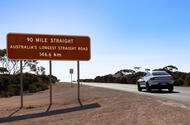 Southern Australia's plains are no longer a no-go zone for electric vehicles, thanks to a novel charging solution
Two and a half months: that's the average wait time between seeing one electric vehicle and the next passing by the remote roadhouse of Caiguna, in the midst of the Nullarbor Plain between South and Western Australia.
The definition of remote? Caiguna is a 500-mile round trip from the nearest town, and when Nasa's Skylab space station crashed down to Earth in 1979, the debris it scattered here didn't hit anything or anyone.
There's nothing on the Nullarbor; not even anything you could really call a tree, hence the name. But this arid semi-desert alongside the Great Australian Bight is home to the Eyre Highway, the main artery linking the west of Australia with the rest.
Before it was put in 80 years ago to get troops and equipment west as part of the war effort, camels and horses were all that joined up this unforgiving part of the outback.
Liquid fuel and fried food is pretty well all that's on offer at Caiguna. For petrol and diesel trucks and cars, that's fine. But, until now, that has meant hardy EV evangelists who have been braving the Nullarbor plugging into mains chargers at camping areas and hunkering down for a very long wait to top up.
"EV people are adventurous; they want to see how far they can go and where other people haven't been before," says Robin Dean, a member of a Western Australian EV club. "And any risk driving is always a risk [in the outback]. You have really to plan your trips."
The Nullarbor has been a virtually unbridgeable chasm in an otherwise well-established EV fast-charging network encircling most of the land down under. With no mains electricity and the cost and demand for solar charging currently incompatible, a very Australian solution to this very Australian problem was needed if the Nullarbor was to cease being almost a no-go zone for EVs.
Remember the fried food that Caiguna serves? Jon Edwards, a retired engineer from Perth, has developed a generator that runs on filtered chip fat (cooking oil) and is capable of powering a 50kW EV charger. In January, the first of his Biofil units was installed at Caiguna.
Under the 'build it and they will come' hope, Caiguna's manager, Troy Pike, took some convincing to allow Edwards to set up shop there. Covid sealed the deal. The Western/South Australia state border has been closed to all but supply trucks and traffic has been down 80%. Having reopened in February, Caiguna now needs all the customers it can get – even if that means it becoming, thanks to Edwards, a lure for EV pilgrims.
"We're here to sell fuel, not to sell electricity," states Pike. "But after careful consideration, we agreed, because I believe that electric and hybrid cars are the cars of the future."
Pike says the three roadhouses he manages will be able to donate 60 litres of waste cooking oil per month (which otherwise would go into landfill), allowing EVs to charge for free for most of 2022. After that, there will be a cost. A crowdfunding campaign has been set up to pay $70,000 for each new generator and help run the existing one at Caiguna.
"It takes 20 litres of chip oil to charge a car," explains Edwards as he watches a first batch of cooking oil being poured through filter paper into the Biofil unit. With a slight sense of trepidation, he fires up the generator and connects it to a Polestar 2 – the first in a small convoy of EVs that have journeyed to Caiguna for this piece of outback motoring history.
"I would say this unit would be one of the most remote EV fast-charging stations in Australia and possibly the world," claims Edwards, proudly leaning on the Polestar and watching the charge meter rise. Fully charged, it should make Perth, 600 miles away, with one or possibly two stops.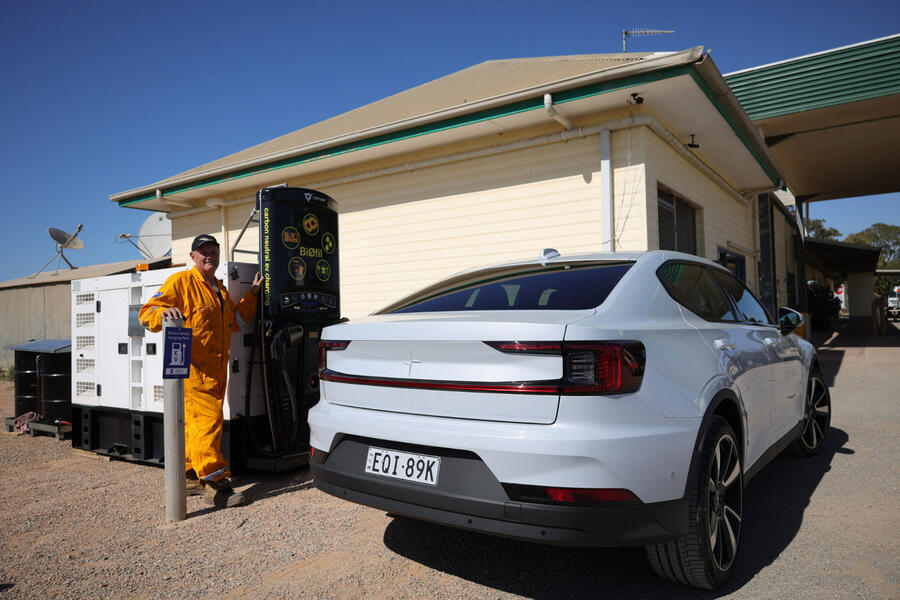 The once sceptical Pike is enjoying his moment in the limelight. Aussie TV and Perth's main newspaper came out to report on the installation, and he was a popular interviewee.
"I'm very interested to see how it turns out, and to see the turnover of people and the amount of people coming through now with EVs," he says. "I think it's a great step forward to reducing our carbon footprint."
While burning cooking oil to generate electricity isn't the zero-emissions solution that will come when solar panel/battery arrays become cost-effective, Edwards' short-term plan reduces landfill and uses a fuel that's already on site.
Respected EV commentator Roger Atkins applauds the initiative, particularly until the cost-benefit comparison of solar charging works out. "It's important not to let great get in the way of good," he says. Atkins champions "using whatever is local, available and efficient".
This road was travelled many a time by AC/DC in their early days and was apparently the inspiration for their most famous song, Highway to Hell, and it's fitting that it now has status as an electric highway. But the question is, now that Edwards has built the EV infrastructure, will the customers come?
"Over the past five years, the average number of EVs traversing the Nullarbor has been five," he says. "Once word gets around that fast charging is available, we're expecting it to increase to 20, maybe 40, even 100 a year."
That potentially means an average wait of three days and not almost three months between visits from EVs. That's definitely progress.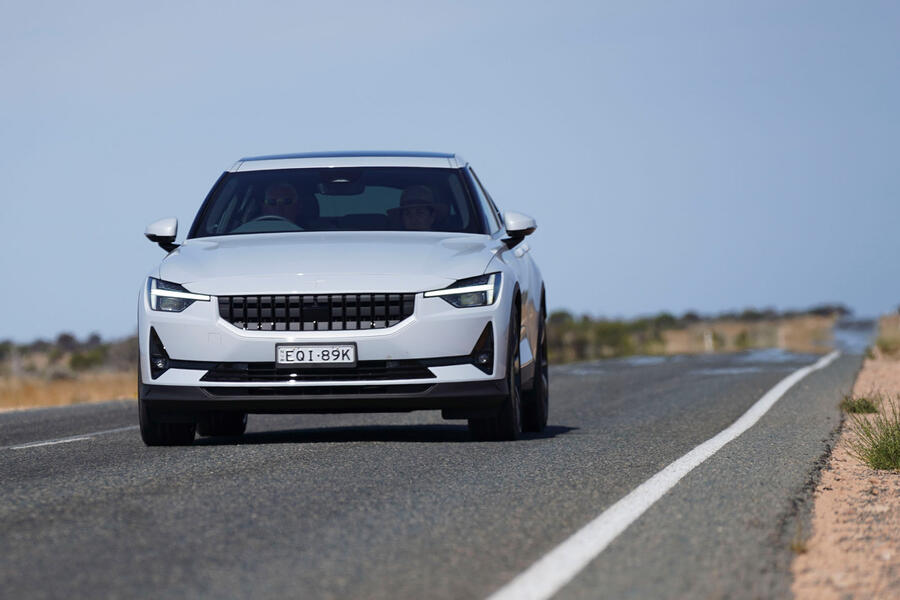 We've got it pretty good
If Caiguna's remote chip fat-fuelled charger tells us anything, it's that we've got it a lot easier in the UK than we might think.
According to Zap-Map, there are 29,740 chargers in operation across the country – roughly one for every 13 electric vehicles on the road.
And you would be hard pressed these days to put real distance between your EV and a charger. There's a 50kW fast charger at Land's End, another at John O'Groats and even a pair of 22kW chargers in the town of Baltasound, up on the Isle of Unst in the Shetlands.
Jeremy Hart
https://www.autocar.co.uk/car-news/featu...2-chip-fat