06-23-2023, 04:41 PM
Editor's letter: Car makers seem to forget sometimes what they are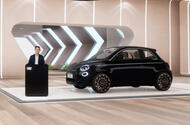 Fiat launched its virtual dealership service in December 2022
Keeping ahead of digital trends can distract from the important business of building cars
Back in 2016, then Ford boss Mark Fields stood up at the Detroit motor show and said Ford was going to "go from an auto company to an auto and mobility company".
While the car sales industry was worth $2.3 trillion a year, said Fields, transportation services around mobility (ride-sharing apps etc) were worth $5.4tn. In one of several interactions with Fields around that show, I recall his inability to properly articulate the plan but how he made it seem a given that Ford would get there. 
This was an era when many car makers were making similar statements, yet the goal always seemed quite vague and the execution unclear. 
It was also an era when car makers were putting down roots in Silicon Valley, and straight after that Detroit show we were taken to Ford's new development centre in the tech capital. 
Yet we were a bit puzzled as to why: there just wasn't anything to show, or even a clear message – simply being in Silicon Valley was enough to be a mobility company.
Perhaps it was all a bit top secret, but a similar trip around the same time to Volkswagen's own Silicon Valley site yielded nothing more than the ability to park your car with your smartphone. 
None of this is a dig at Ford or Volkswagen, more an example of how car makers were talking about mobility and wanting to diversify their businesses without really being able to articulate how or know what the end goal and prize is, while at the same time seemingly ignoring or talking down the core car-selling business.  
Even these days, car makers reach for the jargon to describe themselves and get bogged down in mobility. For every clear, reasonable statement like Honda's ("dedicated to supplying products of the highest quality, yet at a reasonable price") there's one that drifts like BMW's ("to become the world's leading provider of premium products and premium services for individual mobility").
Car makers seem to forget sometimes what they are: car makers. In the race to being seen as at the cutting edge of what's coming next, there's a perception they're not reading the room with what's in front of them, in making cars people want to buy at prices they can afford to pay, with technology and services that are actually useful. 
It was illuminating to talk to Fiat's European boss Gaetano Thorel, who offered one of the more articulate appraisals I've heard on the now and the next, born out of a discussion around the imminent launch of Fiat's virtual showroom, where you'll be able to "chat to a real person live and experience the car" in a "metaverse store".
Which to me frankly sounds like the kind of thing that is somewhere between a gimmick and a distraction. Thorel, though, says it's one of a number of new digital offerings you need to be creating in case the market moves that way, yet you can only make such hedged bets for the future if your core car-selling business is strong. You simply have to be moving forward and creating new digital channels, in case you miss the boat – whatever the boat is.  
"We need a dual mindset. We need to be strong on internal combustion engines, that's clearly important. If you are fundamentally strong, then you can look at things like subscriptions, the metaverse – stuff where you're not strong [today] but will be at the forefront if the day comes," he says.
Seven years on from statements like Fields', car makers still don't know how the digital world around the automotive industry is going to look and the kinds of products being launched like digital showrooms still feel highly conceptual, with questionable business models. Disruption has come most of all in the way cars are sold (the likes of agency and online brokers) and electrified propulsion methods, rather than any great digital mobility revolution. 
At least investments in electric vehicles can be planned; trying to predict which way the wind will blow in terms of the digital world around the cars still feels like guesswork.
https://www.autocar.co.uk/opinion/busine...t-they-are