04-19-2023, 04:45 PM
Editor's letter: Hyundai's clever EV strategy can make it a top player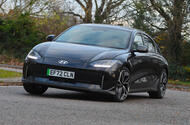 Hyundai, Kia and Genesis's plan to have 31 new EVs on sale by 2030 translates to roughly 10 cars per brand
The Hyundai Group's distinctive electric cars give it a once-in-a-generation opportunity for reinvention
"People have run out of things to do with conventional cars so they just end up reshuffling the deck. There are hundreds of variants of cars on the road, and mostly they're variants for the sake of variants. Look at how things converged with the phone — there used to be hundreds of flip phones, now what do we have? It'll be like that." 
So said Elon Musk earlier this year at Tesla's Investor Day, when discussing how many model variants there would be long-term in the firm's line-up. He settled on "around 10" for Tesla. 
It's a quote I've come back to several times already since, not only when wondering why a car maker needs yet another coupé version of an SUV, but also alongside proclamations of X amount of new cars from Y within Z years.
One such announcement came this week, with Hyundai Motor Group's plans to have 31 new EVs on sale by 2030. The volume goal is 3.64 million units across those 31 models, including cars from Hyundai, Kia and Genesis. So while 31 might seem a big number, crudely split across three brands it equates to around 10 cars per brand, therefore similar to Musk's Tesla, and not simply "variants for the sake of variants", plugging every conceivable niche.
More intriguing is the target to become a top three EV manufacturer globally. Top three may not sound the most ambitious target, given Hyundai sits in the top three already across all models globally (ie combustion-engined cars as well as anything electric), yet for EVs the group sits only just inside the top 10 of EV manufacturers, far behind the likes of Tesla and China's rapidly-expanding BYD.
While Hyundai may lag in sales terms globally, it has so far done a very good job of creating very different electric cars in size, style and positioning to its internal combustion engined models.
The company is also exuding confidence in the models it is creating, and using the much-touted opportunity that electric cars offer in allowing a brand to reimagine and reinvent itself, and break down long-held conventions. Take the Kia EV9, which I spent time admiring at the New York motor show last week: a big, seven-seat Kia costing more than £60,000 would have been unthinkable in the 'old world', but in the electric era it's barely even questioned. 
Furthermore, Hyundai has also shown it can create quite different cars for its brands within fundamentally the same market segment, as the Hyundai Ioniq 5, Kia EV6 and Genesis GV60 show. Compare that to the Volkswagen Group, where there are already more MEB-based EVs than you can shake a stick at. Musk's comments weren't directed at any car maker in particular, but you don't have to look too far to see who they'd apply to. 
Electric leadership is an obvious next step for Hyundai, not only for the simple fact that this is where the industry is heading but also the once-in-a-generation opportunity to reinvent itself that it's determined to grasp. Electric cars will reset the sales charts as we've known them for a generation, not only with the car appearing on them but also the companies making them. The jostling for position has only just begun.
https://www.autocar.co.uk/opinion/busine...ake-it-top