09-26-2022, 09:01 AM
Editor's letter: Jaguar Land Rover finally ready to go all-in on electric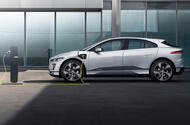 I-Pace was a pioneer at launch in 2018, but there's no been no JLR EV since
Conversion of Halewood plant for EVs is a welcome bit of good news - for JLR and the UK
We've grown used to car factories in this country having a constant air of insecurity around them and their future prospects.
So our scoop this week that Land Rover will start building electric cars at Halewood in 2024 as part of a major refit and refurbishment of the plant is a welcome bit of good news for the cars that are made there and their future relevance.
There was no real suggestion that Halewood was ever under any particular threat, nor was there any expectation it would do anything but build electric cars in the future. Yet the news that Jaguar Land Rover (JLR) is ready now to invest many millions of pounds into the home of its volume models and create all-electric versions of them is still to be celebrated.
JLR is looking to become a leaner and ultimately more profitable company, with reduced complexity in its model lines, all of its Land Rover models based on one of just two architectures and, in the UK, just two factories, rather than three (Castle Bromwich is going to be home to a range of consolidated JLR facilities in the Midlands, leaving Solihull to build the bigger cars and Halewood the smaller models). 
Halewood is the home of the Land Rover Discovery Sport and Range Rover Evoque, cars that will switch to the new EMA platform from 2024 after the plant's extended shutdown readying it to build electric cars is complete. Importantly, though, it's not yet confirmed whether it will be these specific EVs rolling out of the Halewood gates. 
The switch will be well timed. The Evoque in particular is no longer the dominant force that it once was. In last year's global premium C-SUV charts, it was outsold more than three-to-one by the Volvo XC40, while the Lexus UX moved ahead of it. According to figures from Jato Dynamics, it was the only C-SUV from a European or Japanese brand in the top 10 of the class to slide backwards in sales terms, and all the segment's biggest sellers have electric versions either on sale now or imminent, including the BMW iX1 and Volvo XC40 Recharge. 
JLR's speed to adopt electric cars has been frankly baffling after an industry-leading start. It got there first in the premium EV segment with the Jaguar I-Pace, but no follow-up has ever arrived five years later. The early lead it got even on the likes of Audi, BMW and Mercedes-Benz has long been squandered, and it's playing catch up once more. 
Yet with Halewood going electric in 2024 and a full-size electric Range Rover arriving at the same time from Solihull, JLR can at last get back in the EV race. Its factories going electric now also lines the company up for a smoother transition to an ICE-less future post-2030 and allows a gradual ramp-up towards electric cars and the continued sale of hybrids as demand dictates.
The electric era at JLR is about to properly begin, and not before time. 
https://www.autocar.co.uk/opinion/busine...ally-ready