01-26-2023, 10:09 PM
Editor's letter: was Britishvolt's collapse inevitable?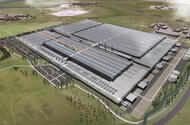 Britishvolt was a few years behind another European start-up, Northvolt, which is already producing batteries
Britishvolt filed for administration on 17 January 2023, ending a months-long struggle to stay afloat
Britishvolt's demise is a sad story, but the events of 17 January 2023 felt like an inevitable conclusion to a long-running saga. 
Fundamentally, it had no customers. What good is a gigafactory building batteries if there are no cars being built on the same island to put them in? That absence of customers is a reflection of where the UK is at the moment with its footprint of automotive manufacturing output: there are simply not enough factories making cars at volume. Britishvolt had nowhere left to turn, and the clock ran out on it. 
Jaguar Land Rover, Britain's home car maker, has frequently been linked with sourcing batteries from a new gigafactory off the M5 motorway, and talk has emerged now from JLR owner Tata about building its own gigafactory "in Europe". Not a customer for Britishvolt, in other words, and a partnership between the pair never even entered the rumour mill. That said, there's some irony in Tata's name now being linked with buying the Britishvolt site from the administrators. With the British-built Range Rover EV due within the next two years, it now seems certain that its batteries will come from abroad. 
Nissan's vast Sunderland factory is located next to a gigafactory, Envision AESC's – the one major bit of good gigafactory news thus far in the UK, so that's Nissan crossed off the list of potential customers, despite it building EVs close to Britishvolt's Blyth site.
Toyota has yet to commit to its electric car manufacturing plans in the UK - if there are to be any - but it's hard to imagine the scenario where a company of Toyota's global scale and procurement potential sources batteries for volume models from a British start-up in an increasingly isolated country for automotive manufacturing. 
Mini will not build next-generation electric cars in the UK before the facelifted Cooper in 2027/28, so too late anyway for Britishvolt's planned ramp-up in the middle of the decade. Finally, it always felt an unlikely scenario for cost-obsessed Stellantis chief Carlos Tavares to put his trust in Britishvolt for Brit-built electric van batteries in this risky launch phase.
Beyond having no customers, Britishvolt didn't seem to have any killer technology or IP on batteries that it could call its own, at least that we knew of or companies were prepared to invest in. It was a few years behind another European start-up Northvolt, which is producing batteries already - and its customers include BMW and Volkswagen. It was too late to the party.
All Britishvolt seemed to have was government backing, and a site widely regarded as the UK's best for producing batteries, given its proximity to offshore renewable energy and a deep sea port. Yet even with the backing, the costs to ramp up were simply too enormous: wages are high relative to other UK countries, energy costs remain high too and a supply chain needed to be created. With no customers providing the pot of gold at the end of the rainbow, it's that word inevitable again.
Britishvolt was due to provide the capacity for around a third of the capacity needed for making batteries in this country by 2030 with 30GWh, while Envision would pump out slightly more at 38GWh. A site in Coventry for the West Midlands Gigafactory project has planning permission and claims to have funding but as yet no government backing, without which its 60GWh capacity, twice that of Britishvolt, will not get past the planning stage. It's hard to see that gigafactory's route to market. 
Even the sale of the Britishvolt site from administration doesn't even mean it will go to another would-be gigafactory maker; the highest bidder could come from any industry. 
"If the government does not move to back our site, and others, the country will be left behind the rest of the world when I believe we could, and should, be world leading," said councillor Jim O'Boyle cabinet member for jobs, regeneration and climate change at Coventry City Council. "It is essential to create the right conditions to attract battery manufacturers to invest and support the large-scale industrialisation for an electrified UK in the future."
The UK has legally binding targets around reducing CO2 emissions and developing a mass manufacturing industry for electric vehicles is key to this. The cold truth right now is that the UK is not the most attractive country to be making such investments in. Until that changes, the future of car manufacturing in this country is on the clock. A proper government strategy to stop that time running out is needed, and fast.
https://www.autocar.co.uk/opinion/busine...inevitable