12-19-2021, 12:33 AM
Electric Scooter review: Piaggio 1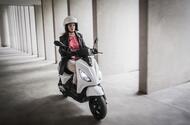 With a removable battery and an official range of 30 miles, is the Piaggio 1 a good choice for your urban commutes?
Move Electric verdict: 3.5 stars out of five
In short
A brilliant first take on two-wheeled city e-mobility from one of the leading brands in the market.
What is it?
It's called the Piaggio 1 and is, in my humble opinion, possibly a bit of a game changer in electric scooter terms. It is made by a recognised manufacturer of petrol powered scooters, with all the heritage, brand equity and experience that comes with decades in the marketplace. It's also priced properly and something that will appeal to fashion conscious teenagers almost as much as it will commuters that have had enough of playing on their phones on packed busses and tubes.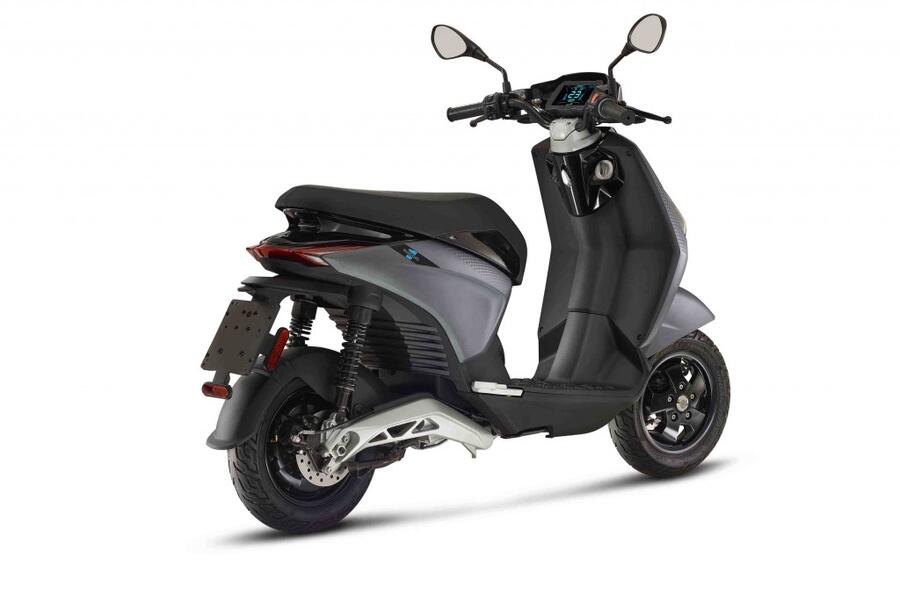 But what actually is it?
It's part of a range of electric scooters that the Piaggio Group are introducing over the next couple of years.
There's two models of Piaggio One to choose from. The base model has a 1.2Kw motor, while the Piaggio One Active produces 2Kw. Flat to full charging takes six hours and is achieved by removing the battery from the scooter and carrying it to wherever you're going to charge it. This makes charging easy, providing you can carry the battery. It also opens ownership up to a much wider audience than for bikes that have a fixed battery and need a charger cable running to them.
The Active model is the faster of the two and is good for nearly 40mph, while the base model tops out at 25mph. A full battery offers thirty miles of range, which sounds pitiful but isn't when you sit down and work out what your city commute looks like. Piaggio is predicting that after 800 charges the Lithium Ion battery will have lost approximately 30 perc ent of original capacity.
The cheapest model costs just £2011 with the Government EV grant. The One Active costs £2411 with the grant applied.
What's it like to ride?
Annoyingly easy once it's live and you've selected a rider map to use. Keep the key fob in your pocket once you've used it to unlock the bike. There's a knob to twist, a brake lever needs pulling in while you select the riding map and confirm your choice with a double tap, and after that the throttle is live and you're ready to go. It's every inch a traditional step thru scooter; your feet sit flat in front of you and your legs are nicely shrouded from the elements.
In Sport mode a big twist on the lightweight throttle means useable movement rather than the visceral violence a Zero or one of the bigger electric bikes dishes out. If anything, I'd hoped for a little bit more zap off the lights but as it was, there was no danger of being swallowed up by the traffic. It silently and efficiently makes its way to 30mph, which is enough for most modern cities.
There's next to no drive train whine, but what's more impressive is the lack of creaks and groans from the chassis or suspension. Naturally this could be because our test bike was weeks (rather than months) old, but it's only when you've coasted along in neutral on hundreds of new bikes that you realise how many chassis sounds are masked by internal combustion. 
I'm 5'11 and 14.5 stone and the Piaggio 1 was more than happy to accommodate me, aside from the odd full lock manoeuvre to get around a stationary car in front, which could have me knocking my own knees with the handlebars.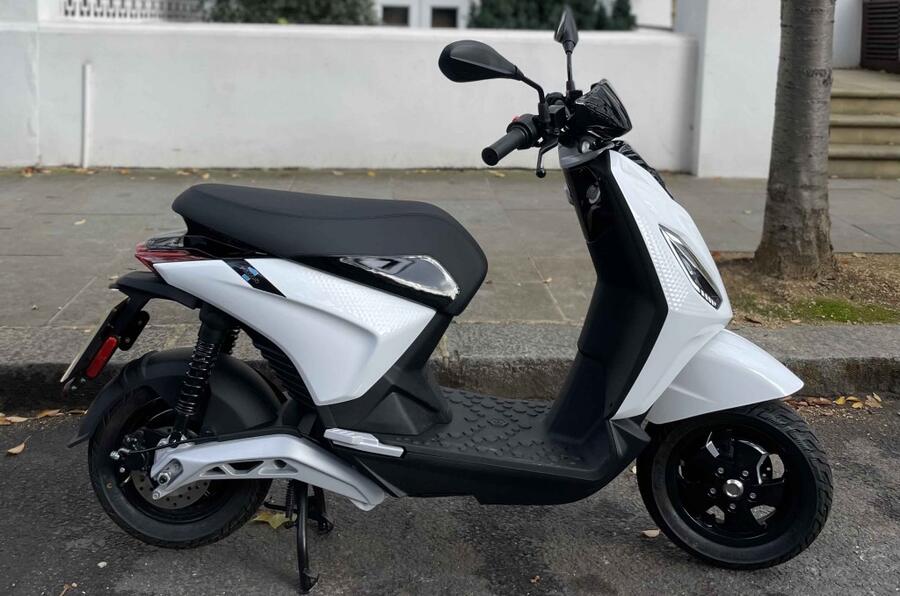 Holding speed on the flat was a pleasure; other electric bikes still haven't quite managed to connect the throttle to the desired road speed. Not so on this bike, it just felt like a crisp ride-by-wire throttle on a well fuelled motorcycle. If that doesn't sound like a compliment, I can confirm that it absolutely is.
It held a line through corners pretty well and only felt twitchy when I was forcing it to change direction too fast. Anyone that's ridden a scooter on ten inch wheels will know this feeling. The simple fix for this is to hold on and grit your teeth, or just don't ride it like a twit. The choice is yours but I can recommend the latter.
The dash layout is functional rather than elegant. The LCD display is 5.5 inches across and has all of the vitals you'll need to get by. The buttons on the bars and the fit and finish in general around the whole bike outweigh the price tag in terms of quality.
I was genuinely surprised to find it was as good as it was. I pulled over after half an hour or so and tried to find something I didn't like. The under seat storage was ample, enough to hold certain open faced helmets (but not the Bell I was using), easily enough space for a sturdy lock, a waterproof jacket and a work bag. I liked the shape and style of the LED headlights and ended up just enjoying taking in the details.
Eventually I found the reverse gear (and the beeping that accompanies) a bit of a niggle. Pointless on a small machine like this, it felt a bit gimmicky to me.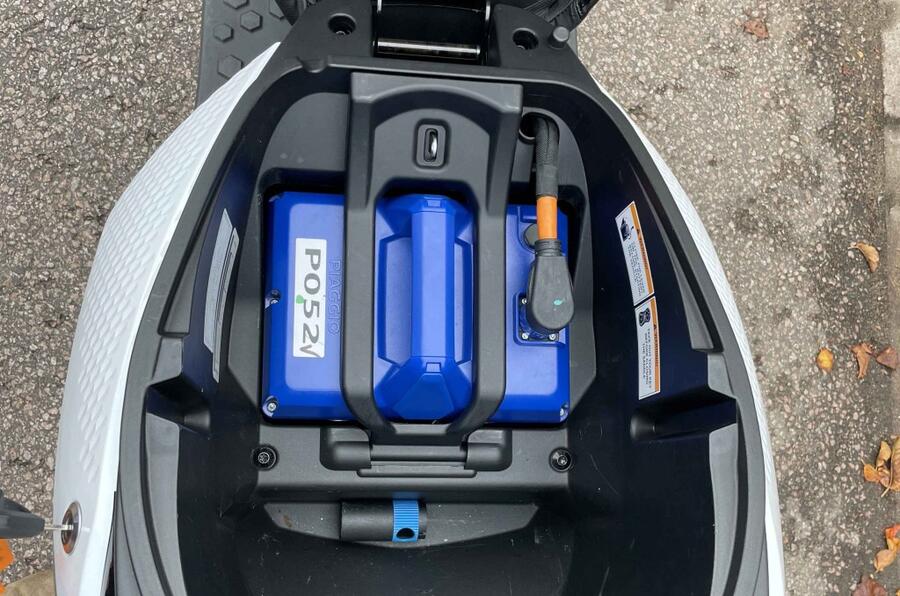 Verdict
Neither the knee knocking nor the reverse beeping would put me off having one of these. As a city dweller, I can absolutely see the benefit in having one around at all times. I liked riding it knowing that it was built by a company that has been perfecting the art of mobility for decades.
It wasn't pretentious, or fussy in anyway at all. It deserves to steal sales from Oyster card holders, bicyclists and drivers that have had enough of getting nowhere. If it catches the eye of teenagers too then it'll be doing exactly what Piaggio intended. 
Piaggio 1 specification
Price: £2011 (including Government grant)
Engine: Hub mounted electric motor
Battery: lithium-ion
Power: 1.6bhp 
Torque: 63lb ft 
Top speed: 25mph/30mph
Range: 30 miles 
0-62mph: na
Kerb weight: 85kg
Battery size: 1.4kWh
​
READ MORE
e-CARS
e-BIKES
e-MOTORBIKES
e-SCOOTERS
https://www.autocar.co.uk/car-news/move-...-piaggio-1