11-07-2021, 06:15 AM
Electric bike review: VanMoof X3
An electric city bike loaded with technology and theft deterrents, perfect for the urban environment
What does it cost?
£1998
What is it?
A vision from the future. A smartphone on wheels. It's rather technologically advanced, so if you're a self-confessed technophobe, this isn't the bike for you. If you're after something suave and urban with a touch of 'I wonder if Elon Musk had any input on this?' then it's a bike to consider. 
In layman's terms, it's an urban city e-bike but packed full of tech. It's part of a two-bike range the Dutch brand has released, with the X3 being for the smaller rider, and the S3 for those 5'8" and above. The X3 provides a nice upright riding position, perfect for shorter journeys, and the wide 2" tyres provide a nice buoyant ride. 
VanMoof have packed a lot of technology into the bike and it represents good value at just shy of £2000. Electronic shifting and hydraulic disc brakes don't come cheap, but somehow they've packed it all into an intuitive e-bike. However, there are certain nuances to the operation of this bike that can be a little frustrating. For one thing, you need a smartphone to get the most out of it. It provides the authentication to unlock the bike when you're close by and helps sound an alarm if the bike is being moved by someone that isn't you.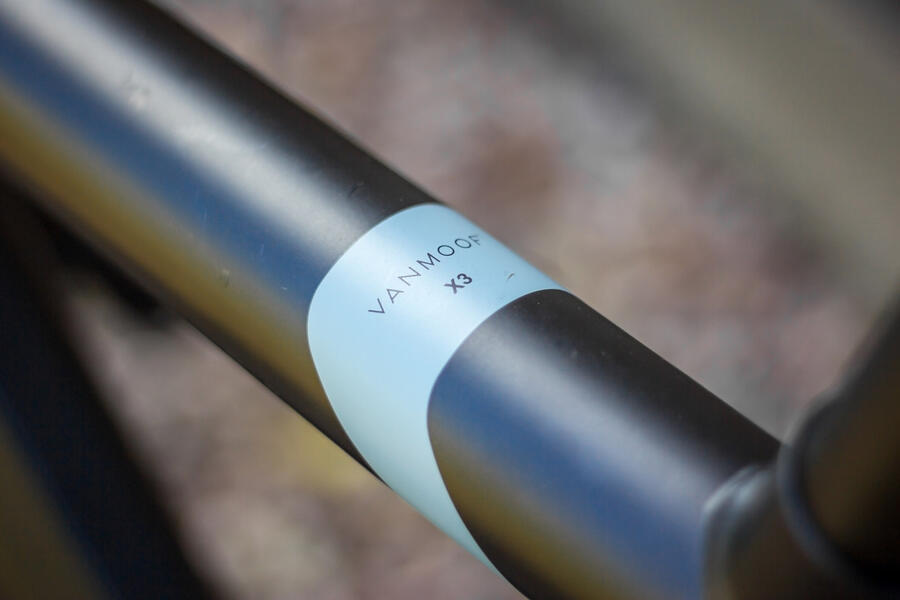 What is it like?
It's like Robocop on wheels. But with more sound effects. It's one of the few city bikes that has been fundamentally built to survive in an urban environment. The epicentres of bike theft lie in city centres, and if you part with nearly £2000 of your cash you don't want it to be left to the fate of the person with the axle grinder. The VanMoof has tackled the issue of theft head-on by installing several security measures. For example, the silver Kick Lock by the kickstand activates a lock that prevents the rear wheel from moving, while the alarm can be activated and deactivated manually at any time.
But where the security measures really stack up are when you pair the bike to your phone. If you walk too far away from it, it will lock and eventually shut down. And if you walk up to it, it will turn on. If someone who isn't identified as you tries to move the bike, an alarm will sound on the bike, and a little skull will appear on the phone display to alert you to the problem. How do I know for certain? Because I set it off twice before correctly pairing my phone to the bike. 
A further security measure is the ability to track your bike. The app can show you on a map where your bike was last seen, and VanMoof can set a team of 'Bike Hunters' on the case to find your bike if you report it lost – but this is a premium option as part of their 'Peace of Mind Theft' package and costs £328 for three years. They also offer a Peace of Mind Maintenance package that provides you with servicing and check-ups but is only available in London. 
The display isn't in a typical position. VanMoof has opted to place it on the top tube and to be honest, I had a hard time getting used to it. Maybe after I'd been using the bike for longer I'd get into the habit of looking more. 
The components on the bike are well specced, with the hydraulic disc brakes performing well even in the wet (thank you glorious Yorkshire autumn). What I have learned is that if VanMoof thinks they can optimise something they will. Thus, they included electronic automatic shifting. The three gears automatically shift depending on your speed and mode – the timing of which can be controlled through the app.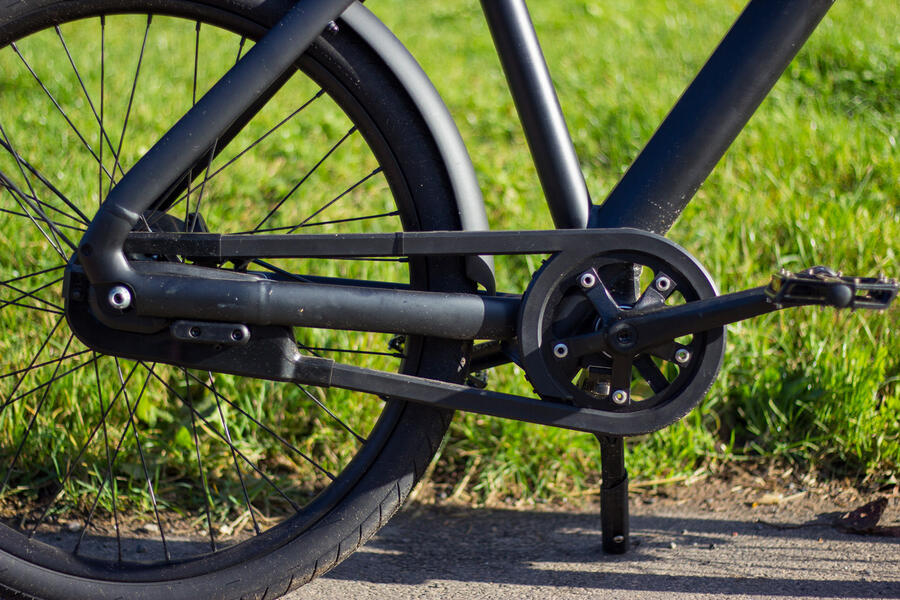 The downside to this electronic shifting is that it's electronic. i.e. its function depends on the battery having enough charge to power it. If your battery goes below 5% the motor is deactivated but the bike keeps the lights, sounds, display and gear shifting on. But, if it drops below 3%, then your gears will only shift into the second gear. So you can still ride the bike, but it will essentially be a single-speed. 
This bike has its quirks, like the option (one of three) of a horn button that sounds like a clown car, and a Turbo Boost button for that extra surge of power, but even in its most simple state, it's a smooth, enjoyable ride. The Intelligent Motor in the front wheel hub is quiet and provides gentle assistance, with a choice between four levels. And it doesn't feel like it will try and wheelie the bike as some others do. It's well-balanced, and I particularly liked the fact it comes with built-in lights. Overall, it ticks the boxes for an urban cycle, with a few innovative additions making it an exciting prospect for under £2,000.
Where can I buy it?
Online and from their London store, where you can also take one for a test ride.
How does it arrive?
It comes with a toolbox containing everything you need to ride the bike (including pedals) and requires handlebar adjustment and wheel and pedal attachment when it arrives. There is a YouTube video that demonstrates how to put it all together.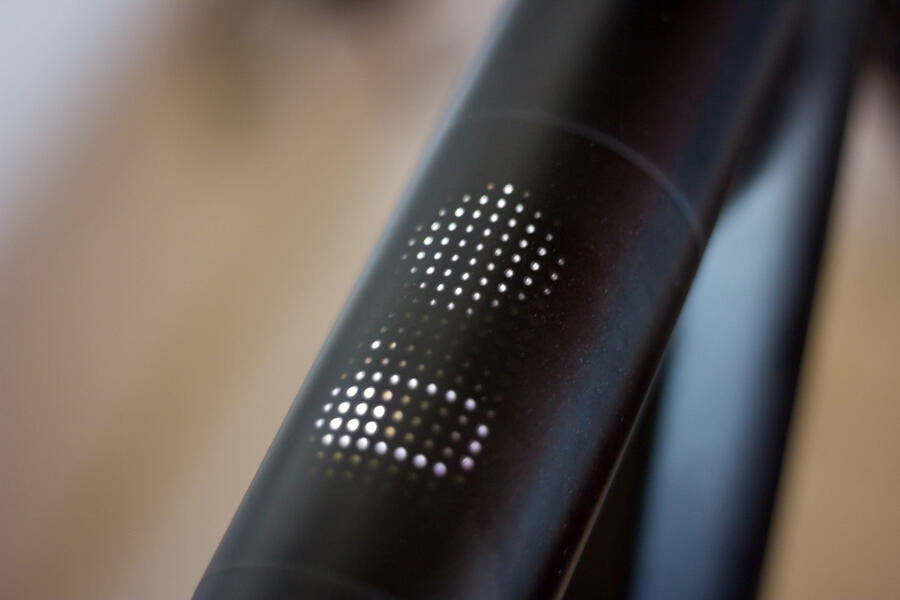 Verdict
The VanMoof X3 is a well-specced city bike with an incredible amount of thought put into it. It's innovative and makes itself as unappealing to thieves as possible. And for this, I commend them. Thankfully, all this tech doesn't detract from the ride quality, making it a brilliant choice for urban riders. 
VanMoof X3 star rating: 4 out of 5 stars
VanMoof X3 specifications
Cost
£1998
Frame size tested
N/A X3
Weight of bike
20.8kg
Groupset
Integrated automatic 4-speed hub
Electronic automcatic shifting
Hydraulic disc brakes
Wheels and tyres
24" wheels
2" tyres
Motor
250W
Boost torque: 59Nm
Front hub-mounted
Battery
504Wh capacity Integrated LG cell
Mile Range
Between 37-93 miles
Assistance levels
4 modes, up to 15.5mph
Charge time
4 hours
Included extras
Integrated lights
Mudguards
Front rack
Integrated horn
Kickstand
Words and images by Rebecca Bland
READ MORE ON MOVE ELECTRIC
E-bike review: Decathlon B'Twin Riverside Original 920 E Electric Hybrid
E-bike review: E-bike review: Perry Ehopper 16" Electric Folding Bike
E-scooters: the future of city transport, or an urban menace?
E-scooters: 10 reasons why you SHOULDN'T buy one
E-scooters: 10 reasons why you SHOULD buy one
Airspeeder: 8 things you need to know about the race series for flying cars… that aren't cars
https://www.autocar.co.uk/car-news/move-...vanmoof-x3