09-25-2022, 04:26 AM
Electric company cars: your guide to Kia's range
Going electric? Kia has three flexible EVs on offer: the Soul, the all-new Niro EV and the EV6
If you're choosing an EV for your next company car, there's a lot to bear in mind. We've simplified Kia's all-electric line-up to help you pick your ideal model
Whether you're a fleet manager or a user-chooser, there are plenty of great reasons to go electric with your next company car pick – ranging from the pragmatics of low running costs, through the kerb appeal of the latest electric in-car and driving tech, to ultimately reducing your impact on the world around you.
But how do you know which particular electric model is right for you. With a diverse line-up of three very different EVs – each with their own distinct features and character – Kia's all-electric range of vehicles offers you the perfect range of choice.
First up, the Kia Soul: Kia's original pioneering iconic all-electric model, now brought bang up to date with the latest powertrain and in-car tech. Next, the all-new Kia Niro EV, the latest future-thinking addition to Kia's electric line-up. Then, the multi-award-winning Kia EV6, which offers the highest levels of long-distance space and luxury.
All of them feature the same financial benefits: zero road-tax in the first year, 2% BIK rates for 2022/2023 that could get a 20% rate taxpayer into a Kia electric model for as little as £150 per year (or £300 per year for a 40% taxpayer), plus exemption from urban congestion and ULEZ ultra-low-emission zones. Then there's Kia's confidence-inspiring seven-year, 100,000-mile warranty.
But which one of the Kia Soul, the Kia Niro EV or the Kia EV6 is the right electric company car for you? We've broken down and simplified all of the key features and benefits of each model to help you make exactly the right choice.
Learn more about Kia's electric company car line-up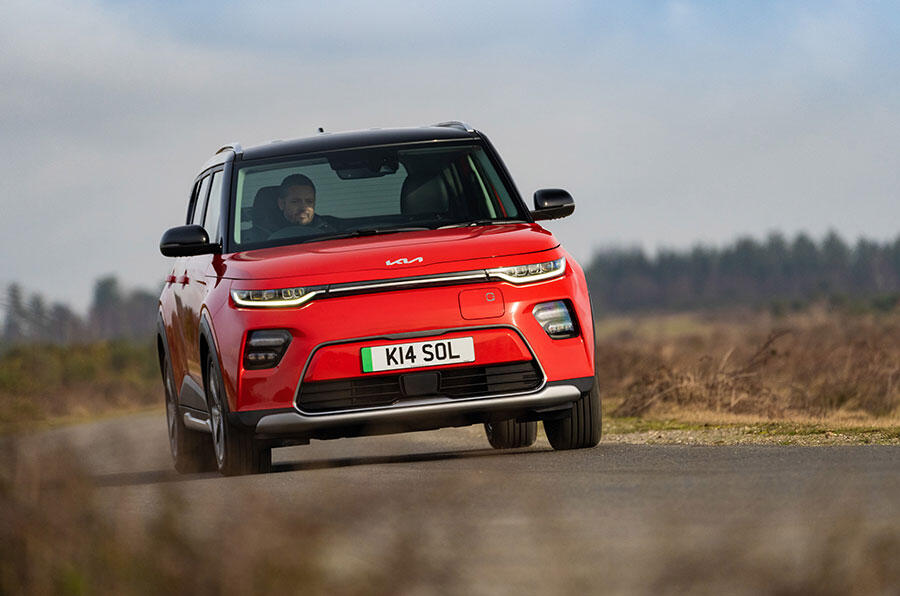 Kia Soul: Character, utility and purpose
It all starts with the iconic Kia Soul EV. Now in its third generation, this compact all-electric crossover perfectly fits the need of drivers looking for a company car with edgy retro-futuristic style and an urban-friendly character. But don't let those standout looks fool you. Behind that iconic exterior lies a purpose-built, no-nonsense EV with business front of mind.
With up to 280 miles (WLTP) of range, the mighty Kia Soul's 64kWh lithium-ion battery offers the flexibility for every journey – short or long – with 100kW ultra-rapid charging capability letting you top-up from 10 to 80 per cent in as little as 44 minutes*. That's more time spent on pitches and less time at public chargers. And, whatever the road or whatever the task, with 201bhp and 395Nm of electrified torque and an impressive 7.6sec 0-62mph time, you get punchy performance on tap.
In terms of its model line-up, the Kia Soul cuts straight to the point with one trim – simply called the 'Maxx' – and a generous selection of standard equipment. With a purchase price from £34,995, a 20% taxpayer can expect BIK payments of a little as £12 per month, while a 40% taxpayer, just £23. Affordable to buy, and affordable to run in equal measure.
Kia Niro EV: Style and space meet sustainability
The all-new, all-electric Kia Niro EV is the brands latest electric model, perfectly slotting into the space between the Soul EV and EV6 in Kia's electrified company car line-up.
The much-acclaimed Kia e-Niro won a 2019 Autocar Awards Game-Changer trophy, and the 2019 What Car? Awards Car of the Year title, but this all-new Kia Niro EV amps up the company car game even more – with a fresh new modern design and next-gen technology to make every journey easier, safer, more efficient and more enjoyable.
At the heart of Kia's new Niro EV is an advanced large-capacity 64.8 kWh lithium-ion battery delivering 285 miles of range (WLTP). The powerful electric motor, with its potent 201bhp, 255Nm of instant electric torque and spritely 0-62mph time of 7.8sec provides the confident smile ahead of that all-important meeting.
When the time does come to top-up you'll be able to take advantage of the latest ultra-rapid charging technology, delivering 10-80 per cent charge in just 43 minutes using a 350kW DC rapid charger or up to 45 minutes when connected to a 100kW DC rapid charger.
Like all fully-electric vehicles, the Kia Niro EV offers plenty of perks for the pay packet, especially when it comes to helpfully low BIK rates. With a list price of £36,245, 20% taxpayers can expect to pay from as little as £12 per month, while a 40% taxpayer, just £25.
The all-new Kia Niro EV has grown significantly over its predecessor; now with a longer wheelbase, driver and passengers alike can expect more space to stretch out than ever before.
In the front, five-star seat adjustment ensures you'll always find the perfect position. Opt for 3 and 4 trims and you can expect an advanced powered driver's seat and adjustable lumbar support – perfect for those longer stints and time saved in your busy day-to-day.
And it's not just the driver who benefits from the extra room up front – the Premium Passenger Relaxation Seat (standard on the 4 trim) ups the comfort for your co-pilot. At the touch of a button, it reclines to a wide range of lying posture settings and long hauls feeling distinctly like quick trips to the shops.
Thanks to a completely flat floor in the rear, three full-sized adults can also travel in complete comfort, with no one left behind and more room to grow.
Boot space is another area in which the Niro has grown. 475 litres of expandable space as standard (1392 litres with the rear seats folded flat), the only problem you'll have is in convincing your friends and family to carry less.
As the Kia Niro EV is the newest model in Kia's all-electric range, you can also expect a technological masterclass. Two crisp 10.25-inch screens display your key vehicle and navigation information, while a multi-functional touchscreen display provides another way to control the infotainment and heating while minimising distractions on the move.
Kia's commitment to a more sustainable and greener future is also clear. Inside the all-new Niro EV there's VOC-free paint on the door panels and PU vegan leather seat coverings, as well as a cargo screen knitted with 75% recycled fibres. So, you'll be as comfortable as you are eco-conscious.
Kia EV6: Performance, efficiency and luxury
The Kia EV6 is the largest and most luxurious model in Kia's all-electric company car line-up, delivering high-riding electric super-saloon comfort in a sleek, futurist package. And it's not just the style that stands out, the EV6 delivers on the promise of an easier, more efficient EV future with ultra-rapid recharging and sophisticated, yet simple-to-use driver tech.   
The Kia EV6 has grown to become one of the most widely talked about electric cars on sale. Why? Well, much like the e-Niro before it, it starts with a plethora of hard-hitting industry accolades. Earlier this year, Autocar presented the Kia EV6 with the award for Best Electric Car – that following its Car of the Year domination at the 2022 What Car? Awards. 
Two potent powertrains deliver the Kia EV6's exhilarating performance, ranging from quick to even quicker. The 226bhp RWD single motor model is ideal for the day-to-day with 350Nm of electrified torque and 0-62mph in a hot hatch baiting 7.3 seconds. The 321bhp AWD dual motor model ups the ante with 605Nm of torque and 0-62mph dispersed in a storming 5.2sec.
But for as much as outright pace has its purpose, long-distance range will be a major consideration for any company car driver munching through the motorway miles. And the good news is that with the EV6's headline grabbing 328-mile range** (WLTP), you won't have to worry about the next top-up in any rush.And when the time eventually comes to put your Kia EV6 on charge, the 800V rapid multi-charge system will get you from 10 to 80 per cent in as little as 18 minutes*.
Time to talk BIK rates: With a starting price of £44,195 for the entry-level Air model, a 20% taxpayer can expect to pay just £15 per month, while a 40% taxpayer will pay just £30 per month. Opt for the range-topping EV6 GT-Line S and 20% taxpayers will still only pay from £19 per month, with 40% taxpayers, paying from just £40 per month.
Being the largest electric car in Kia's range has its obvious advantages – namely passenger and boot space. In fact, as Autocar's road test team says, "space in the rear is generous, with limousine levels of leg room".
Head to the back of the EV6 and you'll be treated to a capacious boot, capable of swallowing seven carry-on suitcases below the parcel shelf as demonstrated by What Car?'s road testers. A variable-height boot floor means you can decide whether to maximise space or create a flat loading lip which is handy for heavier objects such as bikes and flat-pack furniture.
490 litres of configurable boot space with the rear seats in place expands to 1300 litres at the pull of a toggle, and an enviable road trip with a lot more than just the essentials. Did we mention the extra 52-litre boot up front?
Whether you're behind the wheel or in a seat adjacent, the striking, minimalist interior will keep you calm and comfortable. Touch-sensitive controls – complete with haptic feedback, and physical buttons, perfectly blend function and form, while the peerless, panoramic, dual 12.3-inch, high-resolution curved displays remind you this is no ordinary EV.
The floating centre console envelops, as you move between home and office while the intelligent, navigation-based smart cruise control (NSCC) – unique to the EV6 range in Kia's electric line-up – with stop and go functionality takes the strain out of any trip, whether you're travelling a few miles or hundreds.
And when you do head out on those longer journeys, you'll know the EV6 has your back. Kia's most advanced driver safety technology helps to keep you and your passengers out of harm's way with sophisticated features such as the Blind-Spot View Monitor*** (BVM). Acting as your second set of eyes, it'll show you vehicles passing by on either side as you indicate to move out of your lane. A high-definition view within the EV6's digital instrument cluster ensures you'll have the space to move safely, every time. 
So, whether it's style and functionality, the latest in-car technology, rapid recharging or real-world range, Kia's latest line of EVs provide the answer to all of your company car questions.
Learn more about Kia's electric company car line-up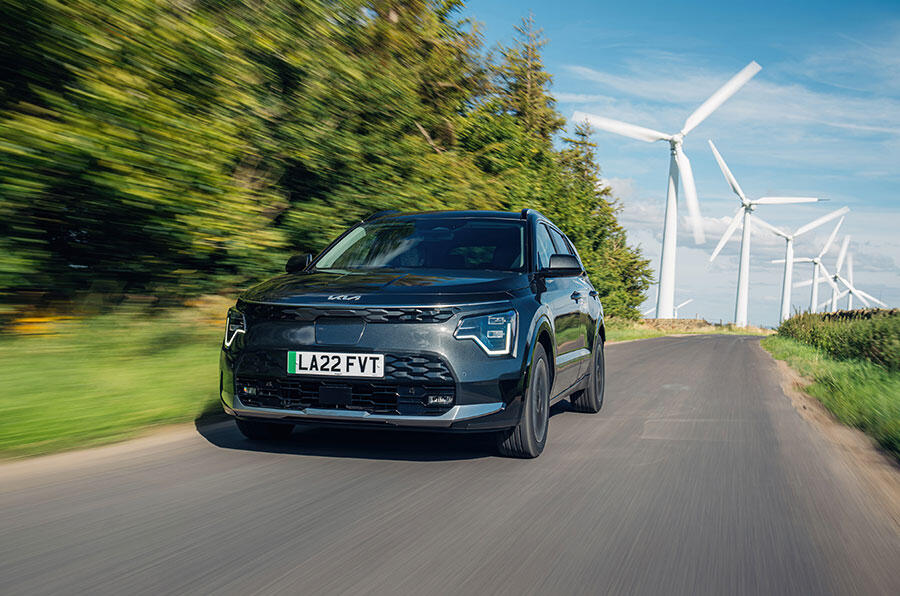 ---
*Using a 350kW rapid charger**Up to 328 miles of range in the RWD models*** Standard on GT-Line S modelsCharging times may be extended depending upon ambient temperature
https://www.autocar.co.uk/car-news/adver...%99s-range