09-05-2023, 11:05 AM
Electric power makes perfect sense for VW GTI future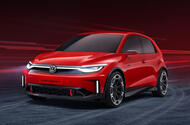 The ID 2 GTI has a neat corporate nose and a promising, typically VW cleanliness of line
Recreating an iconic GTI is no mean feat, but ID 2 has sporty cues, clean lines, and experience on its side
Volkswagen's decision to revive the world-beating Golf GTI as an EV comes at a perfect time for the Wolfsburg giant to inject new interest and impetus into one its most famous nameplates. 
Although all eight iterations of the seminal 47-year-old petrol GTI have been terrific cars, there has been a recent creeping feeling that the idea reached its zenith a few years ago; that yet another iteration of the Volkswagen's transverse front-engined hot hatch, firmly bounded by the conventions of design and layout that have applied to all its predecessors, was possibly one too many. 
The original GTI (and I vividly remember the 1978 arrival of earliest UK deliveries in left-handed, four-speed form) was remarkable for its refreshing purity inside and out, and the single-minded focus of its specification. 
Read more: Volkswagen ID GTI is affordable EV hot hatch for 2026
If anything, that original GTI has become more of an icon than ever in later life. Today, a nice Mk1 retains an appeal that some say eludes the best of the rest.
Back in the day, there was simply nothing like a Golf GTI on the market, which is why it created dealership stampedes. Rivals plodded along in its wake, none matching its elan.    
Now, by virtue of new proportions, new dimensions and new weight distribution, VW gets the chance to recreate the sharpness of its original car, using proven but appropriately adapted EV components. 
The latest image doesn't give much away: we're seeing a neat corporate nose and a promising, typically VW cleanliness of line.
If this new GTI also packs the sporty cues at which VW is adept, uses radical proportions and avoids body bulk, it can join the greats. As many current EVs demonstrate, great off-the-line performance won't be a problem
And the Cupra Born shows how VW Group engineers understand EV chassis development. Beat the Born and the Golf crew will be on a winner.
https://www.autocar.co.uk/opinion/new-ca...gti-future