11-15-2021, 10:00 AM
Electric scooter review: Seat MO escooter 125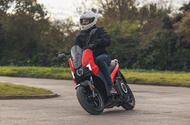 Seat has launched an electric scooter in the UK, but can the car maker compete with more established 125cc, four-stroke rivals?
What is it?
The new Seat MO is an all-new electric scooter for urban use, very similar in size, carrying capacity and performance to the ubiquitous breed of 125cc four-stroke models, usually Japanese, that have been plying Europe's city centres for decades.
There's one big difference: because it's battery-powered, it has no toxic exhaust emissions and contributes nothing to atmospheric CO2. On sale in the UK from this month onwards, MO gives the Volkswagen Group's emergent Spanish brand a golden opportunity to enhance its green credentials, to begin fulfilling a promise to offer transportation solutions and not just cars, and to strengthen its already impressive youth image.
Though the name and badging say Seat, MO is a 'white label' product, fully built by the Italian company Silence, which makes a very similar-looking own-brand product that's already sold here by a Midlands-based importer, Silence UK, launched last year by a group of ex-Jaguar Land Rover executives.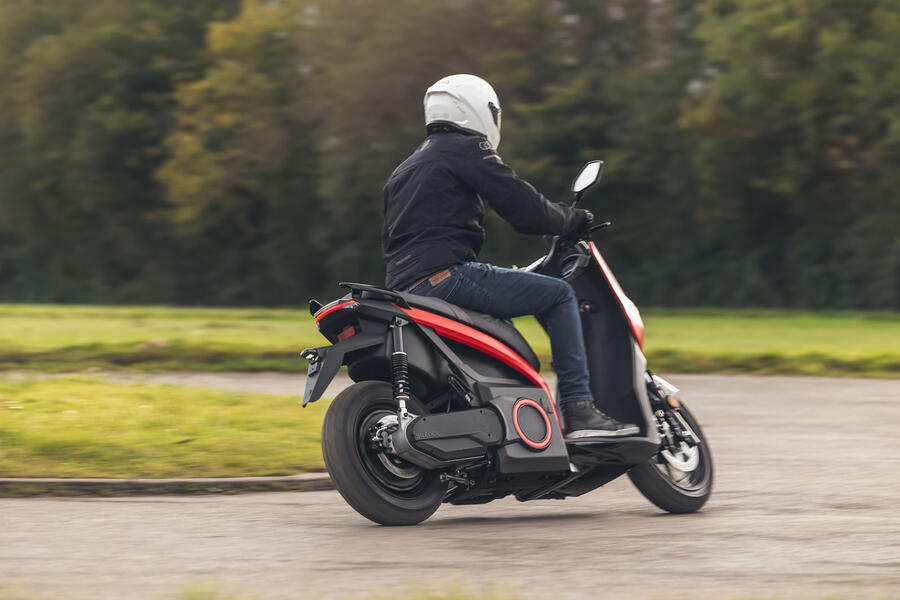 What does it cost?
There's just one MO price – £4996 – which is the amount you pay after deducting the £1500 incentive the UK government currently offers buyers of electric motorcycles. Seat's purchase price is just £1 more than the UK cost of Silence's own-brand equivalent, the S:02, and translates to a 'drip feed' cost of £95 per month for three years; PCP deals are not offered. By comparison, Honda's best-selling PCX125 petrol scooter, broadly similar in performance, lighter to handle and arguably better made, costs £3299 – a very solid saving.
True, the Honda is likely to need slightly more expensive annual servicing than the MO, but the warranty on the latter's 7kWh lithium ion battery is only four years, and (though experience so far suggests such batteries last considerably longer) no one can yet quote a definitive battery life.
What's it like?
Riders familiar with conventional 125cc scooters will find the MO very familiar indeed. The major dimensions are deliberately very similar to the general run of 125cc models, which have similar sit-up-and-beg riding positions, plenty of leg and foot room, comfortable dual seats (plenty of room for pillion passengers) and simple LCD instrumentation. Technically speaking, there are some big differences, but none of them make a MO any more difficult to operate than a Honda or Yamaha.
The most novel feature is the MO's demountable battery, which has a remarkably simple detachment system (complete with integral handle and wheels) that allows you to remove the 40kg battery and wheel it into your house for charging - a six- to eight-hour operation from empty, via a three-pin plug only. Or you can charge it in situ in your driveway or garage. The detachment system makes a pretty good anti-theft mechanism, too – always an important consideration for small motorcycles.
The brushless electric drive motor, rated at 9kW (or 12bhp, the cut-off for competitive 125cc petrol models legal for L-platers or new riders with first-stage A1 licences) is actually a wheel-motor, located inside a big, black disc at the centre of the 14in rear wheel. That set-up allows room for the battery yet leaves room for two full-face helmets to be locked under the dual seat. The complete machine weighs 255kg at the kerb, 50-70kg more than an equivalent petrol model.
Despite the mechanical differences, riding the MO is very similar to a 125cc petrol scooter, apart from the fact that there's no engine noise (just a low-speed gear whine that declines with speed) and an almost complete lack of vibration. Braking is handled by levers on the left and right handlebars, and the accelerator is a conventional right-hand twist-grip.
There's no clutch or gearchange - to start, you squeeze the left brake lever, select a mode and you're away. There are three riding modes, Eco, City or Sport, selectable via a switch on the handlebars. Eco saves the battery but restricts performance, City allows more performance but coasts when you close the twist-grip and Sport gives most performance (0-31mph in a brisk 3.9sec) but limits range to 50-60 miles instead of the best-case 85 miles quoted in the specifications. Eco and Sport both offer regenerative braking (and display the extent of it in a neat instrument graphic). First pressure on the left-hand (rear brake) lever increases regeneration further, while the right lever braking operates a reassuringly strong conventional ventilated disc brake on the front wheel.
The MO's performance benefits from the well-known instant torque of electric motors off the mark, and in Sport it'll slingshot you quite quickly beyond 50mph, plenty of speed for what is a fundamentally a city-bound bike. The compact handlebars, low centre of gravity and comfortable riding position make it easy to manoeuvre at very low speeds and there's no discernible ill effect on the ride quality from the unsprung weight of the wheel-motor at the rear. Anyone who's ridden a bicycle will be able to get on terms with the MO in a few minutes, as long as they take time to acclimatise to the performance available in Sport.
Should I buy one?
The MO isn't cheap, but it makes plenty of sense. Charging is as convenient as it can be, given that the battery can be wheeled into a house with no driveway for easy charging.
The bike looks pleasantly modern and well proportioned, and it's certainly easy to ride and own.
It's quite a lot more expensive than a petrol scooter, but many owners will be willing to pay not to contribute to atmospheric pollution. And the MO will be welcome forever in the zero-emission regions of cities that we keep hearing will be with us soon.
Where can I buy it?
Seat has appointed 24 dealers around the country to sell and service the MO. Orders are already piling up, and the UK importer expects to sell around 1000 units a year.
"This is the perfect way to evolve the Seat offering and move away from the conventional," says Richard Harrison, Seat's UK managing director. "It's the definitive next step on our electrification journey."
Verdict - 3.5 stars
A good product offering a pointer to the future, but perhaps not quite strong enough in comparison to a better-made and cheaper Honda four-stroke to fully justify the higher price tag.
Steve Cropley
Seat Mo escooter 125 spec
Price £4996 (after £1500 incentive)
Weight 255kg
Range Up to 85 miles
Motor Brushless electric drive motor
Power 9kW (12bhp)
0-31mph 3.9sec
Battery 7kWh, lithium ion
Charging 3-pin plug, 6-8 hours from empty
READ MORE ON MOVE ELECTRIC
E-bike review: Decathlon B'Twin Riverside Original 920 E Electric Hybrid
E-bike review: E-bike review: Perry Ehopper 16" Electric Folding Bike
E-scooters: the future of city transport, or an urban menace?
E-scooters: 10 reasons why you SHOULDN'T buy one
E-scooters: 10 reasons why you SHOULD buy one
Airspeeder: 8 things you need to know about the race series for flying cars… that aren't cars
https://www.autocar.co.uk/car-news/move-...cooter-125