04-10-2022, 03:23 PM
Electric three-wheeler tests to be offered at Selfridges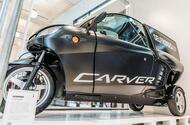 The Carver Electric will be available to test drive at four different stores
Dutch electric vehicle manufacturer Carver Electric, is to offer visitors to department store Selfridges, the chance to test drive its new three-wheeled microcar. 
Carver Electric currently offers the standard Carver which is available as a two seater or cargo model, with the firm stating its micro EV can achieve 60 miles of range from less than £1 of electricity 
The company is launching two new versions of its Carver EV; the S+ model which has a top speed of 50mph and the Carver R+. Both have an electric range of 80 miles and are also available as a two-seater, or as a cargo version which offers 500 litres of storage space. 
At only one metre wide the Carver is aimed at the urban mobility market, and with an extra rear wheel promises more stability than a two-wheeled machine. Occupants are sheltered from the elements thanks to a windscreen, roof and doors. 
The Carver features all the usual mod-cons of a car including a steering wheel, automatic gears and a patented tilting mechanism. 
And being a full electric vehicle, the Carver is exempt from all the Ultra Low Emission ULEZ charge and the Congestion Charge. It can be driven in bus lanes and you only need to have a L2 Category P licence to drive the Carver on the road. 
The Carver will be on display and available for test drives at Selfridges stores in London, Birmingham and Trafford Centre in Manchester. Test drives will be available from the 4 April to 30 April as part of Selfridges' Supermarket.  
"With rising fuel costs, concern over local air quality, worries about climate change, and worsening congestion in our cities, there has never been a better time to buy an electric Carver," said Carver Electric director William Keene. 
The Carver is available now and starts from £10,000. 
READ MORE
Subscribe to the Move Electric newsletter
e-CARS
New Volkswagen ID Buzz: everything you need to know
How efficient are electric cars?
e-BIKES
Ducati expands e-bike range with first racing machine
e-MOTORBIKES
New Yamaha Neo is Europe-bound '50cc equivalent' electric moped
Electric Motion Epure Race e-motorbike review
e-SCOOTERS
Eskuta KS-450 e-scooter review
Taito unveils innovative new three-wheeled electric scooter
e-WORLD
Electric surfboard firm Awake aims to make waves with first e-foil
Volta Zero electric truck can 'dramatically improve' inner-city road safety
https://www.autocar.co.uk/car-news/move-...selfridges