05-22-2021, 07:07 AM
End of the world car: One final run in the Ford Mondeo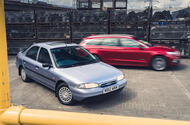 Nothing lasts forever. Not even one of the most successful and best-driving family Ford models ever built
Ford has called time on the Mondeo, the trailblazing saloon the world has now moved on from. We recall its glory days and compare generations
Nothing lasts forever. Not even one of the most successful and best-driving family Ford models ever built. Not even a car whose name was once used by the country's leaders to define a particular variety of British voter. Not even the ubiquitous Ford Mondeo.
Next March, after five million European sales over four generations, and 29 years in production, the Mondeo will disappear from our showrooms. Few buyers will even notice its departure, because few buyers go looking for a Mondeo any more. If you seek a graphic illustration of how radically the car market has changed in three decades, a Mondeo sales graph is well worth a glance.
Back at the beginning of the 1990s, the new Mondeo was billed as the first truly global car, the probable foundation of a huge new success era at Ford. It introduced front-wheel drive, a revolutionary change for a Blue Oval car this big. It ushered in a bold new era of sophisticated design, plus a revolution in driving quality championed by influential, straight-talking young Dunton-based engineer Richard Parry-Jones.
Looking back, Autocar's own excitement at the Mondeo's 1993 arrival helps highlight what an important European automotive event it was. Our launch story on 6 January 1993 (part of a staged build-up to the car's unveiling at the Geneva show in March) consisted of an extremely detailed 12-page technical breakdown of a car the then managing director Ian McAllister described as "the best thing we've ever done". Advanced gadgetry included a driver's airbag as standard across the line-up, 16-valve four-pot engines, promises of V6 and turbo diesel models, seatbelt pre-tensioners and (in some models) traction control and adaptive dampers. Our first drive verdict, published over another 10 pages three weeks after the launch story, carried the cover line 'Mondeo is king!' because we'd pitted it against a Nissan Primera, Peugeot 405, Toyota Carina and Vauxhall Cavalier and found its excellent handling, ride, refinement and specification made it a clear class leader.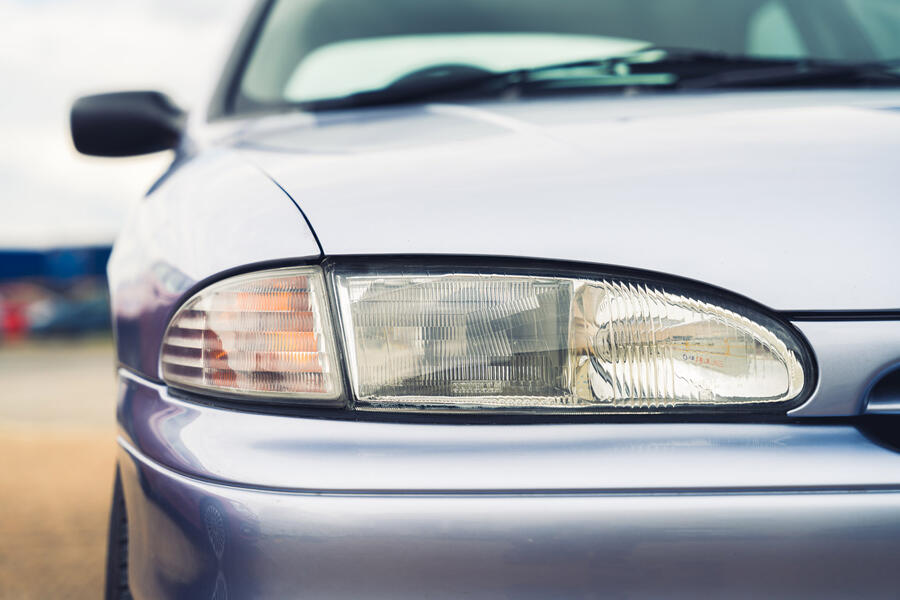 That initial burst of Mondeo exposure was just the beginning for us. By March, we had bagged another new Mondeo and, using a 10-person Autocar team, driven it 12,000 miles all over Europe in the space of one week. For the very same issue, 17 March, we borrowed yet another Mondeo, plus nine rivals (Alfa Romeo 155, BMW 3 Series, Mazda 626, Nissan Primera, Peugeot 405, Seat Toledo, Toyota Carina, Vauxhall Cavalier and Volkswagen Vento), to conduct the father and mother of all comparison tests – which the Mondeo won handsomely over 32 pages.
Like our road testers, early potential customers instantly felt the difference, just as Parry-Jones and his band had promised they would. Buying a utilitarian Ford started to be cool again, as it had been a couple of decades before, when Ford was winning rallies for fun, and eventually Le Mans as well. That was also a time when 'Ford' appeared on the cam covers of nearly every Formula 1 car.
As many as 400,000 Mondeo sales a year were predicted for Europe and Asia, plus around 250,000 in the US, where the car was to be called Ford Contour and Mercury Mystique. It never quite worked that well across the Pond (American Ford customers thought the car too small and bought the beefier Taurus) but sales did get close to the predicted mark in Europe early on, nudging 375,000 in 1994, the first full year of sales.
However, from 1998, the Mondeo had to share its limelight with the space-efficient and even more technically advanced Focus, whereupon a gentle sales slide began, soon accelerated by the invasion of premium marques like BMW and Mercedes into the Mondeo's market, and by the arrival of Skoda and Hyundai from below. A more recent driver of decline has been the buyer swing to SUVs. A year or two ago, it was clear the game was up. Whereas 20 years ago Mondeo's UK sales totalled 86,500, last year they struggled to make 2400 units.
Despite the lack of fanfare at the Mondeo's exit, those who know still say this car brought huge benefit to Ford. It truly began the marque's modern era, when every mainstream rival, and even quite a few of the premiums, had to struggle to match the brilliance of a Ford's driving dynamics. Crash development programmes were begun in opposition engineering centres. The Blue Oval was a swashbuckler again, and its abrupt improvement caused problems for all the rest. But how great was this progress in retrospect? Looking back 28 years, it is perhaps easy to kid yourself. Was this one of the great cars or did we (and others like us) over-egg the pudding? The best way to find out, we decided, was to put the first and last Mondeos together, to assess the bold original in the light of what's happened since, and to see whether the last-ever edition is still affected by the spirit of the first.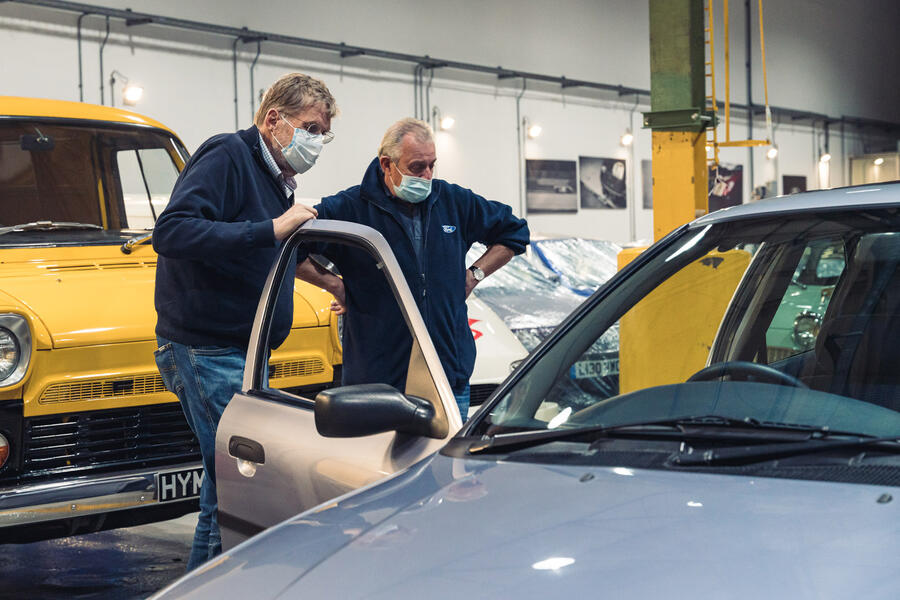 There was one logical place to do this. First, we borrowed a 2021 edition from Ford's regular test fleet, fittingly a Hybrid estate because it's the highest-tech and most versatile edition you can now buy. Then we pointed it towards the Dagenham HQ of Ford's Heritage Collection, run by a Blue Oval lifer and old Ford expert, Ivan Bartholomeusz, who had sourced us an early saloon just like the one we tested way back when. Appropriately, that car was a 1.8 LX, the aspirational Mondeo Man's favourite of the time – a couple of cuts above the 'poverty' 1.6 L while still being priced for accessibility.
Mondeos were never made at Dagenham in its car manufacturing heyday, but they were nevertheless seen there in their thousands because, just like today, the site served as an ideal storage and road/rail distribution hub for Fords heading to new owners around the UK.
By the time I reached the Heritage HQ, I'd already done several hundred miles in the latest Mondeo Hybrid. It's a big car these days: at 4.87m, nearly 40cm longer than that LX original, and about 450kg heavier.
Still, some concentrated driving of the 2021 edition and some careful revival of my less than perfect memories showed how completely this car had kept its Mondeo character. Car companies are always telling us how carefully they preserve a successful original model's DNA in a new one but here, after four generations, was concrete evidence. The experience was entirely different from 1993, yet eerily the same. Same breezy styling, same great proportions, same ease of operation, same intention to please the mainstream of car buyers. Same well-planned interior, with clarity and usability essential to the design of the controls and instruments. Same surprising level of all-the-car-you-need comfort, which is how I remember thinking about original editions.
But it was the dynamics that really carried an undimmed Mondeo message. There was the strong and neutral grip, easily deployed in every size and shape of corner. There was the slightly bony ride quality that disappoints for the first 10 minutes – before you realise the excellence of the body control, and how cleanly the suspension is dealing with every bump, big or small, without judder or body echo. These are things we noted about the first Mondeo.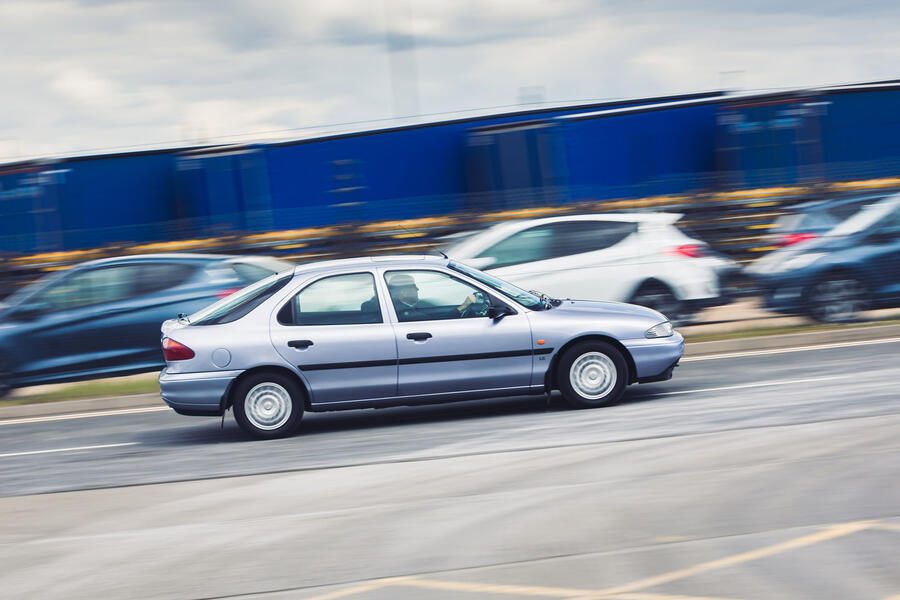 Best of all, the steering. It directs the car with much more ease and accuracy than you expect, especially if you've been driving the modern crop of SUVs. The gearing is fairly quick, the weighting is perfect and the response around the straight-ahead is just as you'd want: not twitchy but dead accurate. As a result, the car feels smaller than it is; Mondeos always did that. Adding to the Hybrid's practical excellence was the fact that it delivered 50.3mpg on the 138-mile trip from home, without trying.
It was great seeing Ivan again. We have a tea-and-chinwag tradition that goes back decades and it was indulged again. The 1.8 LX he found was a staggeringly fit, 1995, 75,000-miler – a bequest, as many Heritage cars are – with a hard plastic dashboard and blue velour trim as new-looking as the day they were born. He swore it hadn't had much work, beyond "a bit of paint".
The 16-valve 1.8-litre Zeta engine, modern at the time, was an unimpressively thrashy four by today's standards. And although simple to use, the gearchange gate was a little uninspiring. But with a modest 118bhp to push it along, the performance felt brisk. This LX was still good for a 10.5sec 0-60mph sprint (in those days, a VW Golf GTI didn't do much better) and a bit of cruising around the Dagenham estate soon brought back memories of Parry-Jones and his merry men working hard on the issue of easy cruising – a mode for which they coined the term 'rolling comfort'.
The steering feel wasn't quite up to today's Ford standard, but the accuracy was definitely there, and the car rode with a suppleness and flatness that would still be found acceptable in quite a few cars today. Parked together, the cars were extraordinarily different. The latest Mondeo's extra length is nothing compared with its massively larger cross-sectional area: in the 2000s, cars have acquired much more bodily bulk for crashworthiness reasons, and their cowl heights have been raised consistently. During its life, the Mondeo also grew for marketing reasons: around 2000 (with the debut of the third-generation model), it was realised that Americans were serious about their desire for bigger Mondeos and attempts were made in the final two generations to provide them. Success was limited.
The most startling part of our hardly exacting comparison between models 26 years apart was just how well developed and functional the 1995 car still felt. In its museum-piece condition, its paint gleamed like any new car's. Its upholstery was spotless and without wear. Its engine burst into life as eagerly as any modern's. And it rode the bumps (especially Dagenham railway crossings) with thoroughly modern aplomb.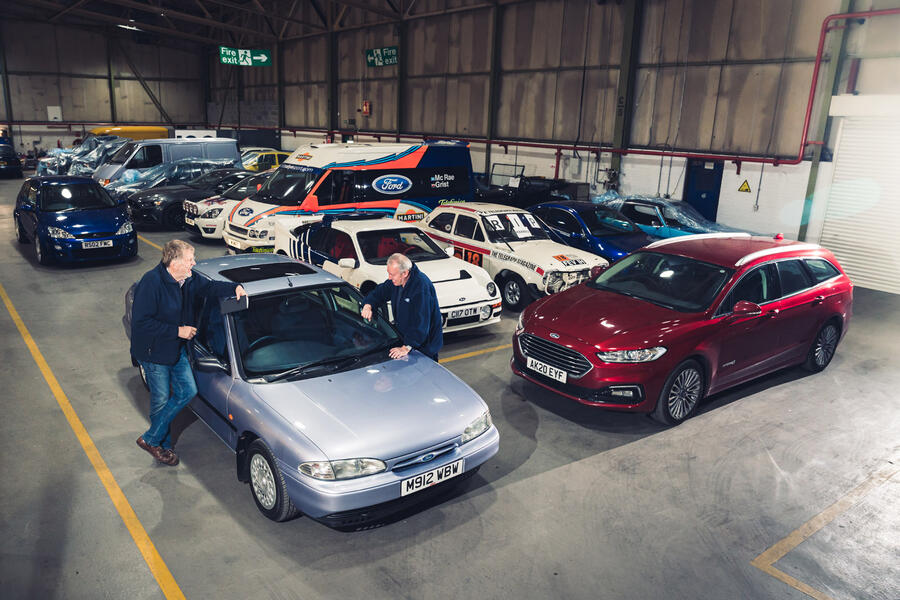 I found myself wondering why the original owners of this car, had they known the direction UK roads and motoring would take over the next quarter century, would have needed a better one. This Mondeo seemed relevant and modern. This may seem a rather lavish compliment to the designers and engineers of the original car, who found a new path for Ford that the modern products still use. But I believe they deserve it.
Mondeo bosses Wall Street
Autocar's 'Mondeo is king!' cover verdict on 27 January 1993 was the first authoritative, impartial road test of the new family Ford, whose creators reckoned it would soon account for 10% of Ford's global volume once dealers had stocks and the new name became known in the market. As a result, Ford's bigwigs were uncommonly keen to know whether the car met with our approval – to the extent of requesting (without success) to view the pages before publication. Still, their wait was worthwhile. Autocar's judgement was favourable, and so influential that key US contacts told us it caused an upward kick in the price of Ford stock on Wall Street. In the Dearborn HQ, smiles were wide indeed.
Will Ford replace the Mondeo?
It didn't take Ford very long to announce that there would be no "direct" replacement for the Mondeo after the current model disappears, but that didn't stop brief speculation, since quashed, that the generously proportioned Evos crossover, built by Changan Ford for China, would take its place. But the lack of demand for big saloons or hatchbacks and the ever-rising taste for SUVs and crossovers make it a racing certainty that few future cars will have as big a road footprint as the outgoing Mondeo, and those with similar passenger accommodation will be smaller, taller and at the very least hybridised if not propelled by pure battery power.
When we did 12,000 miles in a week in a Mondeo
"Get in your car, make yourself comfortable, start up and drive yourself to Tokyo. Then bring it back." That's how we began our story from March 1993 about using a basic 1.6-litre Mondeo LX to drive halfway around the world – in a week. We used a 10-person Autocar team to do it and, as it happened, we kept the car in the UK and mainland Europe.
Tokyo looked too hard. Still, we billed the journey as "the hardest test we've ever put a car to" and maybe that's still the case. It took a lot of organisation, a copious amount of staying awake, some awkward sleeping arrangements and quite a bit of driving through France at velocities you wouldn't contemplate today. The original objective was 10,000 miles, which seemed extreme enough, but as time went on we realised the full repmobile's average annual mileage score was possible.
First destination was Gibraltar, through the night, then we repeatedly criss-crossed Europe, at one stage 'doing' 10 countries in a day. There were fuelling glitches and navigational errors, but the 12,000th mile rolled onto the odometer with just 90 seconds to go. The car, throughout, was fantastic.
READ MORE
Ford Mondeo to be discontinued in March 2022 after 29 years 
New 2023 MEB-based Ford EV will be small SUV 
https://www.autocar.co.uk/car-news/featu...ord-mondeo