09-29-2021, 03:36 AM
Estate cars: In celebration of a dying breed of car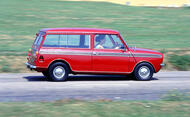 As Mercedes casts doubt on the future of the wagon, we recall legends like the Mini Traveller and Ford Granada
I still remember riding beneath the orange streetlights of Surbiton, flat on my back in the rear of my parents' Mini Traveller.
I was six, my brother three, and we were supposed to sleep on blankets laid behind the Mini's folded rear seat. But the sensation of seeing buildings, trees and street furniture from this unusual vantage point made dozing difficult. And that was without factoring the staccato bounce of this estate car's suspension or the rhythmic ascent through the gears following every halt for traffic lights.
The horizontal transportation of small kids, completely unbelted, would be illegal today, which is why you need to be of a certain age to have experienced this less-than-usual use of an estate.
'Traveller' was the British Motor Corporation's name for a wagon version of a saloon, the use of the word 'estate' for the British breed of these beasts of burden apparently emerging in the 1950s to replace 'station wagon' (as still favoured in the US) or, for the comfortably off, 'shooting brake'.
Estates were especially popular in the era when saloons dominated UK sales, their yawning tailgates and flip-down rear seats capable of swallowing much bulkier objects – or a vastly greater quantity of smaller ones if you didn't need the back bench.
Estates weren't glamorous, especially once they were associated with sales reps carting photocopiers or samples across the country. In the heyday of the standard-issue company car, when huge companies bought huge numbers of essentially the same model, the Ford Cortina and Ford Escort estates dominated, although almost every maker of medium and large saloons offered a wagon as well.
It wasn't only fleet managers who bought estates but families too, these long-roofed five-door cars easily coping with everything from the daily commute to the annual holiday, possibly with caravan. Big families could choose from Citroën's triple-row DS and CX and Peugeot's similarly furnished 403, 404 and 505, although these big machines weren't cheap. Another pricey wagon came – unexpectedly - from Reliant, whose Scimitar Coupé was ingeniously reworked by Ogle into a four-seat, three-door sports estate of decidedly handsome lines. It was one of the earliest sports estates.
Marketing types, ever eager to find fresh seams of buyers, realised that more poshly appointed estates might find a market too. Triumph's 2000/2500 saloon was remodelled as a sporting estate that even had wood décor in the boot. Ford rolled out the Granada Ghia X for 1980 and later the limited-edition two-tone, leather-upholstered Granada Chasseur.
Well before that, British coachbuilder Crayford had been converting Mercedes-Benzes into estates. It took a long time for Mercedes and BMW to convince themselves that making wagons wouldn't undermine their image, BMW eventually being dragged to this more practical party by one of its engineer employees.
Max Reisbock needed a more versatile BMW for his growing family so converted a saloon in his friend's garage. When he drove the finished car to work in 1984, BMW's bosses persuaded him to leave it there so that they could turn it into a series-production car. So well styled and detailed was Reisbock's work that the production version differed from his own only in detail.
The BMW 3 Series Touring wasn't a particularly voluminous estate, but it was a lot more useful than the saloon, it was handsome and driving one very definitely didn't make you a photocopier salesman. A Volvo estate, on the other hand, was decidedly more commodious and tough enough to take heaps of abuse from antique dealers, who would regularly overload their roof-racked Swedish wagons. But even the great champions of this genre – Citroën, Ford, Mercedes, Peugeot, Vauxhall and Volvo – are seeing the market run dry.
SUVs are the in thing, with their high-riding cabins and more prestigious aura. Never mind that few have loadbays as lengthy as a good estate's or tailgates that gape as wide, or that their loadbay floors are several straining inches further from the ground than those of an old-school wagon.
There have been plenty of very handsome estates, too – still are, in the case of the Mercedes C-Class, Peugeot 508 SW and Volvo V90 – but the business case for them is fast-fading. For those of us who need to carry really big quantities of stuff or who want a load-carrier that handles too, their gradual vanishing will be rued.
https://www.autocar.co.uk/opinion/featur...-breed-car