01-04-2023, 05:28 AM
European car sales uptick fuels global optimism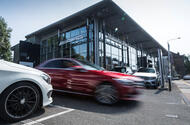 Losses through the first half of the 2022 will result in year-end figures being lower than 2021
Year-on-year sales of new cars increased 12.3% in Western Europe during November
Despite the ongoing threats of global recessions, many of the markets around the world are starting to pick up.
Countries in Europe, North America, South America and Asia have shown signs of life, but it must be noted that sales a year ago were down considerably, giving lots of room for growth. Improving on 2021's poor showing is not necessarily leading markets forward. This is, however, providing hope that the market is not ready to suddenly turn down.
Recent upticks in the EU add to that hope. Sales in October marked the third straight month beating prior year numbers. October light vehicle sales were up about 9% over the same period in 2021, with the continued expectations that November and December will report slight improvements as well.
This story is an extract from the December 2022 issue of AutoForecast Solutions' monthly report. AutoForecast Solutions is the only fully integrated solutions provider of vehicle, powertrain, drivetrain and electrification production forecasting, business planning software and advisory services to the global automotive industry. Click here to download the full report, or to catch up on previous months.
Despite these positive numbers, losses in the first half of the year mean 2022 will end considerably lower than 2021 and should mark the trough of around 9.1 million units. Sales are expected to pick up 3.5% in 2023.
Light vehicle sales in the UK also performed better in the last three months than in the same period the year prior. October sales were up 26.9%, besting the single-digit improvements in September and August. As in the EU, big losses in the first half will hold back this year's totals for the UK and the year is expected to finish down 1.2% compared with 2021. Nearing 1.7 million units of sales next year will be a 3.0% improvement over this year, but this will still be a far cry from the two-plus million units reported annually before the pandemic year of 2020.
North America grew in October by 7.5% although year-to-date (YTD) is still behind last year by 10.2%. Mexico was in the black through October, but the US and Canada still have a way to go to recover early 2022 losses.
Last October, sales in the US dropped to just over one million units, but early year sales pushed the YTD total to over 12.7 million. Even with the 9.6% improvement this October, sales for the year are still 11.1% and 1.4 million units behind 2021. With just two months left in the year, the 12-month total for 2022 will be 8% shy of the 2021 numbers. This year will be the worst tally in more than a decade. Expectations for next year point to turning a corner, with a 5.6% improvement over this year. However, as interest rates continually increase in an effort to mitigate inflation, consumers may be more hesitant to purchase large-ticket items like houses and vehicles in the coming year, regardless of high pent-up demand.
Mexico already reported better numbers this year than last year. October's 8.5% improvement means that YTD sales are up 1.1%. Again, with just two months left in 2022, there isn't much room for the market to bloom but Mexico will move 1.6% more vehicles this year than last when the December counting is complete before the market really bounces back with a 13% increase in 2023.
Light vehicle sales in Canada are still trying to get back to even 2020's pandemic-lowered total. Driven by the continuing supply chain issues, low inventory levels are slowing sales as buyers cannot find or cannot afford a new vehicle. Losses have extended to their ninth straight month and are expected to continue through the rest of the year and into 2023. A sales recovery in 2023 should bring total vehicles sold above 2022 levels, but not quite to 2021's 1.68 million units.
Consumer confidence in China is slipping and recent Singles Day sales reflect this. While consumer sales improved by about 5% on the November 11 informal holiday, this demonstrates a slowdown compared with last year's relatively modest 13% improvement over 2020. October sales lagged slightly behind last year's numbers.
Sam Fiorani
https://www.autocar.co.uk/car-news/busin...l-optimism