09-18-2023, 09:01 PM
Everything you need to know about hydrogen cars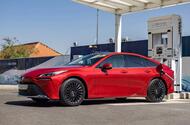 Are hydrogen cars viable? We run through all you need to know about this alternative fuel
We're all used to seeing cars powered by petrol, diesel, and even electricity in today's world, but hydrogen cars are emerging and they could become a viable option in the future. 
In this guide, we'll give you all you need to know about hydrogen cars, their pros and cons, plus what the future outlook looks like. 
What is a hydrogen car?
Hydrogen cars, or hydrogen fuel cell electric vehicles (often shortened to FCEV), are vehicles powered by hydrogen fuel. Hydrogen is stored in a tank at 700 bar, which generates high-voltage electricity to a small buffer battery which provides transient power for acceleration.
Cars draw their power from a fuel cell stack, where oxygen and hydrogen react to generate electricity, sending energy to an electric motor. 
Hydrogen cars produce zero tailpipe emissions, making them a much cleaner proposition, at least from the driver's point of view. 
Hydrogen cars currently available
There are just two hydrogen cars on sale in the UK today, but some car makers have hydrogen very much in their plans for production in the future. In 1998, Mercedes-Benz produced the first road-legal FCEV with the A-Class-based Necar.
Toyota Mirai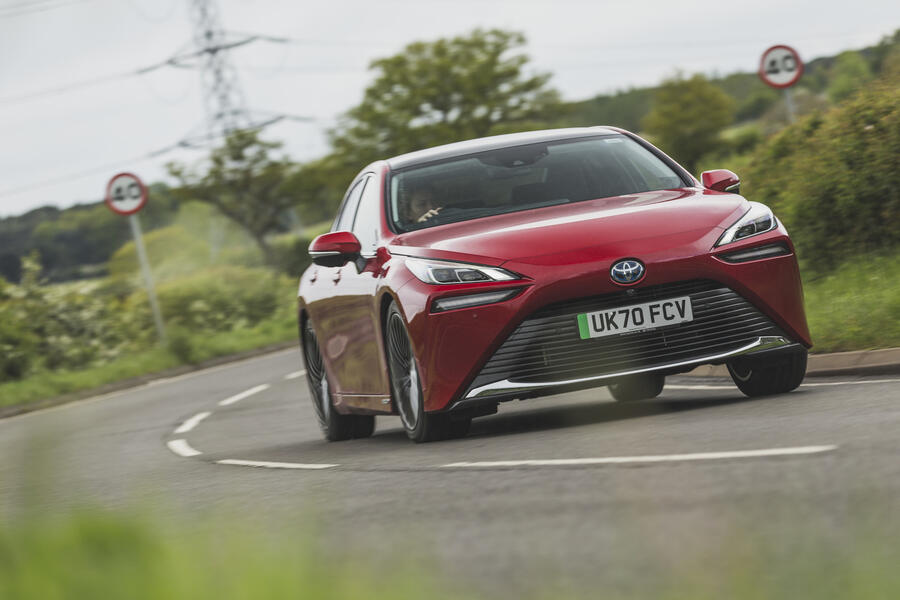 The Toyota Mirai first went on sale in 2015 selling 10,000 units, before the smart saloon entered its second generation in 2021. The latest Mirai is equipped with a fuel stack capable of storing 5.6kg of hydrogen, with a WLTP range of up to 400 miles. 
Despite being heavier and larger than the first generation car, it takes just 8.7sec to travel from 0-62mph, and 25.5sec to hit 100mph. That's thanks to a powertrain that produces 180bhp and 221lb ft of torque.
However, the Mirai wasn't cheap when it launched in 2021. It commanded a price tag of £64,995, and you can't currently order one directly from Toyota. 
Hyundai Nexo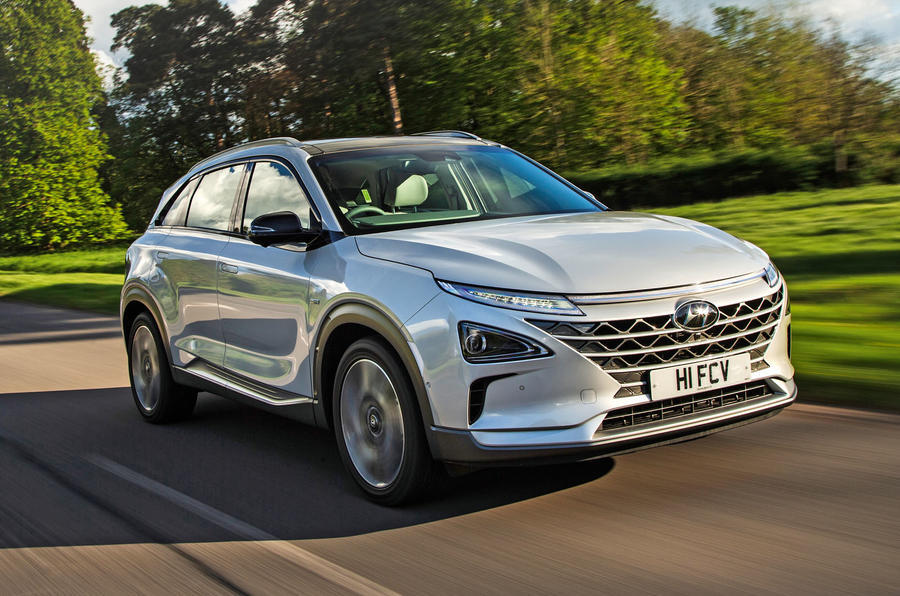 Hyundai has been developing fuel cell technology since the 1990s, and the Nexo is the firm's first production hydrogen car. 
Priced similarly to the Mirai at £65,995, the Hyundai Nexo's powertrain produces 161bhp and 291lb ft. Meanwhile, 0-62mph is completed in 9.6sec. 
The Nexo can store up to 6.33kg of hydrogen, which supplies power to a 1.56kWh battery. It offers a range of around 380 miles, and we were impressed by its solid driving dynamics and rolling refinement. 
There are less than 30 Nexos on UK roads today, and, like the Mirai, it's not currently available to order. 
BMW iX5 Hydrogen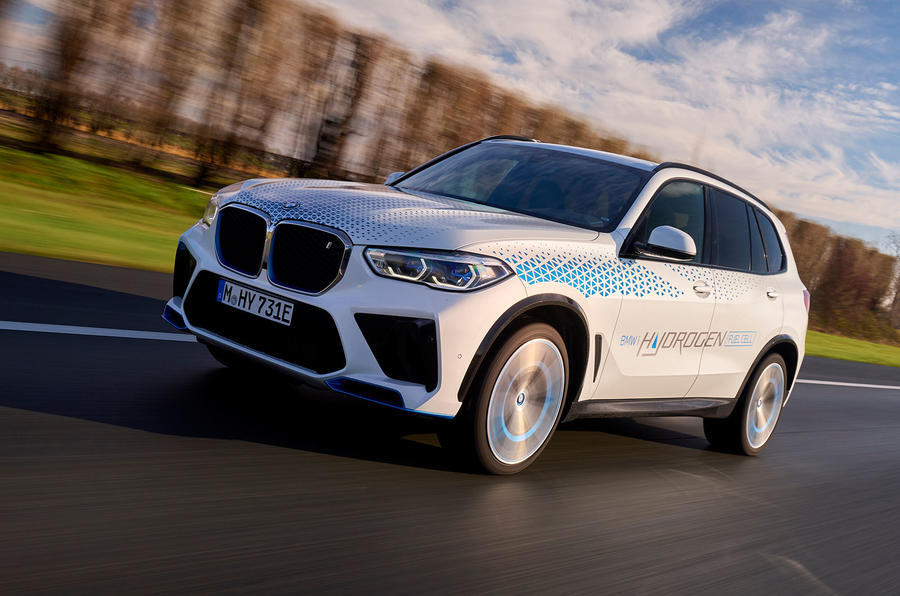 BMW formed a partnership with Toyota based around hydrogen technology, and it plans to bring the iX5 Hydrogen to market in some form by 2030. 
With a 396bhp powertrain and 524lb ft of torque, it packs significantly more punch than the Toyota and Hyundai, backed up by its sub 6.0sec sprint from 0-62mph. 
Range stands at around 313 miles, and our drive revealed it was comfortable, capable and almost ready for the road. It certainly paved the way for BMW's entry into the world of hydrogen.
How do you fill up a hydrogen car?
Hydrogen cars can be refuelled using a pump at a hydrogen filling station. Hydrogen filling stations look much like a regular petrol or diesel forecourt.
Refuelling a hydrogen car is a simple task - just open up the fuel filler cap and insert the pump. According to Toyota, refuelling takes roughly five minutes. 
The hardest part of refuelling a hydrogen car in the UK is finding a filling station. Per#go-hydrogen_infrastructure" target="_blank"> UK H2 Mobility, there are just three hydrogen filling stations available for public motorists in the UK. 
They are situated in Hatton Cross, London, Tullos in Aberdeen and the Advanced Manufacturing Park near Sheffield. There are plans for filling stations to be installed in Stockton-on-Tees, Glasgow and the Welsh city of Newport.
British start-up Element 2 is also planning to open four filling stations in 2024. A further 30 pump locations will be identified with plans to install additional pimps by the end of the year.
Pros of hydrogen cars
One of the biggest benefits of driving hydrogen cars is that they produce zero emissions on the road apart from water. That means they're a lot more environmentally friendly to drive than a petrol or diesel car, and would be welcome in the ever-increasing number of clean air zones popping up around the UK. 
Hydrogen cars are also faster to recharge than electric cars, refuelling in a fraction of the time compared to EV counterparts. Hydrogen is also the most abundant element on the planet. 
Some consider hydrogen cars to be more efficient than other powertrains, as hydrogen power uses between 40-60% of its fuel's energy with a 50% reduction in fuel consumption. It's not uncommon to see around 400 miles of travel on a single tank when using hydrogen. 
Unlike EVs, the range of a hydrogen car is not impacted by outside temperatures. 
Cons of hydrogen cars
While hydrogen cars can be more efficient and environmentally friendly for the driver, there are some drawbacks.
Emissions from the tailpipe might be zero, but there are significant environmental challenges with producing hydrogen on an industrial scale. 
Producing hydrogen at this level uses a significant amount of fossil fuels. According to tyre giant Pirelli, as much as 10kg of CO2 is produced for every kilogram of hydrogen. 
There are methods of producing hydrogen that involve using renewable energies, but these are currently far more expensive. Denmark, for example, produces hydrogen from wind, while Iceland makes use of geothermal energy to produce the element. 
Hydrogen cars are also quite expensive to buy due to their complexity, and obviously, the small number of refuelling stations is a significant black mark against this modern technology.
The future of hydrogen vehicles
Currently, hydrogen cars aren't quite viable for the broader public. There are simply too few filling stations, and the hydrogen itself isn't yet commercially or environmentally viable to produce en masse. 
But with investment from the UK government aiming to accelerate the implementation of hydrogen vehicles, we could see more car makers turn their efforts to this modern technology in the coming years. 
One such company hoping to drive the production of hydrogen vehicles is Williams Advanced Engineering, which revealed a platform for hydrogen electric vehicles in 2023.
It says the platform features a "cutting-edge" H2 fuel-cell system and a liquid-cooled battery pack with up to 576bhp available. 
Elsewhere, Alpine presented the Alpenglow concept at the 2022 Paris Motor Show but did not reveal any technical specifications. It serves as a vision of a hydrogen-combustion future, so it's clear that carmakers are still interested in progressing with the technology. 
We will also see the application of hydrogen in motorsport. Toyota revealed the GR H2 Racing Concept in 2023, with plans to race the car in a Le Mans category specifically devised for hydrogen vehicles. It also presented the GR Yaris Hydrogen at the WRC, before the hatch appeared at the Goodwood Festival of Speed, plus the Hilux Hydrogen in 2023, which boasts a range of 365 miles. 
For the general public, though, it looks like the future of cars in the UK will remain electric, at least until the infrastructure and hydrogen production methods have become more feasible.
https://www.autocar.co.uk/car-news/techn...rogen-cars