02-10-2022, 07:55 PM
Ferrari 812 GTS vs 550 Maranello: tracing the V12 bloodline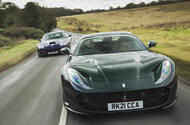 While others convert to electrification, Ferrari remains committed to its V12. We evaluate its past quarter-century of progress through a 550 Maranello and a new 812 GTS
What does a V12 mean to you? 
Is it the pinnacle of combustion-powered brilliance; a multi-cylindered masterpiece that's among the smoothest and most sweetly balanced engines found in any car? Or is it just the final bastion of automotive profligacy, the antithesis of all that's clean and green, awaiting its inevitable death knell from legislators the world over?
Ferrari should know better than most. Of the four manufacturers in the UK that still sell V12-powered cars (Aston Martin, Lamborghini and Rolls-Royce being the others, if you ignore the odd niche luxury car), it has by far the longest back catalogue of road-going V12 models. In fact, you could argue that it's a continuous one, too, given that Maranello's flat-12 engines from the 1970s to the 1990s were actually wide-angled vees by another name.
And being mid-engined, it's those cars – Boxers, Testarossas et al – that separate the two eras of front-engined V12, two-seat production Ferraris. The first one ended with the 365 GTB/4 'Daytona' in 1973 and the current one started in 1996 with the 550 Maranello, which we have with us today, neatly bookended by the current 812, which we've also brought along to gauge what a quarter-century of evolution looks and drives like.
Autocar's original test of the 550 actually referred to the Daytona, saying: "For all its speed and beauty, it showed that a mid-engined successor was necessary. The 550 shows that it is not." 
And in 2000, when I first drove a 550, I probably would have agreed. That the test venue was Millbrook Proving Ground's high speed bowl also meant my Ferrari duck was broken at around 150mph. While not the most exhaustive test, it did reveal how stupendously easy it was for a callow road tester to go flat chat on a bumpy, steeply banked track and not feel any sense of fear. A touch of ignorance helped at the time, maybe, but, looking back, that 550 was so much more stable and forgiving than it had any right to be. 
Designed by Lorenzo Ramaciotti at Pininfarina, its rakishly attractive shape, with its large glass area and cab-rear stance, distanced it from the more prosaically styled 456 2+2, whose platform it shared (albeit with a 100mm-shorter wheelbase), as well as its 5474cc quad-cam 65deg V12. 
It was a genuine landmark car for Ferrari and a return in many people's eyes to the true grand tourer market with which its mid-engined fare had verdict must have sent shock waves towards Maranello because, soon after, the optional Fiorano Pack became available in the UK, tightening the suspension and addressing much of our criticism.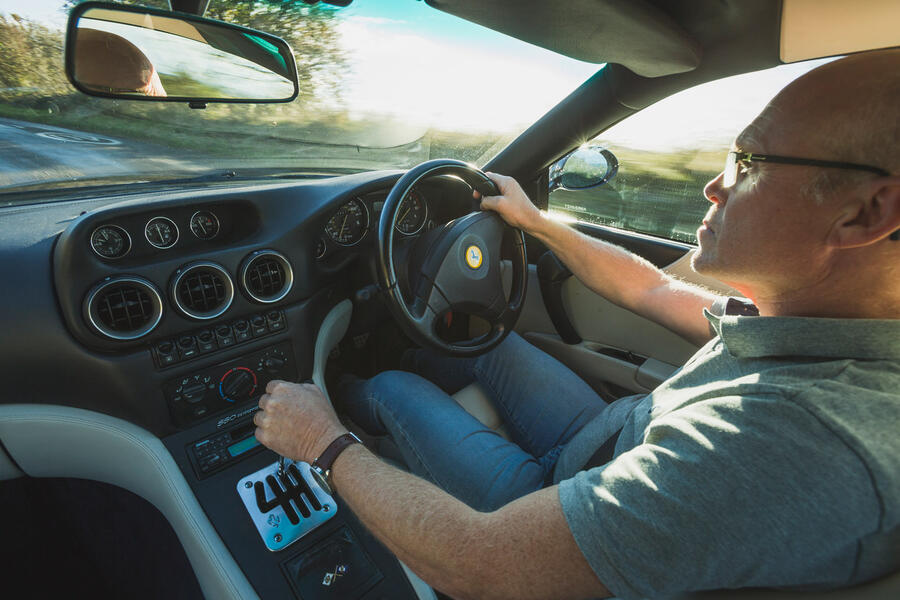 But it wasn't until two years later that Ferrari went the whole hog and introduced the Handling GTC Pack, at a £16,450 premium. It was worth every penny, though. With carbon-ceramic brake discs, 10kg shed from each corner and an even stiffer front and rear, the 575 finally became the car it should have been all along. But at heart, it still had the essence of the 550 that had been launched eight years before – and the supercar world had moved on.
Switch between the 550 here today and the 812 and, other than sitting behind a V12 driving the rear wheels, you find precious little that links them. Which is why the 599 GTB that arrived in 2006 is such an important part of this story.
The last car from this set that owes its lines to Pininfarina (under the auspices of Jason Castriota), it was a radical departure in every way. Swapping the 550/575's tubular steel spaceframe for an all-aluminium chassis, it also inherited a modified version of the Tipo 140 V12 used in the Enzo. Now with 612bhp and a Pagani Zonda S-matching 0-100mph time of 7.4sec, it left the 575 in its wake.
The manettino steering wheel made a first appearance in this group, and an early, quick but crude F1 paddle-shift gearbox became the default for all UK cars, with the classic opengated manual never to return.
Even in more hardcore HGTE form, the 599 offered an intoxicating mix of everyday drivability, searing performance and unimpeachable chassis control. It was – and still is – up there with the all-time GT greats.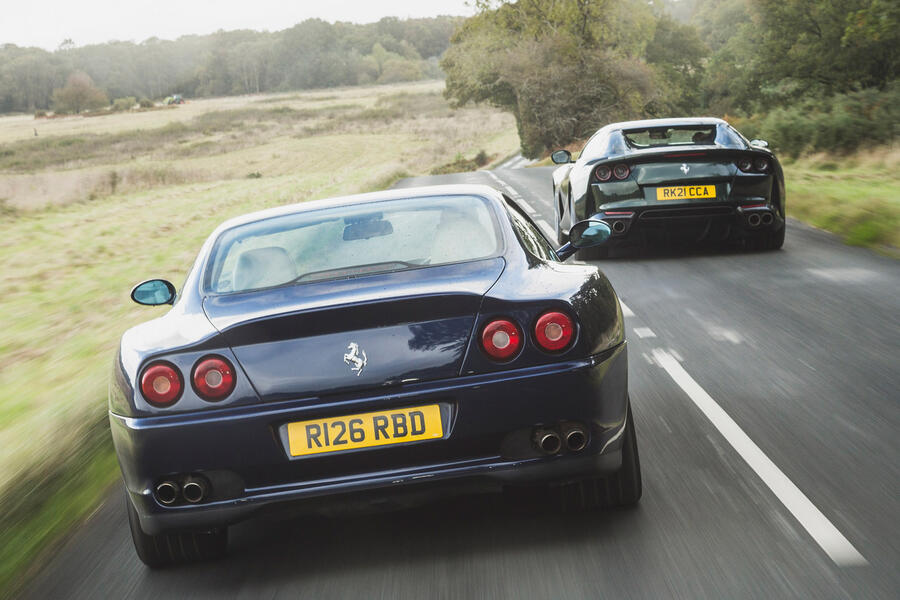 That the F12 Berlinetta that followed it got more power (731bhp) from its now 6262cc V12 was no great surprise. That it was lighter, shorter, narrower and lighter by 70kg was a refreshing reversal of an industry-wide trend for ever heavier and larger cars.
Designed in-house for the first time, with a chassis developed in conjunction with Scaglietti, the F12 had its engine mounted behind the front axle – becoming therefore front-mid-engined. Distinctive scallops in its bonnet, known as the Air Bridge, diverted air from the windscreen and used it to reduce drag around the wheel arches. 
Despite the F12's weight, which we measured as 1715kg full of fuel, its steering was light and, being quick-geared, belied the car's size.
When the F12 was replaced by the 812 Superfast in 2017, there was no mistaking that this was an evolutionary shift forward, right down to the internal code for the model changing from F152 to F152M for 'modificato'. But while the engine was still essentially the F140 that had served in the previous two models, to generate the slightly lunatic 789bhp and 530lb ft of torque (of which 80% was available from just 3500rpm), it had enough new internals for it to be effectively a different unit.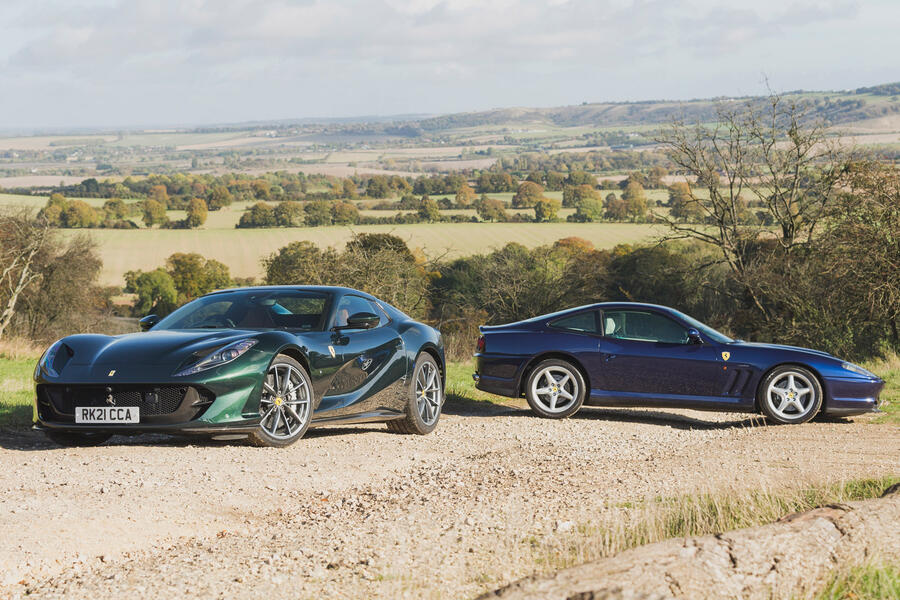 Has our perception of what a high-powered grand tourer represents changed in 26 years? Of course it has. But you still have to smile as you fire up the 550, sitting behind its high scuttle, seven dials spread across its dashboard, resting your left hand on the large aluminium ball atop the open-gated gearshift. It feels quite compact, unintimidating and, aside from its slightly long-armed driving position, very much the kind of car that you can master quickly. 
Which you can. This well-preserved 55,000-miler, on sale for £85,950 at Slades Garage, is instantly biddable on the tight, heavily cambered roads in this part of Hertfordshire. The ride quality on its 18in rims is supple and, despite a He-Man clutch, the clack-clack of the thin lever across the gate instantly brings a grin to your face.
Yes, there are some creaks from the trim, but find the right section of road, press the long-travel throttle to the floor and that surprisingly subdued 5.5-litre V12 delivers such progressive thrust that the 550's ultimate turn of speed creeps up on you.
With 70% more power and weighing roughly the same as the 550, the 812 is a car you respect. A near perfect driving position, a low scuttle and well-arranged controls give you the confidence you need to extract the best from it. There's not enough space here to describe the myriad settings available, suffice to say that today we're in Race, with the chassis set to Bumpy Road. The steering is endlessly talkative, which is great on these sinuous and surface-changeable roads, but I'm not sure if I would tire of it on a long schlep to Cannes. The seven-speed dual-clutch 'box is a joy and, switched to Sport, smooth and user-friendly. 
Keep the throttle nailed and acceleration from any speed is furious and sustained, the rear wheels scrabbling for dry traction in four gears and accompanied always by an old-school F1 soundtrack that, despite the cold, is so addictive that you must have the roof retracted at all times. 
The pinnacle of combustion-powered brilliance? Absolutely.
What future for the Ferrari V12?
Ferrari's V12 is a company linchpin. There are customers who will purchase only cars that are so equipped, which means that, despite the threat of being legislated out of the market, Maranello remains dedicated to keeping the engine compliant for as long as possible. 
And while the UK traditionally accounts for around 10-12% of Ferrari's market (North America is its largest), there are many other countries that will continue to take new ICE cars after our ban on their sale has been imposed in 2030. This leaves scope for future V12 production in such markets, possibly using turbocharging or hybrid tech to enable reduced capacity/emissions with minimal impact on power output.
There's also a global community of track-only Ferrari owners. The 2005 FXX and the 2015 FXX-K proved that there was a demand for V12-based specials, maintained by Ferrari specifically for its clients to use at its own circuit-based events and thus unaffected by road-going legislation.
Simon Hucknall
https://www.autocar.co.uk/car-news/featu...-bloodline