12-25-2021, 01:27 PM
Ferrari tech boss Michael Leiters leaves in management shuffle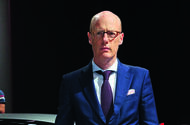 Michael Leiters
Manufacturing boss Vincenzo Regazzoni and brand diversification officer Nicola Boari also depart
A shake-up of Ferrari's senior management team sees three long-standing executives leave to take up posts elsewhere, including chief technology officer Michael Leiters. 
In a statement, Ferrari said it is implementing "a new organisational structure, consistent with its strategic goals of exclusivity, excellence and sustainability".
Alongside Leiters, who joined Ferrari in 2014, chief brand diversification officer Nicola Boari and chief manufacturing officer Vincenzo Regazzoni will also depart. 
For Autocar Business webinars and podcasts, visit V6-powered 296 GTB and F8 Tributo.  
He joined Ferrari from Porsche, where he served in various roles, including SUV line director – a position in which he was responsible for the crucial Cayenne. It is anticipated that the first all-new Ferrari model to launch following Leiters's departure will be the Cayenne-rivalling Purosangue SUV.
Last year, Leiters spoke to Autocar on the subject of the Purosangue, outlining his priorities for Maranello's first SUV: "I think we've found a concept and a package which is on one side a real SUV and will convince SUV customers to buy it, but on the other side there's a huge differentiation of concept to existing SUVs."
He said the primary challenge was "to open a new segment for Ferrari", and that there were a number of "new engineering challenges" involved in the project. 
More recently, Leiters told Autocar that the brand's venerable V12 engine could survive in the form of limited-run creations like the SP3 Daytona: "It's a good opportunity, it's matching 100% our customers' requirements and it has a limited impact on the discussion of CO2."
He added that he believes "we have to fight for this engine" on the grounds that it has more emotional appeal than a turbocharged V8. 
Details of Ferrari's new hires are expected to be confirmed in the new year.
https://www.autocar.co.uk/car-news/busin...nt-shuffle